Special Article - Clinical Cases and Images
Austin J Clin Ophthalmol. 2015;2(2): 1044.
Hollenhorst Plaque After Cardiac Catheterization
Eric D Gaier* and Aubrey L Gilbert
Department of Ophthalmology, Massachusetts Eye and Ear Infirmary, USA
*Corresponding author: Eric Gaier, Department of Ophthalmology, Massachusetts Eye and Ear Infirmary, 3rd Floor, 243 Charles St Boston, MA 02114, USA
Received: April 07, 2015; Accepted: April 10, 2015; Published: April 13, 2015
Clinical Image
A 61 year-old woman with Ehler'sDanlos syndrome presented with sudden, painless loss of vision in the right eye for less than 1 day. She had recent embolic bifrontal and left parietal cerebral infarctions that had been successfully treated with tPA 1 month prior; she had no significant residual deficits and was discharged on aspirin. During that hospitalization, she had a normal cardiac catheterization in the setting of troponinemia. She described a "lipstick–shaped" clouding of her inferior vision that appeared bright red initially and gradually turned gray. Funduscopic examination revealed a Hollenhorst plaque in the superior branch of the central retinal artery (Figure A), and automated perimetry (Humphrey, 24-2) revealed a corresponding paracentral deficit inferiorly (Figure B). The patient was admitted for evaluation for stroke given high concomitance of cerebral infarction with ocular emboli [1]. MRI, MRA, and echocardiography were unrevealing; the patient was discharged on Aggrenox (Plavix allergy).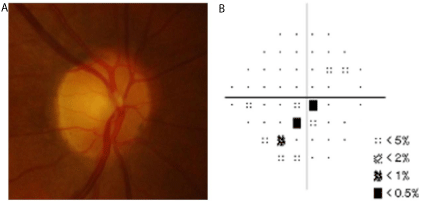 Figure 1: (A) High magnification fundus photograph of the right eye depicting a Hollenhorst plaque in the superior retinal artery overlying the optic disc.

    


    

    


    


    Figure 1:  (B) Corresponding 24-2 Humphrey visual field pattern deviation plot depicting
scattered inferior paracentral field loss in the right eye.
    


    



References