Review Article
Austin J Dermatolog. 2016; 3(4): 1060.
Vaccines for Varicella and Herpes Zoster - A Review
Puri N*
Department of Dermatology and Venereology, G.G.S. Medical College & Hospital, India
*Corresponding author: Neerja Puri, Department of Dermatology and Venereology, Consultant Dermatologist, Punjab Health Systems Corporation, G.G.S. Medical College & Hospital, Faridkot. 151203. Punjab, India
Received: September 06, 2016; Accepted: November 14, 2016; Published: November 15, 2016
Abstract
Introduction: Both varicella and herpes zoster are caused by varicella zoster virus. Vaccine for both the viral diseases is given to prevent the severe episodes of chicken pox and herpes zoster.
Discussion: Vaccine used for prevention of herpes zoster uses the same attenuated virus as in varicella vaccination but at much higher titres. The efficacy and complications of both the vaccines would be discussed.
Keywords: Varicella; Herpes zoster; Vaccine; Immunization; Prevention; Post herpetic neuralgia
Background
Varicella or chicken pox is the primary infection with varicella zoster virus. In tropical countries, 90% of cases of varicella occur in children below 10 years of age (Figure 1) whereas in temperate countries it occurs more in adults. Patients are infectious five days before and 5-6 days after eruption. Herpes zoster is caused by reactivation of varicella zoster virus after primary infection or vaccination [1]. Varicella zoster virus remains latent in the sensory dorsal root ganglion cells. During periods of immunosuppression, the virus travels down the sensory nerve into the skin [2].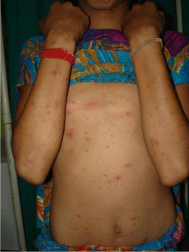 Figure 1: Figure showing varicella zoster in a 10 years old female child.

    


    

    


    


    Figure 1:  Figure showing varicella zoster in a 10 years old female child.
    


    



Live attenuated vaccine for varicella is given in children according to a fixed schedule. Two doses are given, first dose between the age of 12 and 18 months and the second dose is given at 4-6 years of age. These days double vaccination schedule is recommended because it was seen that a few episodes of varicella occurred in children before 9-11 years of age, since by this age the immunity starts waning. There are very few complications of varicella zoster vaccine, which include mild skin eruption which occurs locally at the injection site. It occurs in 6% of children. Although after vaccination, chicken pox can occur, it is very mild and the skin lesions are not vesicular. It is also known as Modified varicella like syndrome. It is a syndrome in which the children immunized with varicella vaccine, develop varicella of reduced severity on exposure to natural varicella. This syndrome is different from normal varicella in the sense that
There are no vesicular lesions
Number of lesions is between 35-50 (300 in natural varicella)
Patient is afebrile
Illness is mild lasting fewer than five days on average

There are many advantages of varicella vaccine:

Secondary complications like scarring are less.
Decreased severity of chicken pox.
The vaccine can prevent the severity of varicella even when the vaccine is given within 36 hours of exposure. One has to stop the antiviral 24 hours before immunization and 14 days after.
Vaccine used for prevention of herpes zoster uses the same attenuated virus as in varicella vaccination but at much higher titres [3]. It appeared for the prevention of herpes zoster. It is recommended in all persons above the age of 60 years (Figure 2). It also reduces the incidence of post herpetic neuralgia by 67% [4,5]. Persons between 60-69 years of age had a greater decrease in zoster incidence than those over 70 years of age [6]. Efficacy of vaccine is 41% between 70-79 years age group and 18% for persons 80 years and above. Overall (in persons age 60 years and older) the vaccine reduced the occurrence of herpes zoster (shingles) by about 50% [7]. In those who were vaccinated with herpes zoster vaccine, but still developed shingles, the duration of pain was shortened. In a study it was seen that the pain in those who received the vaccine lasted on average for 20 days and for those who received placebo, it lasted for about 22 days [8,9]. Old persons (above 60 years of age) on antiviral drugs, have to stop the antiviral 24 hours before and 14 days after immunization. The vaccine is given as a single dose injection preferably in the upper arm. The commonest adverse reactions with zoster vaccine are headache and injection site reactions. As a prevention strategy, the HZ vaccine is both complicated (owing to cold-chain requirements) and costly (approximately $150 per person), as the vaccine is not publicly funded [10].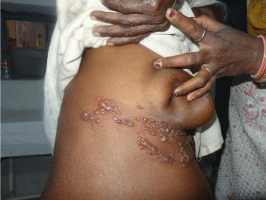 Figure 2: Figure showing herpes zoster in a 60 years old female.

    


    

    


    


    Figure 2:  Figure showing herpes zoster in a 60 years old female.
    


    



Discussion
There are not enough studies to determine the risks and benefits of herpes zoster vaccine in people younger than 50 years of age. External boosting has an important role in maintaining VZV cell mediated immunity and it delays the onset of zoster in those who had primary VZV infection [11]. It is seen that universal childhood varicella vaccination immunization programs will have an influence on the incidence of herpes zoster, theoretically by reducing exposure to circulating wild virus and subsequent boosting. A live attenuated herpes zoster vaccine was first started in 2006 and is licenced for use in over 60 countries including Europe, US, Canada and Australia [12]. This VZV vaccine contains an OKA derived varicella zoster virus strain that is given in a single dose and administered subcutaneously. It is licensed for use in immunocompetent individuals 50 years and over. This vaccine contains 19,400 Plaque-Forming Units (PFU) and is similar in potency to one formulation of MMR vaccine and has an estimated 14 times higher potency than that of varicella vaccine. There are various contraindications of the vaccine including:
Persons with history of anaphylactic reaction to gelatin, neomycin, or any other component of the vaccine
Persons with a history of primary or acquired immunodeficiency state, including leukemia, lymphoma
Persons with HIV
Persons receiving immunosuppressive therapy, including high-dose corticosteroids
Pregnant patients
Data on duration of protection following HZ are limited. In one study, the median surveillance period for assessing vaccine effectiveness was 3.12 years [13]. In another study, waning of protection against herpes zoster vaccine was seen with time [14].
Herpes zoster vaccine is licenced all over the world by the name Zostavax® [15]. Zoster vaccine has been found to be safe and efficacious. The most common side effect of the vaccine was erythema, pain and swelling over the injection site. It has been seen that in countries with large scale universal varicella vaccination programmes, there has been an increase in herpes zoster incidence. But there has also been an increase in zoster incidence in countries without universal children immunization programmes. But, still the exact factors causing an increase in the zoster incidence are not known. The vaccine is safe and demonstrated clinical protection against herpes zoster, post-herpetic neuralgia and other serious herpes zoster complications [16].
There have been various trials on the safety and efficacy of zoster vaccine. Since the data on the long term protection of the vaccine is lacking, there have been increasing concerns on the cost effectiveness of the vaccine especially in the developing countries [17,18]. It has been observed that there is waning of immunity with time and therefore it is cost effective in developed countries. Moreover, the role of booster dose after initial dose is also not clear and still the trials are going on regarding this. The vaccine can be introduced in countries with a high burden of disease and in those countries where there is demographic shift towards older ages.
Conclusion
To conclude, the herpes zoster vaccine is much more potent compared to the varicella zoster vaccine. While the varicella zoster vaccine is included in the universal immunization programs in most countries, the implementation of the herpes zoster immunization schedules are still not available in the developing countries due to short lived Immunity with the vaccine, need for a booster dose and cost effectiveness of the vaccine.
References