Review Article
Austin Neurosurg Open Access.2015;2(1): 1024.
Immune Cell Infiltrates in the Central Nervous System Tumors
Andrew S. Jack¹ and Jian-Qiang Lu²*
1Department of Surgery, University of Alberta Hospital,Canada
2Department of Laboratory Medicine and Pathology,University of Alberta, Canada
*Corresponding author: Jian-Qiang Lu, Department of Laboratory Medicine and Pathology, University of Alberta, 5B2.24 WCM Health Sciences Centre, 8440-112 Street, Edmonton, Alberta T6G 2B7, Canada
Received: March 31, 2014; Accepted: March 01, 2015; Published: March 05, 2015
Abstract
Major therapeutic advances resulting in overall survival increase have not been forthcoming for most Central Nervous System (CNS) tumors, such as high-grade gliomas. Over the past few decades, our understanding of CNS tumor development has greatly increased due to the introduction of new study techniques particularly in immunohistochemistry and molecular biology. These techniques have aided in the discovery and characterization of tumor-immune cell infiltration. More specifically, the infiltration of CNS tumors by immune cells, such as macrophages/microglia, lymphocytes, and eosinophils has been found to play an important role in tumor pathogenesis and progression. Increased understanding of this tumor immune microenvironment has led to the investigation and trial of immunotherapeutic agents in attempt to modulate the patient immune system and promote an anti-tumor response. In this review, we outline the current state of tumor-immune system interaction research by focusing on the latest evidence for CNS tumor-immune cell infiltration, including macrophages, lymphocytes, and eosinophils. Furthermore, immune cell interaction with the blood-brain barrier leading to infiltration and selected immunotherapeutic strategies are reviewed.
Keywords: Tumor immune microenvironment; Tumor infiltrating lymphocytes (TILs); Glioma associated macrophages/microglia (GAMs); Tumor associated tissue eosinophila (TATE); CNS tumors; Glioblastoma; Immunotherapy
Introduction
The advent and development of new molecular biological techniques has allowed the investigation and detail of different Central Nervous System (CNS) tumors. All tumors, including benign and malignant CNS tumors, have two basic components: (1) the parenchyma, made up of proliferating neoplastic cells, and (2) the supporting, host-derived, non-neoplastic stroma, made up of connective tissue, blood vessels, and host-derived inflammatory or immune cells [1]. The parenchyma of the neoplasm largely determines its biologic behavior, while the stroma is crucial to the growth of the neoplasm. Stromal cells, particularly infiltrating immune cells and neoplastic cells, carry on a two-way conversation that influences the growth of the tumor. For many malignant tumors there has yet to be a large breakthrough with respect to treatments yielding improved overall survival. For example, glioblastoma (formerly glioblastoma multiforme, GBM), the most prevalent primary malignant CNS tumor, is among the most fatal types of cancer harboring a uniformly dismal prognosis. With minor improvements in median overall survival over the past decade, more effective treatment modalities are required. Although perhaps not a new technique [2-4], the utilization of the body's natural defense mechanisms through immunotherapy may herald such a breakthrough in tumor treatment. Increased understanding of brain tumor pathophysiology and its interaction with the patient immune system have revealed several immunotherapeutic targets of clinical relevance [5]. In this review, we focus on immune cell infiltration of CNS tumors and its clinical implications. More specifically, we will discuss infiltrating macrophages/microglia, lymphocytes, and eosinophils in the CNS tumor microenvironment.
Neuro-immunological separation, not isolation
Early studies such as those by Medawar et al. initially led to the long-held belief that CNS was an immunologically privileged site in the body [6]. This notion supported other experimental work showing that the allotransplantation of neoplasms was able to escape immunesurveillance that would normally elicit a robust immunological response [7,8]. The CNS also lacks traditional connections to the lymphatic system [9], and is separated from the intravascular space by the Blood-Brain Barrier (BBB) . However, it is now known that the immune system plays an integral role in the etiology and pathophysiology of many CNS diseases [10,11]. The CNS may be separate, but not necessarily isolated from the immune system. For example, when CNS injury occurs, leukocytic infiltration has been proposed as trafficking into the CNS via three mechanisms [12,13]: i) through choroid plexus capillaries into the CSF, ii) through blood into the subarachnoid space, and iii) from blood into the parenchyma. Here, we review how systemic immune cells may penetrate into the CNS parenchyma.
The BBB is one of the key components responsible for separating the CNS extracellular space from the cardiovascular system and its potentially deleterious agents (with the exception of capillaries of the circumventricular organs). The BBB is a selectively permeable barrier, which is composed of the cerebrovascular endothelial cells with characteristic tight intercellular junctions, pericytes, and astrocytic end-feet that make up the glia limitans. Those astrocytes ensheath blood vessels at the one end and at the other end communicate with neuronal processes in formation of a functional unit, the gliovascular unit, which plays a prominent role in maintaining hemostasis of the BBB [14]. Disturbances in this unit may seriously damage the BBB. Moreover, the BBB is not necessarily uniform in structure throughout every segment of the cerebrovasculature. For example, post-capillary venules contain a lower density of tight junctions [15,16] surrounded by a perivascular space. The astrocytic end-feet are also separated here from the endothelial cell wall by up to three basement membrane layers [15,17]. It is here, in the post-capillary venules, that leukocytes will preferentially migrate into the perivascular space [17-19]. The pericyte and vascular endothelial cell coordination helps to regulate this process. The communication between the two cell types requires cytokines such as Platelet-Derived Growth Factor-B (PDGF-B) and transforming growth factor-β (TGF- β) [17,20] which results in decreased CNS immune cell infiltration [21].
Bechmann et al. classified these differentially regulated steps as i) leukocyte passage across post-capillary venules into Virchow-Robin spaces, and ii) subsequent migration across the glia limitans into the neuropil [15]. There is no definitive model; however, detailing the biomolecular stages of how exactly circulating immune cells cross the BBB into the brain parenchyma. One model consists of a multi-step process, akin to that seen in other extra-cerebral sites, of cells "rolling, sticking, and then migrating" [22,23]. Lymphocytes will first slow in the capillary lumen by transiently binding to endothelial cell surface receptors through selectin glycoproteins [24]. This in turn activates more permanent binding between lymphocytes and the vessel wall via integrin glycoproteins, and ultimately results in trans- or paracellular endothelial leukocytic migration [25]. The vasculature found within a tumor's microenvironment is substantially different from what is found in normal parenchyma. The BBB may be deficient in many areas due to abnormalities found pertaining to the endothelial cell wall, its tight junctions, and basement membrane [26]. The "blood-tumor barrier" has been thought to be more porous than the intact BBB. Abnormal immune cell trafficking may also be associated with the invasion of the capillary wall endothelial cells by tumor cells, possibly disrupting molecules that critical for cellular homing [12]. As a result, it is unclear as to whether the intra-tumoral dysfunctional capillaries would result in increased or decreased immune cell infiltration. Investigation of abnormal brain tumor vasculature has led to the identification of tumor capillaries as a potential immunotherapeutic target. The use of Vascular Endothelial Growth Factor (VEGF) antibodies has been shown to recondition the immunosuppressive tumor microenvironment and shift the expression of immune cell infiltrates toward an anti-tumor phenotype [27].
After migrating through the endothelial cell wall into the perivascular space, parenchymal infiltration becomes another issue. In order to cross the glia limitans, signaling pathways mediated by chemokines such as Monocyte Chemoattractant Protein (MCP)-1 and the expression of Matrix Metalloproteinase (MMP) are thought to be required [15]. Although the mechanisms underpinning the second step of leukocytic migration into the neuropil may not be well understood, an inflammatory reaction is thought to result in astrocytic end-feet retraction, degeneration, and allow for this breach to occur. Furthermore, as previously mentioned, the intra-tumoral BBB is dysfunctional in many areas which may extend into the glia limitans. Inflammatory/immune cell infiltration and homing toward CNS tumors may be then simply a product of chemokine and cytokine signaling, as outlined for astrocytic tumors by Bajetto et al. who have found the expression of multiple CXC chemokines in the brain tumors [28].
Macrophages and Microglia
Macrophages and microglia are derived from monocytes after myelocytic cell differentiation. One of their main functions is as a professional Antigen-Presenting Cell (APC) that triggers an adaptive immune response. They act to clean up cellular and pathogenic debris through phagocytosis, and are intricately involved in the inflammatory process. Microglia are thought to be the resident CNS macrophages acting as an APC, although it is still unclear as to whether or not they elicit a similar response [29]. Although their exact function is still somewhat ambiguous, it is clear that macrophages and microglia make up the primary component of immune cell infiltrates in CNS tumors particularly astrocytic tumors [30]. Table 1 lists the recent studies (using the relatively specific and clinical commonly used immunohistochemical markers) that demonstrate infiltrating CD68+ macrophages/microglia in astrocytic tumors [31-36].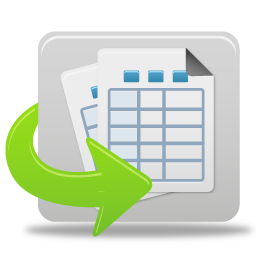 Table 1: Laboratory values at hospital admission.








  
    

*Perivascular


    

Intratumoral


  
  
    

Tumors


    

CD68+


    

CD3+


    

CD8+


    

CD20+


    

CD68+


    

CD3+


    

CD4+


    

CD8+


    

CD20+


    

References; Notes


  
  
    

Pilocytic astrocytomas (WHO grade I)


    

33.3% (6/18)


    

0% (0/18)


    

 


    

0% (0/18)


    

33.3% (6/18)


    

33.3%‡ (6/18)


    

 


    

 


    

0% (0/18)


    

Hewedi et al. [31]


  
  
    

 


    

86% (n=28)


    

 


    

71% (n=28)


    

14.3% (4/28)


    

86% (n=28)


    

 


    

 


    

75% (n=28)


    

0% (0/28)


    

Yang et al. [32]; positive expression (%) including cases with focal infiltrates


  
  
    

Diffuse astrocytomas (WHO grade II)


    

7.7% (1/13)


    

7.7% (1/13)


    

 


    

7.7% (1/13)


    

38.5% (5/13)


    

0% (0/13)


    

 


    

 


    

0% (0/18)


    

Hewedi et al. [31]; no statistically significant difference found in CD68+ cells between diffuse astrocytomas and pilocytic astrocytomas


  
  
    

 


    

 


    

 


    

 


    

 


    

7.9% (n=9)


    

 


    

 


    

 


    

 


    

Li et al. [33]; the infiltration of CD68+ and    Iba+ cells (statistically significant, p <0.01) positively correlated with that of CD133+    glioma-initiating cells


  
  
    

Anaplastic astrocytomas (WHO grade III)


    

14.3% (3/21)


    

0% (0/21)


    

 


    

0% (0/18)


    

42.9%‡ (9/21)


    

0% (0/21)


    

 


    

 


    

0% (0/18)


    

Hewedi et al. [31]; no statistically significant difference found in CD68+ cells between anaplastic astrocytomas and diffuse astrocytomas


  
  
    

 


    

 


    

 


    

 


    

 


    

19.7% (n=12)


    

 


    

 


    

 


    

 


    

Li et al. [33]; CD68+ and Iba+ cells (statistically significant, p <0.01) correlated with the grades of astrocytomas;    the infiltration of CD68+ and Iba+ cells (statistically significant, p <0.01)    positively correlated with that of CD133+ glioma-initiating cells


  
  
    

Glioblastomas (WHO grade IV)


    

71.4% (15/21)


    

14.3% (3/21)


    

 


    

0% (0/18) 


    

85.7% (18/21)


    

28.6% (6/21)


    

 


    

 


    

0% (0/18) 


    

Hewedi et al. [31]; §perivascular and intratumoral CD68+ cells    significantly (statistically, p <0.05)    more in glioblastomas than in anaplastic astrocytomas, diffuse astrocytomas,    and pilocytic astrocytomas


  
  
    

 


    

 


    

 


    

 


    

 


    

 


    

41% (25/61, +cells 10~%) vs. 59% (36/61,    +cells <10%).


    

10% (6/62, +cells 10-30%) vs. 90% (56/62, +cells <10%)


    

11% (7/63, +cells 1-3%) vs. 89% (56/63, +cells    <1%)


    

 


    

Kmiecik et al. [34]; CD3+ T-cell infiltration (statistically significant, p <0.05) associated with prolonged patient survival; a    trend for CD8+ cells and no association of CD4+ cells with patient survival


  
  
    

 


    

97% (n=63)


    

5% (3/63)


    

46% (n=63)


    

0% (0/63)


    

100% (n=63)


    

5% (3/63)


    

 


    

73%‡ (n=63)


    

0% (0/63)


    

Yang et al. [32]; positive expression (%) including cases with focal infiltrates; §perivascular and intratumoral CD68+ cells    significantly (statistically, p <0.05) more in glioblastomas than in pilocytic astrocytomas.


  
  
    

 


    

 


    

 


    

 


    

 


    

29.2% (n=11)


    

 


    

 


    

 


    

 


    

Li et al. [33]; CD68+ and Iba+ cells (statistically significant, p <0.01) correlated with the grades of astrocytomas;    the infiltration of CD68+ and Iba+ cells (statistically significant, p <0.01)    positively correlated with that of CD133+ glioma-initiating cells.


  
  
    

 


    

 


    

 


    

 


    

 


    

 


    

App. 9 cells/mm2 (secondary, n=11) vs. app. 22 (primary, n=54) cells/mm2


    

 


    

App. 4 cells/mm2 (secondary, n=11) vs. app. 8 (primary , n=54) cells/mm2


    

 


    

Lohr et al. [35]; elevated numbers of    intratumoral effector T-cells (cytotoxic and helper) significantly correlated    with a better survival in primary glioblastomas; regulatory T-cells not    associated with glioblastoma patient outcome


  
  
    

 


    

 


    

 


    

 


    

 


    

 


    

43% (3/7)


    

29% (2/7)


    

43% (3/7)


    

 


    

Kuppner et al. [36]; the cytolytic activity    expressed by tumor infiltrating lymphocytes against autologous tumor cells    significantly greater (p<0.001)    than that obtained by the corresponding peripheral blood lymphocytes cultured    in a similar manner.


  
  
    

Abbreviations: app: approximately; vs: versus; n: number of cases    studied


      

Markers: CD68, macrophages/microglia; CD3, T-lymphocytes; CD4,    T-lymphocytes; CD8, cytotoxic T-lymphocytes; CD20, B-lymphocytes; studies using different    immunohistochemical markers for the immune cells are not listed. 


      

Positive expression (%) of immunoreactive cells: scored as "intermediate"    and "extensive" on semi quantitative assessments of immunohistochemical staining


      

* Immune cell infiltrates within Virchow-Robin spaces:    perivascular; within the tumor tissue: intratumoral.


      

‡ Statistically significant (p < 0.05) difference from the perivascular counterpart; "not statistically    significant" results not shown.


      

§Statistically significant (p < 0.05) differences between tumor types or grades. 


      

 


  















Table 1:  Immune cell infiltrates in astrocytic tumors: frequency and clinical correlation.







As shown in this Table 1, the frequency of infiltrating CD68+ microphages/microglia varies with tumor WHO grade. Both the perivascular and intratumoral CD68+ cells have been found significantly more in glioblastomas (WHO grade IV) than in anaplastic astrocytomas (WHO grade III), diffuse astrocytomas (WHO grade II), and pilocytic astrocytomas (WHO grade I) [31-33]. No statistically significant differences in infiltrating CD68+ cells have been found between pilocytic astrocytomas and diffuse astrocytomas or between diffuse astrocytomas and anaplastic astrocytomas [31]. According to those studies, the percentage of intratumoral CD68+ macrophages/microglia is up to 86% (including the tumors with focal, infiltrates or extensive infiltrates) in WHO grade I pilocytic astrocytomas, up to 38.5% in WHO grade II diffuse astrocytomas, up to 42.9% in WHO grade III anaplastic astrocytomas, and up to 100% in WHO grade IV glioblastomas. Moreover, infiltrating CD68+ and Iba+ macrophages/microglia have been positively correlated with CD133+ glioma-infiltrating cells [33]. Figure 1 exhibits the infiltration of inflammatory/immune cells in an Atypical Teratoid/ Rhabdoid Tumor (AT/RT), in which Figure 1C displays frequent CD68+ macrophages/microglia in this AT/RT [37]. Macrophages/ microglia have been noted to comprise up to 34% of the gliomainfiltrating immune cells [38]; it is likely that the majority of these cells are infiltrating macrophages and not resident microglia [39].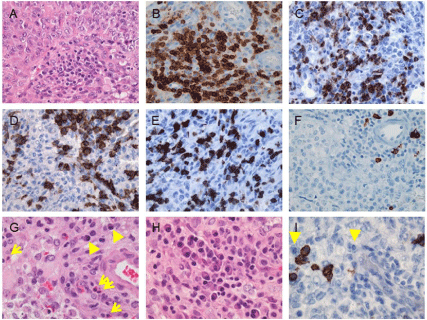 Figure 1: Infiltration of immune/inflammatory cells in an atypical teratoid/rhabdoid tumor of the fourth ventricle in a 13-month-old boy. The tumor exhibits (A) moderate infiltration of immune/inflammatory cells which are (B) immunoreactive for CD45 and contain (C) focally frequent CD68+ macrophages/microglia, (D) CD4+ cells and (E) CD8+ T-cells, but (F) sparse CD20+ B-cells. (G, arrows) Eosinophils and (G, arrowheads) plasmacytoid cells are often seen. The plasmacytoid cells are (H) focally frequent, and (I, arrowheads) mostly negative for the plasma cell marker CD138. Original magnifications: x 400 (A-I). [Figure reproduced by courtesy of the Canadian Journal of Neurological Science; Lu et al. [37].

    


    

    


    


    Figure 1:  Infiltration of immune/inflammatory cells in an atypical teratoid/rhabdoid tumor of the fourth ventricle in a 13-month-old boy. The tumor exhibits (A)
moderate infiltration of immune/inflammatory cells which are (B) immunoreactive for CD45 and contain (C) focally frequent CD68+ macrophages/microglia, (D)
CD4+ cells and (E) CD8+ T-cells, but (F) sparse CD20+ B-cells. (G, arrows) Eosinophils and (G, arrowheads) plasmacytoid cells are often seen. The plasmacytoid
cells are (H) focally frequent, and (I, arrowheads) mostly negative for the plasma cell marker CD138. Original magnifications: x 400 (A-I). [Figure reproduced by
courtesy of the Canadian Journal of Neurological Science; Lu et al. [37].
    


    



Although the exact function of macrophages/microglia within the tumor microenvironment is still not entirely clear, it seems as though these cells are actively immunosuppressive [40,41]. A few of the problems encountered in sorting this out stems from difficulty in precisely differentiating microglia, macrophages, and Myeloid- Derived Suppressor Cells (MDSCs) [42-48]. Their immunosuppressive and tumor-supportive nature appears to be related to these cells being directed down the M2 line of differentiation. This prevents the expression of cytokines required for CD8+ T cells and Th1 CD4+ T cells, and supports production of CD4+ regulatory T-cells (Tregs) [49]. Although numerous immunosuppressive cytokines are secreted by gliomatous tumors (IL-10, IL-4, IL-6, M-CSF, macrophage inhibitory factor, among others), the predominant immunosuppressive IL-10 signaling seems to originate from macrophages/microglia [41,49- 54]. These signals skew macrophagic differentiation toward an M2 response and away from an M1 phenotype (responsible for anti-tumor responses such as tumor-antigen presentation, pro-inflammatory cytokine production, and phagocytosis) [49,55]. M2 macrophages may also promote glial tumor progression through growth factor expression. VEGF, PDGF and Fibroblast Growth Factors (FGFs) have all been shown to result in increased tumor vascularity and growth— all of which are also produced by Glioma-Associated Macrophages/ Microglia (GAMs). Furthermore, Fas-Ligand expression by GAMs could also promote T-cell apoptosis and tumor-cell survival [41,56]. The net result of GAM influence on tumor growth or suppression is likely determined by the relative amount of M1 versus M2 cells that are found within the glioma microenvironment [49].
Gliomas and GAMs have been shown to interact with one-another through multiple cytokine, chemokine, and growth factor signaling pathways. Gliomas are capable of attracting GAMs, promoting proliferation of GAMs, and influencing their differentiation toward an M2, tumor promoting, and phenotype. In turn, as previously mentioned, GAMs are able to support glial tumor survival, promote their growth, and infiltration into surrounding parenchyma. Microglia are first recruited for tumor infiltration through a variety of signaling pathways [57-60]. Among these include Chemokine (C-C motif) ligand 2 (CCL2 or MCP-1) [59,61-63], Stromal-Derived Factor-1 (SDF-1) [60,64], and the triggered expression of Membrane Type 1 Metalloprotease (MT1-MMP) on GAMs that then induces glioma-derived pro-MMP-2 resulting in GAM-tumor infiltration [65-67]. Glioma cells can then stimulate GAMs to secrete a variety of factors that promote glial tumor migration such as cochaparone stress inducible factor 1 (STI1), TGF-β1, CXCT1, EGF, VEGF, Colony Stimulating Factor 1 Receptor (CSF-1R), to name a few [49,57-64,66-74]. There is a complex interplay between gliomas and GAMs suggesting the potential for new immunotherapeutic modalities. Although certain pathways have been elucidated, the heterogeneous and extremely plastic microenvironment found within high-grade gliomas will make a "one-therapy-fits-all" strategy virtually impossible. More likely, ongoing study results and patient/ tumor specific molecularly directed modalities will be needed to overcome these great challenges.
Lymphocytes
Lymphocytes, which are subdivided into T-cells, B-cells, and natural killer cells, are responsible for both cell mediated immunity and humoral immunity. Dated back to 1960, Bertrand and Mannen were among the first to find lymphocytic infiltration in gliomas; their study in cadaveric specimens revealed 36.6% (63/172) astrocytomas harboring perivascular lymphocytes despite "weak" infiltrates in the majority of cases [75]. Subsequent to this seminal work, several other groups went on to confirm the findings of lymphocytic infiltration in both post-mortem and living patient specimens of astrocytomas [76,77]. The 'definite' degree of Tumor Infiltrating Lymphocytes (TILs) was found in around 30% (28 – 31%) of grade IIIV astrocytomas and predominantly perivascular in distribution, but not in oligodendrogliomas, medulloblastomas, and ependymomas [76]. These studies, however, failed to establish any correlation with clinical prognosis [12].
Since these studies, much work has been done to characterize the specific phenotype of lymphocytes found. Table 1 also lists a few recent studies demonstrating infiltrating lymphocytes in astrocytic tumors [31-36]. Compared to older studies [75-77], these recent studies have immunophenotyped infiltrating lymphocytes by using individual specific markers. There has been a wide variation in the findings of studies attempting to classify the lymphocytic infiltration, as shown in the Table, which is at least partially attributed to the different techniques being used [12,78-81]. Among infiltrating lymphocytes, CD4+ cells and CD8+ cytotoxic T-cells represent the predominant cell subtypes [12,36,82,83]. One study by Farmer et al. [82] has found that the proportion (41.2%) of cytotoxic T-cells was increased within TIL population as compared to the corresponding peripheral blood lymophocyte populations (30.8%, statistically significant), as were CD4+ helper T-cells and natural killer cells (mostly also positive for CD8). Unlike infiltrating macrophages/microglia, the frequency of infiltrating lymphocytes appeared not to vary with tumor WHO grade. Instead, Lohr et al. have noted that elevated numbers of intratumoral effecter T-cells (cytotoxic and helper) were significantly correlated with a better survival in primary glioblastomas [35]. Similarly, Kmiecik et al. have revealed that CD3+ T-cell infiltration was associated (statistically significant) with prolonged survival of patients with glioblastomas [34]. There appear to be no significant infiltration of CD20+ B-lymphocytes in CNS tumors particularly astrocytomas (Table 1). Figure 1D, 1E, and 1F exhibit an AT/RT containing frequent CD4+ T-cells, frequent CD8+ cytotoxic T-cells, and rare CD20+ B-cells, respectively [37].
Regulatory T-cells (Tregs) have become the focus of a number of studies. These circulatory and local TILs, expressing CD4+/CD25+/ FoxP3, have been shown to play an integral part in the tumor microenvironment with a predominantly immunosuppressive role [37,41,84,85]. This is analogous to their role in other types of cancers [86-98]. FoxP3 is a protein specific to Tregs that is critical to T-cell development, and these CD4+/CD25+ TILs seem to suppress proliferation of CD4+/CD25- lymphocytes [12,84]. Although their origin is still unclear, T-cell immunosuppression by Tregs has been suggested as being responsible for systemic immunosuppression seen in glioblastoma patients as well [41]. Simultaneous local and systemic proliferation of Tregs is unlikely as glioblastoma-related factors are not increased in patient serum [99,100], nor are excessive numbers of TILs found consistently in all glioblastoma specimens [101,102]. Similarly to Tregs, circulating MDSCs have also been found in abundance in glioblastoma patients [41,99,103]. These cells have been shown to induce apoptosis of activated T-cells, stimulate Tregs proliferation, and alter T-cell recognition [104-106]. A number of cells, including Tregs and MDSCs, likely all contribute to a systemic and tumor-specific immunosuppressive microenvironment promoting tumor progression and immune system evasion. This has led to new tumor models being proposed such as that by Parney in 2012 whereby systemic-tumor interactions result in an overall lymphocytic inhibition [41]. Ultimately, findings such as those outlined here may result in new targets for immunotherapy of astrocytomas as evidenced by the use of anti-CD25 antibodies [107-109] or TLR stimulation by DNA CpG sequences [110-115].
Although some T-cells promote tumor progression, these infiltrating lymphocytes are overall destined for anti-tumor activity. More specifically, infiltrating CD8+ cytotoxic T-cells retain several mechanisms by which they can carry out an anti-tumor function [116]. These include perforin, granzymes, granulysin, CD95L, TNF, to name a few. Their function can also be modulated through APC expression of aEβ7 integrin [116,117] as well as expression of IFNγ and granzyme B by other T-cells. Indeed cytotoxic T-cells have also been explored as an immunotherapeutic method for treating glial tumor patients. These cells, usually generated ex-vivo through antigenic stimulation of Peripheral Blood Mononuclear Cells (PBMCs) with inactivated tumor cells [118-121] have been used in several early clinical trials with variable results. Few of these studies have shown a survival benefit [119-129]. An anti-tumor response by TILs, however, seems to be over-shadowed by the tumor escaping an immune system response through mechanisms leading to local immunosuppression such as those outlined above. Another subtype of T-cells demonstrating anti-tumor activity is the Lymphokine Activated Killer Cell (LAK) [130-137]. Similar to cytotoxic T-cells, they are harvested from PBMCs and activated ex-vivo by IL-2 [130,138-141]. LAKs have been shown to lyse tumor cells that are resistant to natural killer cells, while sparing normal brain tissue [130,132-135,137,142-145]. Their clinical use, however, has been limited due to their inability to migrate into the tumor site (requiring brachytherapeutic approaches), and labor-intensive extraction. The clinical trials that have been completed using LAKs have shown variable results, some demonstrating improved survival while others have not [130,144-153].
Eosinophils
Eosinophils are granulocytic cells derived from myeloid cells. Their wide array of functions demonstrates their importance in both the innate and adaptive immune systems and mounting an appropriate response to a given antigenic source. This includes antigen presentation, wound repair, organ development, cytotoxic clearance of pathogens, and tissue remodeling and homeostasis [154-157]. Furthermore, eosinophils influence both the innate and adaptive immune response upon activation through secretion of proinflammatory cytokines, pro-fibrotic and angiogenic factors that may ultimately alter tumor development [154,156,158]. Tumor-Associated Tissue Eosinophilia (TATE) has been increasingly reported, but the exact role of infiltrating eosinophils in tumors has not yet been defined [154,159-173]. Many studies have suggested that TATE is associated with favorable prognosis for a variety of carcinomas [130,149,161-169], whereas a few other studies have noted that TATE may have a tumor-promoting role [170]. An association with tumoral invasion of the oral squamous cell carcinomas has also been established [171-173]. Infiltrating eosinophils have been found in a number of malignant and benign tumors including oral squamous cell carcinomas, breast carcinomas, gastric cancers, uterine cervix carcinomas, penile cancers, hematologic malignancies, and colonic adenomas [159-173]. It has been noted that immune cell infiltrates in tumors often vary with tumor type and size [174,175]. TATE has been suggested to preferentially occur in tumors of epithelial origin in the colon and breast [165,176,177]. There have been only a few studies describing TATE in CNS tumors [154]. Two studies performed separately by Hayes et al. [130,149] have revealed intracavitary eosinophils in malignant astrocytomas of patients who had received the infusion of IL-2 combined with ex vivo activated autologous killer cells into the surgical resection cavity. Interestingly, eosinophils had been absent in the primary operative specimens of those patients, suggesting immunotherapy-induced eosinophilia. Lu et al. have showed the infiltration of eosinophils in all four AT/RTs (Figure 1G) that are malignant embryonal tumor with divergent differentiation, but not in a small group of glioblastomas [37]. The same group has also demonstrated eosinophil infiltration in 43% (19 out of 44) of pilocytic astrocytomas, but its absence in (10 out of 10) ependymomas [178]. Based on these observations, the infiltration of eosinophils is likely limited to some CNS tumors with certain cell origins such as astrocytic differentiation/component. The pathogenesis of cell origindependent TATE requires further investigation, although it may be at least partially attributed to different types of tumor-specific antigens present in those CNS tumors [12, 179-181].
Eosinophils are immune system effector cells involved in both pathogen clearance and tissue repair [182,183]. Although the relevance of TATE is unclear, eosinophilic production and release of Eosinophil Peroxidase and Reactive Oxygen Species (EPO and ROS, respectively) may serve to amplify oxidative damage and promote tumorigenesis [184]. Furthermore, astrocytic tumors have been found to produce GM-CSF [185-187] which may promote the role of eosinophils in malignant glial tumor evolution. However, oxidative stress has also been linked to cellular apoptosis and thus potentially results in eosinophils having an anti-tumorigenic effect. Eosinophil Derived Neurotoxin (EDN) and Eosinophil Cationic Protein (ECP) have been shown to interact with Toll-Like Receptor (TLR)-2 as part of the innate immune system [188]. In animal studies of gliomas, TLRligands have been shown to cause an increased infiltration of immune effector cells and result in enhanced tumor regression [189,190]. The tumor progression or regression is the net result of either growth or apoptosis. This is a complex interplay between a myriad of cytokines, chemokines, and immune cell-tumor cell interactions. Two key grow factors found to be mutated and involved in glial tumor evolution are Epidermal Growth Factor (EGFR) and PDGF. Eosinophils also express PDGF receptors. This may serve to activate eosinophils causing degranulation and promote apoptosis. However, in vitro experiments conducted stimulating eosinophils has resulted in ligand production amplifying EGFR and may serve to promote glial tumor growth. Curran and Bertics [154] have suggested a positive feedback loop within the tumor microenvironment in which tumor cells express GM-CSF resulting in increased eosinophil activity. This then causes increased growth-factor ligand production and enhanced glial tumor progression, and causing more GM-CSF expression.
Several studies have demonstrated an inverse relationship between atopic diseases and risk of glioma [191-193]. As eosinophils have been proven to play a key role in atopic diseases [182], it stands to reason that perhaps infiltrating eosinophils in some gliomas are partially responsible for this phenomenon [154]. Although there are only few studies of TATE in CNS tumors, emerging evidence suggests that TATE plays a functional role in the development and progression of CNS tumors (especially pediatric), and this role lends credence to future novel TATE immunotherapy [154,178].
Immune cell infiltrates in pediatric versus adult CNS tumors
Children have a distinct, developing immune system that undergoes a transition from fetal to adult-equivalent immune competence, and peaks at puberty [194]. Age-related changes have been found in the circulating immune cells including eosinophils and multiple subtypes of lymphocytes [194,195]. For example, within the total lymphocyte population, the percentages of T cells including CD4+ and CD8+ subtypes increase with age; percentages of B-cells and NK cells are higher in newborn infants than in adults [195]. With particular relevance to CNS tumors, the glioma-associated antigen precursor protein profile displays different types between pediatric and adult patients [12,180,181]. These age-dependent differences may give rise to some discrepancies in immune cell infiltrates between pediatric and adult CNS tumors.
A recent study has analyzed the age difference and found infiltrating eosinophils in 18 out of 29 (62%) pilocytic astrocytomas of pediatric patients (1-18 years old) versus 1 out of 15 (7%, significantly less compared to that of pediatric patients) pilocytic astrocytomas of adult patients (20-72 years old; only one positive in a 20-year-old patient) [178]. This age-dependent finding appears to be consistent with another study demonstrating infiltrating eosinophils in AT/RTs of all four patients less than 2 years of age [37] (Figure 1G). Griesinger et al. [196] have recently characterized the frequency and phenotype of infiltrating immune cells in the most common pediatric CNS tumors. Their study has revealed the most myeloid cell-rich tumor to be pilocytic astrocytomas (31.6%), followed by ependymomas (27.1%), glioblastomas (7.6%), and medulloblastomas (4.1%). In comparison, myeloid cells were found to make up 0.4% of nontumor brain tissues. They have also found the correlation of T-cell infiltration with myeloid cell infiltration, and the highest number of infiltrating CD8+ cytotoxic T-cells in pilocytic astrocytomas (3.28%) compared to other tumors, but CD4+ T-cell infiltration higher in ependymomas (1.40%) than other tumors. These observations may imply that immunotherapeutic interventions should be tailored to individual tumor types [197], with particular consideration of distinct immunophenotypes and differences in tumor-associated antigens between pediatric and adult CNS tumors [180].
Immunotherapy
The field of immunotherapy has spawned from increased knowledge of tumor-immune system interaction, i.e., the tumor immune microenvironment. In brief, immunotherapy consists of utilizing the patient immune system to eradicate foreign tumors. This may consist of targeting tumor specific epitopes, or modulating the tumor-immune cell infiltrates such as GAMs. Immunotherapy has been recently reviewed in detail [5,198,199]. Outlined below are only a few of the many potential immunotherapeutic targets currently under investigation.
Tumor specific epitopes such as the EGFRvIII receptor exemplifies such a target. This is a particular EGFR receptor not expressed by normal cells, and unique to glioblastomas (found in 20- 30% of glioblastoma patients) [200]. Preliminary animal and patient investigations have shown increased survival upon immunization against EGFRvIII antigens [201,202]. However, multi-tumor specific epitope targeting is essential as malignant glial tumor cells are infamous for their heterogeneity and plasticity as highlighted by tumor recurrence from cells not expressing EGFRvIII mutations.
Other immunotherapeutic strategies consist of altering the tumor microenvironment by skewing macrophages toward an M1 phenotype. This has been previously shown to reduce tumor growth [203]. The studies investigating this option have focused on blocking STAT3 (signal transducer and activator of transcription 3) which has been shown to be responsible for promoting an M2 differentiation and immune system suppression [49]. Their results have demonstrated decreased levels of IL-10 and IL-6 (immunosuppressive cytokines), and GAM activation [204,205]. In addition to altering macrophage phenotype, overcoming the immunosuppressive tumor microenvironment is essential for immunotherapy success. Research focused on Tregs targeting has led to several potential pathways by which this can be achieved. The inactivation of immunosuppressive Tregs through antibodies blocking CD25, and decreased Tregs accumulation with TLR8 and TLR9 stimulation has both shown promising results [206-211].
Strategies focused on preventing tumor infiltration and immune cell attraction has also shown promise. This is accomplished through blockade of tumor-induced expression of cytokines. For example, blocking the MT1-MMP cascade and TGF-β1 receptor on GAMs has resulted in decreased glioma invasion [68,212]. Furthermore, immunotherapeutic targeting of CCL2 may prevent immune cell infiltration of the tumor, attenuate the immunosuppressive response, and promote tumor clearance [213,214].
Conclusion
Ongoing investigation into the interaction between CNS tumors and the patient immune system has led to a surge in the development of novel immunotherapeutic agents. However, the translation of these agents into clinical practice has been underwhelming, and not resulted in a drastic improvement of prognosis. Glioblastomas have been the most extensively researched of CNS tumors with respect to immune cell infiltration and immunotherapy. They have a dismal natural history that is only slightly improved with maximal therapy, currently consisting of a combination of surgical resection, chemoand radiotherapy. Despite these efforts, average survival is only 14 months. However, the amount of knowledge gained with respect to glioblastoma molecular biology and immunobiology rivals that of most other oncological entities. Ongoing basic science research has resulted in the emergence of an entirely new field of therapeutics directed at manipulating the patient immune system to combat tumor progression. New models focusing on the immune systemtumor interaction through circulating cells such as MDSCs and Tregs and their resultant immunosuppression represent novel targets for therapy. The discovery of innate and adaptive immune cells infiltrating into such tumors, their underlying function, and the mechanisms by which they penetrate the blood-brain barrier will serve to facilitate the design of new therapeutic agents. Tumor-specific antigens such as EGFRvIII, STAT3, and signaling mechanisms such as Fox P3, TGF, or CCL2 represent only a few targets for these agents. Although immunotherapeutic results have not yet translated into substantial clinical gains, continued study is crucial and will yield important information that will bring us closer to that end.
References