Case Report
Austin J Radiol. 2015;2(5): 1027.
Hypodontia of Permanent Incisor Tooth in a Crioulo Horse
Pizzigatti D¹, Jacques RSPE², Martins CF³,Pimentel C³ and Álvarez LEC4*
¹1Large Animal Clinics and Surgery Service, School of Veterinary Medicine, Brazil
²Autonomous, Pelotas, Rio Grande do Sul, Brazil
³DepartmentofVeterinaryClinic, SchoolofVeterinary,Brazil
4ImagingDiagnosis Service, SchoolofVeterinary Medicine, Brazil
*Corresponding author: Luis Emiliano Cisneros Álvarez, Imaging Diagnosis Service, Schoolof Veterinary Medicine, FIO, Ourinhos, São Paulo, Rodovia BR-153, KM338+420m, Bairro Agua do cateto, Zip code 19909- 100, Brazil
Received: March 28, 2015; Accepted: July 08, 2015; Published: July 10, 2015
Abstract
Tooth hypodontia is a rare condition in horses that might cause underdevelopment in young animals, occlusion imbalances, masticatory abnormalities and decrease in performance. Disregarding its embryological or traumatic nature, tooth hypodontia is expected to be identified late in disease. Hence, this anomaly should be investigated as a part of the routine dental examination, especially in absence of any dental piece. Equine hypodontia or anodontia has not been previously described. This report presents a case of hypodontia of a permanent incisor tooth in a crioulo horse revealed by radiography.
Keywords: Hypodontia; Tooth agenesis; Incisive; Permanent tooth; Horse
Introduction
Odontogenesis is a complex and sensitive embryological process, which is influenced by several inherited or acquired disorders affecting either the permanent or deciduous teeth [1-5]. Abnormalities of dental development and/or eruption in animals might cause irregular tooth wear and so occlusal imbalances, which often causes a variety of clinical signs including foul breath, weight loss, colic, and dropping feed [3,6-9].
Data on the qualitative and quantitative anomalies in dental eruption in animals have been reported since ancient times by Hippocrates and Gaius PliniusSecundus [10]. Furthermore, hypodontia was already identified in a fossil mammal (Perissodactylatapiridae) from the Eocene in Spain [5,11]. Other developmental abnormalities such as polyodontia and tooth agenesis have been identified in horses [1,3,6,11].
Tooth agenesis is defined as the failure in formation of one or more teeth due to developmental defects [12,13], which may be caused by genetic and/or environmental factors. In animals, as in humans, this condition is more commonly observed in females than in males [5,14-18]. Although there is ambiguity in the use of the term "tooth agenesis" [4,19,20], it is subdivided into oligodontia, i.e., absence of more than six teeth; hypodontia, i.e., absence of up to six teeth; and anodontia or absence of all teeth [1,4,6,11,13,15,21]. Tooth agenesis frequently affects permanent teeth, predisposing to imbalanced occlusion due to overgrowth of the opposing teeth [8,22,23].
There are a few reports on tooth agenesis in horses [1-3,6,7,11,22]. In humans, this entity is considered as the most prevalent congenital craniofacial malformation (ranging from 1.6 to 9.6% for permanent teeth and from 0.5 to 0.9% for deciduous teeth) [13]. Whenever talking about hypodontia of the third molar, it can be identified in up to 25% of the human population [15,16]. Current research on physiopathology and treatment of tooth agenesis are based on tissue engineering [16,24].
Although its pathogenesis is not entirely understood [11], ectodermal dysplasia is one of the differential diagnoses in cases of oligodontia in humans and involves a series of inherited diseases affecting several ectodermal-origin tissues such as teeth, hair, and nails [6,7,25]. In human medicine, oligodontia of deciduous and permanent incisor teeth was described in two sisters [25]. However, oligodontia is extremely uncommon in horses. Ramzan et al. described oligodontia associated with ectodermal dysplasia syndrome in a thoroughbred foal [11]. Oligodontia in a foal with a congenital maxillary tumor was also reported [26].
Hypodontia is defined as teeth absence caused by anomalous differentiation of the dental lamina and tooth bud, and can be triggered by trauma, infection or senile wear [19,24]. Currently, there is no report on hypodontia or anodontia in horses [1-3,6,7]. This paper reports a case of hypodontia presumptively caused by agenesis of the permanent maxillary central incisor tooth in a crioulo horse.
Case
A three-year-old crioulo stallion was attended due to bad breath, and 502 and 602 incisor trauma suffered approximately four months prior presentation. The owner reported that the trauma to the incisor teeth was caused by cribbing and sucking in air. The horse was trained for show jumping (approximately two hours daily). However, it was mostly kept in stall wearing a halter to prevent cribbing. The animal's diet consisted on a combination of lucernehay (Medicago sativa L.) and a commercial feedstock, which were provided three times per day.
Initial approach revealed a docile temper. However, physical appraisal revealed sialorrhea, difficulties to eat, and halitosis. Heart rate, respiratory rate, body temperature, capillary filling time, and pulmonary and abdominal auscultation were within normal limits. Oral examination showed fracture and root retention of 502 and 602 along with vestibular and mesial wear of the opposite 802 and 702 incisor teeth (Figure 1A and 1B).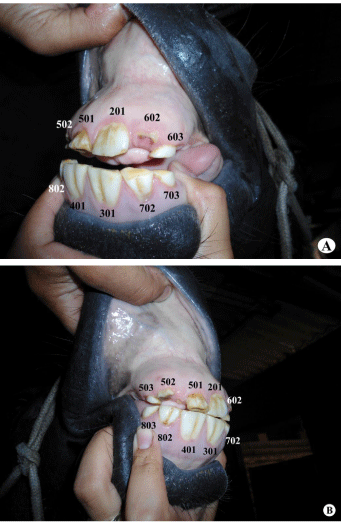 Figure 1: Photograph of a mixed dentition of a horse showing the incisive teeth. A and B are left and right sides, respectively – fracture and root retention of 502 and 602, with four months of evolution. Vestibular and mesial wear of the opposite 802 and 702 incisor teeth is also observed.

    


    

    


    


    Figure 1:  Photograph of a mixed dentition of a horse showing the incisive
teeth. A and B are left and right sides, respectively – fracture and root
retention of 502 and 602, with four months of evolution. Vestibular and mesial
wear of the opposite 802 and 702 incisor teeth is also observed.
    


    



A dorsoventral intraoral radiography of the maxillary incisor region [27-29] provided evidence of the absence of the permanent 101 and tooth retention of 501 (Figure 2). Several enamel points were found at the maxillary (106-110, 207-210) and mandibular (307- 310, 406-410) premolars and molars of the four dental quadrants, causing laceration on the vestibular mucosa and body of the tongue. Additionally, infundibularcemental hypoplasia of teeth 106, 107, 206 and 207 was observed.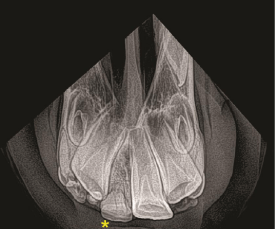 Figure 2: Intraoral, dorsoventral radiograph of the rostral aspect of the mandibular incisors teeth. It was possible to visualize the remaining 501(*) and absence of 101, characterizing permanent hypodontia.

    


    

    


    


    Figure 2:  Intraoral, dorsoventral radiograph of the rostral aspect of the
mandibular incisors teeth. It was possible to visualize the remaining 501(*)
and absence of 101, characterizing permanent hypodontia.
    


    



In order to extract the apical portions of teeth 502 and 602, the horse was sedated using intravenous detomidinechlorhydrate (Dormin V®, AgenerUniãoJabaquara, São Paulo, Brazil) at 0.02 mg/ kg of body weight, followed by local anesthesia of the infraorbital foramen using lidocaine chlorhydrate (Lidovet®, Bravet, Rio de Janeiro, Rio de Janeiro, Brazil) at 2 mg/kg of body weight.
A post-surgical dorsoventral radiography of the maxillary incisors confirmed the extraction of the entire roots and fragments of 502 and 602 and revealed no complications secondary to fracture. However, absence of 101 and retention of 501 were observed. The edges of the alveolus and periodontal space of 101 were well defined and the alveolar space presented a trabecular bone-like opacity. These findings characterized hypodontia of 101, probably caused by agenesis.
To prevent subsequent oral disease caused by overgrowth of 401, the treatment consisted in floating of 401 in a regular basis. To alleviate the stereotypical behavior of cribbing, the suggested treatment consisted in changes in training schedules and environment.
Discussion and Conclusion
Stress on horses can induce behavioral stereotypies such as pawing, kicking, cribbing, wind-sucking, wood-chewing, weaving, aggressiveness, abnormal tooth wear, stall walking and so on. Approximately 34.6% of young horses develop some stereotypy which can cause: (1) gastrointestinal abnormalities, possibly related to the occurrence of gas and impaction colic; (2) abnormal wear of incisor teeth and odontomaxillary or mandibular fractures associated with the habit of biting or chewing hard surfaces; and (3) drop of performance [17,30,31].
In a study of 407 horses belonging to the Brazilian Army Cavalry and kept in stall, stereotypies were reported in 118 (28.9%) animals18 and 18 of those (14.5%) had excessive wear of the incisor teeth. This data reinforce the need for welfare and comprehensive veterinary care in order to prevent, identify, interpret, and treat behavioral disturbances. Special attention must be paid to animals exposed to new management situations (e.g., beginner athletes, reproduction, etc.) which intrinsically impose more stress [17].
One hypothesis for the hypodontia of 101 in this case is delaying of the morphogenetic and cell differentiation stages during odontogenesis of the apical portion of hypsodont teeth, which plays a central role in the differentiation of the deciduous and permanent incisors [1,4]. The lingual extension of the dental lamina attached to the temporary teeth (apical portion) suffers a delay in the odontogenic process and gives rise to the permanent teeth that force the deciduous pieces toward the vestibulum during their eruption [1,2,15]. Another less likely theory for the hypodontia of 101 herein is degeneration of the apical portion of 501, due to the inflammatory process caused by the fracture of 502. The possibility of developmental damage to permanent teeth as a consequence of displacement or removal of deciduous teeth, with or without trauma of the mandibular or maxillary bones, has already been reported by other authors [1-3,8].
Dental change of the central incisors from deciduous to permanent teeth should have already begun or been accomplished in a three-year-old horse [32]. In this sense, careful analyses of radiography performed at presentation indicated agenesis of 101 as the main differential diagnosis. In this case, radiography showed normal alveolus but trabecular bone-like opacity. These findings are different than in cases of external inflammatory tooth reabsorption consisting on sclerotic areas and lucency of the periodontal space, lamina dura, and root and tooth apex [33-35].
Despite of delayed tooth eruption was suggested as the first differential diagnosis during the clinical approach in this case, radiography confirmed hypodontia of 101. Hence, clinical and radiographic examinations were considered as essential tools for the diagnosis of this tooth development abnormality [3,5]. Unfortunately, because of lack of routine dental examination in many instances, teeth abnormalities (e.g., agenesis) are noticed by the owner until gross observation of absence of the permanent teeth; or late in disease, only after presentation of clinical signs of buccal and concomitant disorders.
Several reports describe molars and premolars as the most affected by tooth agenesis [1-3,5,8,15,24]. Nevertheless, this study reports hypodontia of the permanent central incisor. In human dentistry, the treatment of choice would be osteointegration, which consists in the use of a dental implant to support a tooth-like restoration. However, research on the use of staminal cells, with a potential of self-renewal of the mesenchymal stem cells pool and differentiation into a number of specific tissues is promissory in molecular dentistry [4,5,16].
Although rare, tooth agenesis may be searched along with other dental abnormalities during routine oral examination in horses. It also should be diagnosed as soon as possible in order to avoid tooth developmental disorders which can cause imbalanced occlusion and dysfunction of the masticatory system, leading to a variety of health problems and to subsequent drop in horse performance.
References