Review Article
Austin J Biomed Eng. 2014;1(5): 1001.
Trophic Factor Production by Glial Cells in the Treatment of Amyotrophic Lateral Sclerosis
Dennys CN, Franco MC and Estévez AG*
Department of Biomedical Sciences, University of Central Florida, USA
*Corresponding author: :Estévez AG, Burnett School of Biomedical Science, University of Central Florida, 6900 Lake Nona Blvd, Orlando, FL 32827, USA.
Received: August 10, 2014; Accepted: September 08, 2014; Published: September 10, 2014
Abstract
Amyotrophic lateral sclerosis (ALS) is a neurodegenerative disease with unknown pathogenic causes. The identification of mutated genes in familial forms of ALS has lead to the development of animal models to study the mechanisms of motor neuron death. Transgenic animal models and human patients show that glutamate excitotoxicity, oxidative stress, protein aggregation and inflammation are hallmarks of the disease. Here we discuss the role of activated glial cells, specifically astrocytes and microglia on the disease pathogenesis and progression. Additionally, we discuss the current evidence showing that the induction of trophic factor production by glial cells may be an effective therapeutic strategy for the treatment of ALS.
Keywords: Amyotrophic lateral sclerosis; Astrocytes; Microglia; Trophic factors
Abbreviations
ALS: Amyotrophic Lateral Sclerosis; SOD: Superoxide Dismutase; GLT-1: Glutamate Transporter-1; EAAT2: Excitatory Amino Acid Transporter; AMPA: α-Amino-3-Hydroxy-5-Methyl- 4-Isoxazolepropionic Acid; Hsp90: Heat Shock Protein 90; Nrf2: Nuclear Factor Like 2; NOX: NADPH Oxidase; MCP1: Monocyte Chemo Attractant Protein; CCL5: Chemokine (CC motif) Ligand 5; TNF: Tumor Necrosis Factor; IL-1A: Interleukin-1A; IL-1B: Interleukin-1B; IL-1RA: Interleukin-1RA; M-CSF: Macrophage Colony Stimulating Factor; COX-2: Cyclooxygenase-2; iNOS: inducible nitric oxide synthase; Arg1: arginase-1; BDNF: brain derived neurotrophic factor; GDNF: Glial Derived Neurotrophic Factor; CNTF: Ciliaryneurotrophic Factor; VEGF: Vascular Endothelial Growth Factor; IGF1: Insulin Growth Factor-1; Hsp70: Heat Shock Protein 70
Introduction
Amyotrophic lateral sclerosis (ALS) is a progressive neurodegenerative disease affecting 2 people every 100:000 populations. Most of the affected individuals live an average of 3-5 years after diagnosis: but some individuals live longer. Approximately 10% of cases are hereditary or familial and are referred as familial ALS. The other 90% of ALS cases are sporadic: for which the causes of the disease remain unknown. The identification of genes which mutations are associated to ALS allowed the development of transgenic mouse models of the disease. The discovery that 20-30% of the familial cases of ALS were linked to mutations in the gene of the antioxidant enzyme superoxide dismutase (SOD) lead to the development of a variety of transgenic mouse models that develop a disease with the general characteristics and symptoms of ALS[1-10]. In spite of the initial enthusiasm that the transgenic model would provide a rapid understanding of the disease leading to a cure: 20 years later there are no new treatments for ALS. The transgenic mouse models have become under attack as a tool to study the disease. Transgenic ALS mouse models over expressing mutant SOD not only have failed as a tool to help elucidate the mechanism of SOD toxicity: but also failed to be predictive for the development of successful human therapies.
However: transgenic animals recapitulate many of the characteristics of the disease and have become useful tools to elucidate the role of other cell types in the pathogenesis of ALS. It is now widely accepted that motor neurons are not the only cell type affected in ALS. During symptom onset and as disease progresses there is an increase in activated astrocytes and microglia [11,12]. These cells are also activated in the spinal cord of post mortem tissues of ALS patients [13-17]. Recently many studies have focused on the contribution of glial cells to disease onset and progression.
Amyotrophic Lateral Sclerosis
A number of different hypotheses have been developed over the years to explain motor neuron degeneration in ALS, including glutamate excitotoxicity, oxidative stress: protein aggregation and inflammation (Figure 1) [18]. The first hypothesis to explain the pathology of ALS was glutamate excitotoxicity [19]. In the G93A SOD mouse and rat ALS models, the levels and activity of glial glutamate transporter (GLT-1) were reduced [20-23]. Shortly after, a reduction in the expression of the human equivalent of GLT-1: EAAT-2, was observed in the motor cortex and spinal cord of ALS patients [24,25]. In addition, glutamate levels in the cerebral-spinal fluid were increased in ALS patients [26,27]. The decrease of EAAT- 2expressionwas proposed as the cause of extracellular glutamate accumulation: which in turn stimulated motor neuron degeneration through hyper activation of the AMPA glutamate receptors [28]. A similar decrease in glutamate transporter activity and increased levels of glutamate is present in the cerebral spinal fluid and plasma of mutant SOD mouse models [7,21,22,29]. Suggesting that the selective loss of glial GLT-1 causes the increase in glutamate levels both in vivo and in vitro [30]. Further support comes from delayed motor neuron degeneration in G93A mutant SOD transgenic models of ALS over expressing GLT-1[31], suggesting that restoration of glutamate uptake can delay disease progression. These observations were among the first to imply that glial cell dysfunction contributes to the progressive loss of motor neurons in ALS.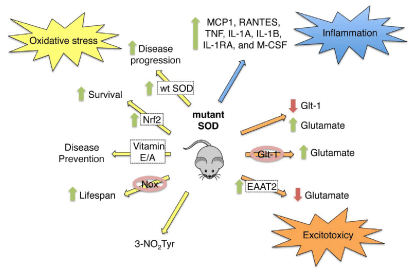 Figure 1: Role of oxidative stress, inflammation and excitoxicity in ALS.












Figure 1:  Role of oxidative stress, inflammation and excitoxicity in ALS.







As mentioned before, the first identified genetic cause of ALS was mutations in the gene of SOD [1]. At present more than 100 point and deletion mutations in the SOD gene have been identified [32,33]. In vitro and in vivo evidence support that SOD toxicity is consequence of a gain-in-function and not due to loss of enzymatic function [34,35]. Genetic deletion of SOD in transgenic mice does not induce motor neuron death [36]. Over expression of wild type human SOD does not protect against mutant SOD toxicity, in fact over expression of wild type SOD has no effect [37] or accelerates the death of the animals [38-40]. These results support that a gain in toxic function is responsible for the role of mutant SOD in the pathogenesis of ALS. However, 20 years after the discovery those mutations in SOD were the cause of ALS, the mechanism by which mutant SOD stimulates motor neuron death is still unknown and highly controversial.
Other common feature in familial and sporadic patients as well as in animal models of ALS is the presence of markers for the production of reactive oxygen and nitrogen species. The formation of peroxynitrite: the product of the diffusion limited reaction of nitric oxide and superoxide [41] has been proposed to participate in the pathogenesis of ALS [42,43]. Nitro tyrosine, a peroxynitrite foot print is present in glial cells and motor neurons from postmortem spinal cords of ALS patients and transgenic mutant SOD mouse [8, 44- 57]. One hypothesis of mutant SOD toxicity is based on the mutant enzyme's lower affinity for zinc [58,59]. Zinc deficient SOD triggers superoxide- and nitric oxide-dependent motor neuron death [60]. Interestingly: wild type SOD enhances zinc-deficient SOD stimulated motor neuron death by stabilizing mutant SOD and preventing its aggregation [61]. In addition, the mutant enzyme catalyzes protein nitration by peroxynitrite [62]. Tyrosine nitration precedes motor neuron death induced by zinc-deficient SOD [60], suggesting that formation of nitro tyrosine could mediate the induction of cell death. Nitration of tyrosine residues has been linked to induction of cell death for over 20 years. Tyrosine-containing peptides indeed prevent peroxynitrite-induced apoptosis in PC12 cells: demonstrating that tyrosine nitration is the actual cause of cell death [63]. Nitration of the heat shock protein 90 (Hsp90) on a single tyrosine residue turns the pro-survival chaperone into a toxic protein. This toxic nitrated Hsp90 is present in motor neurons of ALS patients and animal models of ALS [64]. In aggregate: these results represent the first integrated hypothesis explaining the toxicity of mutant SOD as a catalyst of Hsp90 nitration: supporting nitrated Hsp90 toxic activity in motor neurons. Further investigation is necessary to mechanistically link mutant SOD with Hsp90 nitration.
Further support for the participation of oxidative stress in the pathogenesis of ALS is provided by studies that crossbreed the G93A SOD transgenic mouse model of ALS with animals over expressing nuclear factor-like 2 (Nrf2): which enhances the Nrf2 mediated antioxidant response in astrocytes. Astrocytes Nrf2 over expression in transgenic mouse models of ALS increases survival, delays symptom onset and slows progression of the disease [65]. Gene deletion or pharmacological inhibition of the superoxide-producing enzyme NADPH Oxidase (NOX) also prolongs lifespan in mouse models of ALS [66-68]. In addition: antioxidant vitamins such as vitamin E have proved effective in animal models of ALS [69].
In summary, glutamate toxicity and oxidative stress contribute to the pathogenesis of ALS. Each one of these processes have glial cells as possible mediators of the toxic effects, suggesting that dysregulation of glial cells and neuro inflammation cause motor neuron loss of function and death in ALS.
Role of Glial Cells in ALS Pathology
Neuro inflammation, characterized by activated microglia and astrocytes is present in the spinal cord of patients and animal models of ALS (Figure 2) [11,70-73]. In addition to the morphological and molecular markers of microglia activation, immune cell recruitment is detected both in patients and animal models of ALS. Monocyte chemo attractant protein (MCP1) and chemokine ligands 5 (CCL5), markers of immune cell recruitment are present in cerebrospinal fluid and sera of ALS patient [70,74]. A similar increase in MCP1 is present in animal models of ALS [75]. Up regulation of proinflammatory cytokines and chemokines such as tumor necrosis factor (TNF), interleukin 1A (IL-1A), interleukin 1B (IL-1B), interleukin-1RA (IL- 1RA), and macrophage colony stimulating factor (M-CSF) is also found in patients and animal models of ALS [76-80]. There is also an increase in cyclooxygenases 2 (COX-2) and prostaglandin E2 in both ALS patients and mutant SOD mouse models [81-83]. In addition: a correlation between inducible nitric oxide synthase (iNOS) and arginase 1 (Arg1) positive microglia, markers of microglia activation and disease progression: is evident in mutant SOD mouse models of ALS [84]. Gene reduction of mutant SOD expression in microglia and macrophages slows disease progression without affecting disease onset [85]. Together these results suggest that microglia play a secondary role in disease progression after ALS is trigger by a different mechanism.

Figure 2: Roles of glial cells in ALS.












Figure 2:  Roles of glial cells in ALS.







Activated astrocytes are found also in the spinal cord of both patients and mouse models of ALS [6,11,86-89]. Mutant SOD containing astrocytes are toxic to motor neurons in co-cultures [89- 95]. Similarly: astrocytes activated by different stimuli not only do not support motor neuron survival, but stimulate motor neuron death [89,96-99]. Growing evidence indicates that expression of mutant SOD in astrocytes is involved in disease progression, but does not affect the onset [87]. Activated astrocytes secrete nerve growth factor [100] at levels that are toxic to motor neuron [94,98,101-103]. These results suggest that astrocytes are an integral part of the pathogenic mechanism responsible for the progression of ALS.
In summary, glial cell dysfunction has been documented in animal and cell culture models of ALS as well as in ALS patients. Astrocytes and microglial have been shown to become activated and secrete toxic factors that lead to motor neuron death [92-95,99,104-106]. The disruption of normal glial cell function and trophic factor support suggests that targeting glial cells may be a therapeutic approach for the treatment of ALS.
Targeting Glial Cells in the Treatment of ALS
The observation that glial cells are activated upon symptom onset with the concomitant release of factors toxic to motor neurons, suggests that these cells may be potential therapeutic targets. Stimulating these cells to produce and secrete trophic factors that promote motor neuron survival may prove to be an effective strategy in the treatment of ALS. Riluzole is the only FDA approved drug for the treatment of ALS. However, the primary mechanism of action of Riluzole remains unknown. Riluzole has been shown to stimulate glutamate reuptake and to block sodium channels [107-112]. However, many other anti-glutamate agents have had no effect on patient survival, suggesting this is not the main protection mechanism. This lead to the hypothesis that Riluzole may be protective not only as an anti-excitotoxic agent but also by stimulating or inhibiting other cellular pathways [113-115]. Riluzole has also been shown to promote Trophic factor production in astrocytes [116,117], enhancing the protection provided by astrocytes to Trophic factor-deprived motor neurons. Exposing the conditioned media from astrocytes to heat or trypsin reverses this effect: which strongly suggest that Riluzole stimulates the production and release of Trophic factors [117]. Further studies showed that riluzole stimulates the expression of brain derived neurotrophic factor (BDNF) and glial derived neurotrophic factor (GDNF)in cortical astrocytes [116]. These results suggest that the effectiveness of riluzole may be due to an increase in trophic factor production by glial cells.
Riluzole only extends patient lifespan from three months to a year [118-123]. Therefore a more effective therapeutic strategy must be developed. The type of trophic factor used for ALS treatment is critical as trophic factors have different effects depending on the mode of administration and their pharmacokinetic limitations and side effects [124]. BDNF has been tested in animal models of axotomy, excitotoxic legions and wobblers mice. There is an increase in motor neuron survival following gel foam and spinal cord injections, as well as after viral delivery of BDNF to the animals [125-130]. However: there has been no benefit to BDNF treatments in human trials [131,132]. This might be due to inefficient crossing of BDNF through the blood brain barrier [124,133]. GDNF increases survival of mutant SOD motor neurons in vitro. In transgenic mice: viral delivery or muscle derived GDNF expression also extends survival [125,128,134- 136]. In contrast, the expression of GDNF in the central nervous tissue has no effect on motor neuron survival [135,137]. There is already an increase in GDNF levels in the cerebral spinal fluid of ALS patients [138], and this may explain why additional GDNF in the central nervous system has no effect in animal models. GDNF has not been tested in human trials due to the controversial evidence on treatment effectiveness. GDNF is also unable to cross the blood brain barrier, requiring more invasive drug delivery methods [139]. Finally, ciliaryneurotrophic factor(CNTF) has been shown to increase motor neuron survival after axotomy in a rat model [140]. However, no benefits were observed in human trials and the extreme side effects lead to termination of treatment in many cases [141].
Nontraditional neurotrophic factors have also been investigated for the treatment of ALS. Vascular endothelial growth factor (VEGF) is a neuro protective factor that is produced by astrocytes and Schwann cells [142]. Delivery of VEGF using viral vectors improves motor neuron function as well as numbers [143]. Intravenous injections of VEGF also improve motor neuron function, increase number of motor neurons and neuromuscular junctions and improve survival in animal models of ALS [144,145]. In addition, transplantation of human neural stem cells overexpressing VEGF in animal models of the disease improves motor neuron function as well as survival [146]. Finally: over expression of VEGF in neurons from ALS transgenic animals improves motor neuron survival and preserves neuromuscular junctions by reducing astrogliosis [147,148]. VEGF is down regulated in ALS patients [149,150], and there is currently a clinical trial under way to investigate VEGF as a therapeutic target for ALS patients. Insulin growth factor 1 (IGF1) is another neuro protective factor under investigation. IGF1 is produced and secreted by astrocytes, oligodendricytes, microglia and Schwann cells. Viral and intrathecal delivery of IGF1 at various stages of disease progression results in improved function and survival of motor neurons in transgenic mouse models of ALS. Muscle specific expression of IGF1 also improves motor neuron function and survival [151-156]. Human trials utilizing IGF1 treatment have shown a slower decline of motor neuron function where as one other has had no effect [157-160].
The induction of the heat shock response can also be neuro protective. Both muscle and astrocytes secrete heat shock protein 70 (Hsp70) under normal conditions. However, over expression of Hsp70 within the spinal cord, but not the muscle, can protect motor neurons from program cell death during development [161]. The observation that only centrally derived Hsp70 is neuro protective may suggest that the cellular source of a trophic factor is important. This may explain why clinical trials to date have been unsuccessful.
Activation of astrocytes and microglia in ALS results in the secretion of toxic factors that induce motor neuron death, which enhances disease progression. Riluzole stimulates astrocytes to produce trophic factors that prevent motor neuron death following trophic factor deprivation, and may explain the extension of animal survival in mouse models of ALS. Over expression of neurotrophic factors is protective in animal models of ALS. However these tropic factor therapies are not effective in human patients. [69,162-165]. The particular trophic factor under study may have difficulties reaching the target cell type at therapeutically relevant concentrations. In fact, it may not be able to cross the blood brain barrier [124]. The Trophic factors currently under investigation may not be the most potent factors available to improve motor neuron survival. Successful clinical trials may require the right Trophic factor being produced by the right cell type to be effective. Further study in this area is needed to address these issues.
Conclusion
The development of ALS depends on a variety of factors that contribute to disease pathology. The role of inflammation and oxidative stress points towards glial cell dysfunction during disease progression. Secretion of toxic factors by these cell types is associated with neuronal death. Stimulation of pro-survival neurotrophic factor production by these cell types has been shown to prevent motor neuron death. Recombinant protein therapies have in some cases had a small therapeutic effect in humans. An alternative to these therapies would be to target glial cells to secrete trophic factors locally to ensure the correct therapeutic level of these factors reaching the motor neurons. Therefore, future studies should investigate the induction of trophic factor production in vivo to treat ALS. In addition, development of in vitro culture and co-culture of glial cells with motor neurons and muscle humanized platforms for high throughput screening of agents with protective activities could accelerate the discovery of new therapeutic agents for ALS.
Acknowledgement
This work was supported by the Burnett School of Biomedical Sciences, College of Medicine, University of Central Florida and the National Institute of Health (NIH Grant NS36761 to A.G.E.).
References