Review Article
Austin J Cancer Clin Res 2014;1(3): 1014.
The Microenvironment as a Target for Therapy in Chronic Lymphocytic Leukemia
Herishanu Yair1,2,3*#, Perry Chava1,3# and Katz Ben-Zion1,2
11Department of Hematology, Tel Aviv Sourasky Medical Center, Israel
22Sackler Faculty of Medicine, Tel-Aviv University, Israel
3Both authors contributed equally
*Corresponding author: Yair Herishanu, Department of Hematology, Tel Aviv Sourasky Medical Center, 6 Weizman Street, Tel-Aviv, Israel.
Received: May 26, 2014; Accepted: June 14, 2014; Published: June 17, 2014
Abstract
One of the hallmarks of malignant cells is the deregulation of their growth, survival and differentiation. In the case of Chronic Lymphocytic Leukemia (CLL), cellular physiology is regulated, to a large extent, by micro environmental elements that operate within the bone marrow and secondary lymphoid tissues. Extracellular cues that are vital for CLL cells survival and proliferation are exerted by interactions of CLL cells with accessory cells such as T-cells, mesenchymal stromal cells, endothelial cells, follicular dendritic cells and macrophages. CLL cells interact directly with effect or cells via a variety of adhesion molecules, while cytokines, chemokines, enzymes and growth factors provide a complex soluble regulatory network. The B-cell receptor (BCR) is the central source of signals that regulate CLL cells physiological responses. These signals can be triggered by the engagement of the receptor by extracellular antigens of either of microbial origin or auto antigens. Alternatively, as has been revealed in the recent years, the BCR can be activated by ligand-independent cell-autonomous signaling mechanisms. Due to its prime importance in CLL physiology, the biochemical array that mediates micro environmental-derived signaling responses in CLL cells became a useful target for the development of novel effective therapeutics. For example, small molecule inhibitors of SYK, BTK, or PI3K6, all participate in BCR signaling responses, have shown remarkable Clinical effects. Also, BCL-2 inhibitors and immune modulatory drugs are being tested in clinical trials in CLL, with encouraging results. Hence, better understanding of CLL cells' interaction with the microenvironment can continuously provide clinicians with novel effective therapeutics to control CLL.
Introduction
Chronic Lymphocytic Leukemia (CLL) is the most common leukemia in the Western world. It is an indolent lymphoproliferative disorder characterized by the progressive accumulation of monoclonal, small, mature-appearing CD5+ B-cells in the peripheral blood, bone marrow and secondary lymphoid tissues [1]. CLL is currently an incurable disease, with the possible exception of patients undergoing allogeneic stem cell transplantation [2]. The present standard chemotherapy and/or immunotherapy eradicate CLL cells from the peripheral blood more efficiently than from the lymphoid tissues and bone marrow, the latter two sites are assumed to harbor the cells from which future recurrences will originate from.
Recent work has shown that CLL cells are tightly supported by their tissue microenvironment. This is based on two fundamental observations: First, ex-vivo cultured CLL cells rapidly undergo apoptosis but can be rescued by contact with stromal cells [3,4]. Second, CLL cells in the peripheral blood are arrested in G0/G1 phase of the cell cycle [5], while they proliferate in the bone marrow and secondary lymphoid tissues, in areas termed 'pseudo follicles' or 'proliferation centers' [6,7]. Such compartmental differences are explained by antigenic engagement and interactions with a variety of accessory cells and exposure to different chemokines, cytokines and extracellular matrix components in tissue compartments (Figure1).
Major progress has been made in our understanding of the cross-talk between CLL cells and the surrounding microenvironment. In this review, we will summarize these interactions in the context of novel drugs that target CLL pathophysiology.
The Microenvironment
B-cell receptor (BCR) signaling
BCR signaling is a crucial component in normal B-cells development as well as in the pathogenesis of CLL [8], where it seems to play a pivotal role in protecting CLL cells from apoptosis [8,9], and promoting their entry into cell cycle [10,11].
Patients with CLL can be divided into two main subgroups based on the presence or absence of somatic mutations in the variable region of the immunoglobulin heavy chain gene (IGHV) expressed by the malignant cells [12,13]. Patients with the mutated IGHV CLL subtype follow an indolent clinical course, whereas the subgroup of un mutated IGHV tend to have a more aggressive disease [12,13]. CLL cells use a restricted repertoire of IGHV genes, indicating a role for antigen selection in the evolution of this disease [14,15]. Some patients express almost identical BCRs, known as "stereotyped BCRs", that recognize common antigens [16-18]. These antigens are still incompletely known but are assumed to include microbial antigens and auto antigens derived from dying cells [19-21]. Recently, Duhren-von Minden and colleagues suggested that epitopes in the framework region of surface immunoglobulin's expressed on CLL cells act as auto antigens and auto-stimulate the malignant cells [22]. Thus, in addition to antigen-mediated stimulation, the BCR may also be activated by ligand-independent cell-autonomous signaling in CLL cells.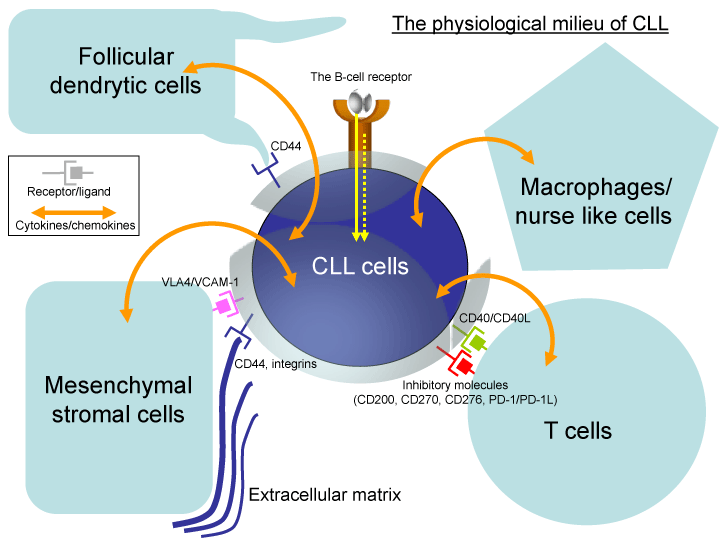 The in vitro responsiveness of CLL cells to BCR activation is heterogeneous [23]. CLL cells that are unresponsive to BCR stimulation in vitro are suggestive of B-cell anergy, resulting from chronic antigenic stimulation in vivo [24,25]. IGHV unmutated CLL cells are typically BCR signaling competent whereas IGHV mutated CLL cells respond weakly or not at all to BCR engagement by anti- IgM antibodies [24]. The Zeta-associated protein of 70-Kd (ZAP-70), a transduction signaling kinase downstream of the T-cell receptor, is expressed in most cases of IGHV unmutated CLL but less frequently in IGHV mutated CLL [26,27]. ZAP-70 expression is associated with enhanced BCR signaling in vitro [28]. Accordantly, ZAP-70 expression serves as a poor prognostic marker and correlates with early need for therapy [29].
The tissue compartment and in particular the secondary lymphoid organs are assumed to be the major anatomic site for BCR-antigen interaction. Antigens reaching the secondary lymphoid tissue through the lymph flow are sequestered and immobilized by cellular elements [30], therefore provide an optimal setting for BCR activation. Based on in vivo gene expression profiling of CLL cells, it seems that BCR activation occur mainly in the lymph nodes and it is stronger in the clinically more aggressive subtype of IGVH unmutated CLL [7] and Syk, a central signaling molecule of the BCR pathway, has been shown to be phosphorylated in lymph nodes CLL cells [7].
T-cells
In the tissue microenvironment, CLL cells are located adjacent to different cellular elements including T-lymphocytes, stromal cells, endothelial cells, follicular dendritic cells and macrophages. The cross-talk between the CLL cells and these cellular elements of the microenvironment has a great impact on the leukemic cell trafficking, survival and proliferation and is mediated either through direct cell– to-cell contact or by secreted soluble factors. T-cells seem to play a pivotal role in CLL cell proliferation [31,32]. Most of the T-cells in the bone marrow and lymph nodes of CLL patients are CD4+ cells [33], which are mainly positioned within the proliferation centers and express the CD40 ligand -CD154 [6,34]. The engagement of CD40 that is presented on CLL cells, with or without IL-4, has been shown to promote CLL cells' entry into cell cycle [35,36] and support their survival [37,38]. CLL cells' activation through CD40 also promotes the expression of the T-cell attracting chemokines CCL22 and CCL17 [34] which attract more T cells to the bone marrow and lymph nodes. In addition, T-cells secrete various soluble factors that contribute to CLL cell survival and proliferation, such as IL-4 [39], IL-2 [40], TNFα [41] and IFN [42,43]. Thus, creating a viscous cycle that amplifies the malignant process [34]. A recent novel xenograft murine model of CLL further demonstrated that autologous CD4+ T-cells are crucial mediators of CLL cells engraftment, survival, and expansion [31].
Another important aspect of the tumor interactions with the microenvironment relates to the ability of CLL cells to modify the cellular immune system in order to escape immune surveillance. The mechanisms that promotes an immune subversive environment include secretion of immune-suppressing cytokines by CLL cells such as tumor growth factor-β, [44] and IL-10,[45] as well as changes in T-cell subsets and function [46-48]. The levels of regulatory T cells (Tregs) which actively induce immune tolerance by suppressing host immunity, including anti-cancer immunity, have been reported to correlate with a progressive disease in patients with CLL [49] and to have a significant and independent prognostic power to predict time to initial treatment in patients with low to intermediate stage CLL [50]. Moreover, the ability of both CD4+ and CD8+ T cells to form immunological synapses is impaired, a defect that can be related, at least partially, to T cell engagement by cell surface inhibitory ligands such as CD200, CD270, CD274, and CD276 [51], which are highly expressed on CLL cells [52]. These observations parallel a report from Christopoulos et al., who describe a genetic signature presented by in vitro-stimulated CD4+ cells from patients with CLL that is compatible with down regulation of proximal and intermediate T-cell receptor signaling cascades and globally reduce cytokine secretion [53].
Mesenchymal stromal cells
Mesenchymal Stromal Cells (MSCs) are additional central cellular element of the tissue microenvironment. In the lymphoid tissues, stromal cells are diffusely located through the tissue and in perivascular areas where they interact with CLL cells [54]. The stromal cells secrete various chemokines [55], cytokines [56] and extracellular matrix components (e.g fibronectin and hyaluronan) [57,58], that have an important role in regulating CLL cell migration and survival. Interestingly, the interactions between CLL cells and the stromal cells are bidirectional as CLL cells can promote stromal cell proliferation and secretion of cytokines, therefore creating yet another vicious cycle that further enhance the malignant cells proliferation and survival. It was previously shown that bone marrow stromal cells can rescue CLL cells, in vitro, from both spontaneous and drug-induced apoptosis [3,59,60], by direct cell-cell contact-mediated mechanism [3,4]. The adherence of CLL cells to stromal cells occurs mainly through β1 and β2 integrins [59]. CLL cell binding through α4β1 (CD49d) to Vascular Cell Adhesion Molecule 1 (VCAM-1) expressed on MSCs [61] or to the extracellular matrix fibronectin rescues CLL cells from apoptosis [59,62,63], as dose other mediators secreted by MSCs such as the pro-angiogenic molecule Vascular Endothelial Growth Factor (VEGF) [64,65]. Activation of CLL cells through CD44, a receptor for hyaluronan (an extracellular matrix component), was also reported to promote CLL cell survival [111].
Stromal cells and High Endothelial Venules (HEV) play an important role in guiding CLL cells into the bone marrow [55] and secondary lymphoid tissues. Stromal cells constitutively secrete high levels of the homeostatic chemokine CXCL12 [66], which is essential for the regulation of CLL cell trafficking and homing into the tissue compartment [60]. CXCR4 (CD184), the receptor for CXCL12, is strongly expressed in peripheral blood CLL cells [55,67,68] which migrate better towards CXCL12 than normal B-cells [55,67]. CLL cells, expressing CD38 and/or ZAP70, which are considered markers of an aggressive phenotype, are chemo-attracted with higher affinity to CXCL12 compared to CLL cells that are CD38 or ZAP70 negative [68-70]. CCL19 and CCL21, chemokines known to recruit lymphocytes into the T-cell zone areas, are detected in the stroma and in the HEV of lymph nodes in CLL, while CCR7, the receptor for both CCL21 and CCL19, is highly expressed in peripheral blood CLL cells [68-72]. Thus, CLL cells migrate in response to those two chemokines, and this response is more prominent in CLL patients with marked lymphadenopathy or with ZAP-70 positive disease [68,72,73].
Follicular dendritic cells (FDC)
FDC are antigen presenting cells of normal germinal centers [74]. FDC are evident in the lymph nodes of CLL patients and in bone marrows of patients with nodular involvement [75]. The effect of FDC on CLL cells was studied mainly with a FDC cell line, the HK cells. HK cells have been shown to protect CLL cells from both spontaneous and drug induced apoptosis, in a direct cell contact-dependent mechanism [76].
Tissue macrophages and Nurse-like cells
Nurse like Cells (NLC) are considered to be an in vitro model of tissue associated macrophages in CLL. These cells evolve during long term culture of peripheral blood mononuclear cells from CLL patients [77,78]. The NLC are large cells which are typically surrounded by CLL cells and are considered to "nourish" CLL cells. NLC evolve from circulating monocytes in a process that is dependent on direct cell contact with the malignant CLL cells [78]. NLC protect CLL cells from spontaneous and drug induced apoptosis [60,77]. They secrete various chemokines including CXCL12 and CXCL13 (B lymphocyte chemoattractant) and different cytokines such as TNF super family members, B-cell activating factor of tumor necrosis factor family (BAFF) and a proliferation-inducing ligand (APRIL). CXCL12 and CXCL13 primarily attract CLL cells into the bone marrow and secondary lymphoid tissue, while BAFF and APRIL promote CLL cell survival and proliferation within the tissue [79,80]. Moreover, co-culturing CLL cells with NLC or their activation through the BCR and CD38 induce the expression of the pro-inflammatory chemokines CCL3 and CCL4 in CLL cells. CCL3 and CCL4 recruit monocytes and T-cells from the blood into the tissue compartments [81,82], a process that may further enhance and promote CLL progression.
Targeting the microenvironment in CLL
Better understanding the role of the microenvironment in the pathogenesis of CLL led to the development of novel agents that specifically target CLL cells with lesser toxicity than "classic" chemotherapy. These new compounds include inhibitors aimed at the BCR signaling pathway and anti-apoptotic proteins, as well as Immune Modulatory Drugs (IMiDs). Here, we briefly review the most promising therapeutic agents in this category.
BCR pathway inhibitors
Small-molecule drugs directed against kinases downstream of the BCR such as SYK, Bruton's Tyrosine Kinase (BTK), or PI3K isoform p110delta (PI3K?), have a promising anti-neoplastic activity in patients with CLL. Responses are typically manifested by rapid regression of enlarged lymph nodes and splenomegaly that is accompanied by transient lymphocytosis. This initial increase in circulating lymphocytes reflects redistribution of the CLL cells from the tissues into the blood stream [83,84]. The anti-CLL effect of the BCR pathway inhibitors is ascribed to the combined effects of inhibiting survival and proliferation signals on one hand, and impairment in CLL cell migration and tissue retention on the other. The clinical activity of the BCR pathway inhibitors in CLL is irrespective of poor chromosomal aberration such as Del (17p) or p53 mutation, known to acquire resistance to standard chemotherapy. Of these, Fostamatinib, a SYK inhibitor, has been the first BCR inhibitor to be introduced into clinical study [85]. Fostamatinib was studied in different relapsed/refractory B-cell malignancies and demonstrated a specific activity in CLL [85]. Despite these preliminary encouraging results, the drug development was not carried forward in CLL; due to the pharmaceutical company's decision develop the drug in autoimmune diseases. Ibrutinib (PCI-32765), an orally bio available, irreversible and selective BTK inhibitor, is the first BCR pathway inhibitor approved for the treatment of relapsed/refractory CLL. As a single agent, Ibrutinib is well tolerated and achieves overall responses of approximately 70%, in both treatment naive and relapsed/ refractory patients with CLL, with durable remissions (75% estimated progression-free survival rate at 26 months) [86]. Idelalisib (GS- 1101 or CAL-101) is an orally available, highly selective PI3K-delta inhibitor [87]. When given as a single agent for relapse/refractory CLL patients, induced an ORR of 72% and a median progression free survival of 15.8 month with acceptable toxicity [88]. A phase 3 study in relapsed patients with CLL not eligible for standard chemotherapy, showed that idelalisib in combination with rituximab is superior to rituximab alone, resulting in improved response rates (81% vs. 13%), progression-free survival (not reached vs.5.5 months) and overall survival (at 12 months 92% vs. 80%) [89].
BCL-2 inhibitors
The BCL-2 families of apoptotic regulatory proteins are considered primary mediators of CLL cell survival and drug resistance. These anti-apoptotic proteins are both endogenously over expressed in CLL cells and are inducible by exogenous signals derived within the tumor microenvironment [90]. Over the years, different approaches have been used to target the BCL-2 family members, using a synthetic BCL-2 antisense oligonucleotide (Oblimersen sodium) [91] and different BH3 mimetics (Obatoclax mesylate, ABT-263 or navitoclax, ABT-199) [92,93]. Of the latter, ABT-199 is the most promising BCL-2 inhibitor currently being studied in CLL. ABT-199 is an oral, selective, small molecule shown to have a profound antitumor activity in relapsed/refractory CLL. In accordance with its clinical potency, tumor lysis syndrome was observed in some patients, which led to modifications in the dose escalation scheme. Preliminary results have showed an overall response rate of 84% with complete response achieved in 23% of the patients. A similar efficacy was noted is CLL patients with del (17p) or fludarabine-refractory disease, and in several patients even minimal residual disease was not detected [94].
Immuno modulatory drugs
Lenalidomide is a derivative of thalidomide that has clinical activity in CLL, irrespective of unfavorable genomic abnormalities or fludarabine-refractory disease status. The optimal dosing schedule of lenalidomide is not well defined and a dose of 25 mg once daily may be associated with unacceptable toxicity in some patients [95]. Lenalidomide induces cumulative responses, in which the best possible response may take months to achieve [96]. In relapsed/ refractory CLL, lenalidomide induced an overall response rate of 32-47% with 7-9% of the patients achieving complete remission [96,97]. In a treatment-naÏve setting, elderly patients with CLL treated with lenalidomide achieved an ORR of 65%, including 10% CRs and an additional 5% CRs with residual cytopenias [98]. The most common adverse event of lenalidomine is myelosuppression [96,97]. The treatment can be associated with a cytokine release syndrome, tumor lysis syndrome and tumor flare reaction [95,97,99]. Tumor flare is a transient immune response presenting with painful lymphadenopathy and fever, usually managed with corticosteroids and in more severe cases may require narcotics and hospitalization [95,96]. Lenalidomide can induce immune activation in CLL [95,99], restore T-cell function, specifically the impaired T cell immunologic synapse function and enhance NK cell activity [52,100,101], and rehabilitating anti-tumor immunity [102].
Summary
In the last decade, our better understanding of pivotal role played by the microenvironment in the pathophysiology of CLL led to the development of novel targeted therapies for CLL. These therapeutic modalities and in particular inhibitors of the BCR pathway and BCL2 anti-apoptotic family members, efficiently overcome the supporting effect of the microenvironment on the malignant cells and show impressive clinical responses even in patients with high risk cytogenic aberrations and/or refractory disease. In this new era of targeted therapy, we can improve the patient's quality of life, have better control on the disease, may improve life expectancy, and can take the next step forward in our journey to cure CLL.
References