Clinical Image
Austin J Clin Cardiolog. 2014;1(4): 1027.
A Prominent Chiari Network Prolapsing Into Right Ventricle
Aydin Akyuz*
Department of C Department of Cardiology, Namik Kemal University Medical School, Turkey ardiology, Namik Kemal University, Turkey
*Corresponding author: Aydin Akyuz, Department of Cardiology, Namik Kemal University School of Medicine Tekirdag, Turkey
Received: July 02, 2014; Accepted: Aug 04, 2014; Published: Aug 05, 2014.
A 60-year-old female presented to our cardiology department with atypical angina pectoris that she had experienced for five year. He had experienced no cardiac events in the past. Physical examination was normal. Heart rate and blood pressure were 70 beats/min and 135/85 mmhg, respectively. Electrocardiography revealed normal sinus rhythm with normal axis. Precordial and transesophageal echocardiography showed a very mobile structure with whip-like motion in the right atrium, prolapsing into right ventricle through the tricuspid orifice (Figure1, Video 1, 2).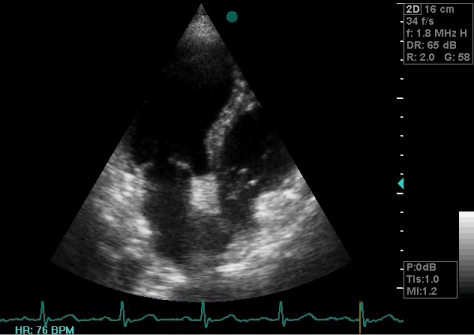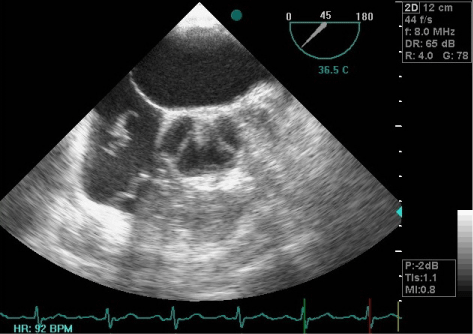 Dr. Hans Chiari described Chiari network in 1897, an embryonic remnant of the right valve of the sinus venosus in the right atrium. This congenital remnant is often diagnosed incidentally and its prevalence is 2% in TEE and 1.5% in TTE. Chiari's network may favor persistence of a patent foramen ovale and formation of an atrial septal aneurysm and facilitate paradoxic embolism, supraventricular arrhythmias and catheter entrapment [1-3].
References
Parajapat L, Ariyarajah V, Spodick DH. Abnormal atrial depolarization associated with Chiari network? Cardiology. 2007; 108: 214-216.
Ducharme A, Tardif JC, Mercier LA, Burelle D, Rodrigues A, Petitclerc R, et al. Remnants of the right valve of the sinus venosus presenting as a right atrial mass on transthoracic echocardiography. Can J Cardiol. 1997; 13: 573-576.