Review Article
Austin J Clin Med. 2014;1(3): 11015.
Current Concepts in the Role of Mechanosensing in the Regulation of Cardiac Contractile Function
Gerilechaogetu F2, Feng H2, Golden HB2, Nizamutdinov D2, Dostal JD2, Jacob JC2, Afroze SE4,5, Foster DM1, Bowman J2, Ochoa B2, Tong C3,Glaser SS1,4,5 and Dostal DE1,2*
1Central Texas Veterans Health Care System, USA
2Department of Molecular Cardiology, Texas A&M University Health Science Center, USA
3Systems Biology and Translational Medicine, the Texas A&M University Health Science Center, USA
4Scott & White Healthcare - Digestive Disease Research Center, USA
5Department of Internal Medicine, Texas A&M University Health Science Center, USA
*Corresponding author: Dostal DE, Central Texas Veterans Health Care System, Department of Molecular Cardiology, The Texas A&M University System Health Science Center, 1901 South 1st Street, Bldg. 205, Temple TX 76504 USA
Received: May 31, 2014; Accepted: August 05, 2014; Published: August 11, 2014
Abstract
The heart as a contractile organ finely tunes mechanical parameters such as stroke volume, stroke pressure and cardiac output according to filling volumes, filling pressures via intrinsic and neuronal routes. At the cellular level, cardiac myocytes in beating hearts are exposed to large changes in mechanical stress during successive heart beats. Physical stimuli sensed by cells are transmitted through intracellular signal transduction pathways resulting in altered physiological responses or pathological conditions. Although the mechanisms of excitation-contraction coupling have been well established in mammalian heart cells, the putative contribution of mechanosensitive receptors, channels, signaling factors and force generation has been primarily investigated in relation to heart contraction, growth and leading to heart failure. We present an overview of the current literature and concepts of mechanical sensors residing within the plasma membrane, mechanosensitive receptors induced downstream signaling factors and their potential roles in cardiac contraction and growth.
Keywords: Cardiac myocytes; Mechanosensitive receptors; Signaling; Heart contraction
Abbreviations
AT1: Angiotensin II type 1; AT1R: Receptors; APJ: Apelin Receptor; AF: Atrial fibrillation; Ca2++:Calcium ion; CaMKII: Calmodulin Kinase II; cTnC: Cardiac Troponin C; cTnI: Cardiac Troponin I; cTnT: Cardiac troponin T; JNK: c-Jun N- terminal kinases; cAMP: cyclic AMP; DHPR: Dihydropyridine Receptor; DCM: Dilated Cardiomyopathy; ELC: Essential Light-Chain; ECM: Extracellular Matrix; ERK: Extracellular-Regulated Kinase; FAK: Focal Adhesion Kinase; FHL: Four-and-a-half-LIM-domain proteins; GPCR: G Protein-Coupled Receptor; HF: Heart Failure; HRC: Histidine-Rich Ca2++-binding protein; Ig: Immunoglobulin; INCENP: Inner Centromere Protein; IGF-1: Insulin-Like Growth Factor-1; ILK: Integrin-Linked Kinase; IQGAP2: IQ motif containing GTPase-activating protein 2; KIF12: kinesin-6; LINC: Linker of the Nucleoskeleton and Cytoskeleton; MAPKs: Mitogen Activated Protein Kinases; MARPs: Muscle Ankyrin Repeat Proteins; cMyBP-C: Myosin Binding Protein-C; ELC: myosin Essential Light-Chain; MHC: Myosin Heavy-Chain; MLC: Myosin Light-Chain; MLCK: Myosin Light-Chain Kinase; MLCP: Myosin Light-Chain Phosphatase; RLC: myosin Regulatory Light-Chain (); NCX: Na++/Ca2+ exchanger; PI3K: Phosphatidylinositol 3-Kinase; PDK1: Phosphatidylinositol- Dependent Kinase-1; PLB: Phospholamban; PKA: Protein Kinase A; PKB/Akt: Protein Kinase B; PKC: Protein Kinase C; PKG: Protein Kinase G; PP1: Protein Phosphatase-1; PP2A: Protein Phosphatase-2 A; RLC: Regulatory Light-Chain; RyRs: Ryanodine Receptors; SR: Sarcoplasmic Reticulum; SACs: Stretch-Activated Channels; TRPCs : Transient Receptor Potential Channels; α-TM: α-Tropomyosin
Introduction
About a century ago, Otto Frank in Germany and Ernest Starling in England reported on the relationship between the extent of ventricular filling and pump function of the heart, a phenomenon collectively referred to as Frank-Starling's Law of the Heart [1]. Frank's experiments employed the isolated frog heart and suggested that maximum ventricular pressure critically depends on whether the heart is operating under ejecting or isovolumic conditions. Frank-Starling's Law describes how stretch of cardiac muscle, up to an optimum length, increases contractility thereby linking cardiac ejection to cardiac filling.
The role of mechanical force as an important regulator of structure and function of mammalian cells, tissues, and organs has recently been recognized. Physical stimuli must be sensed by cells and transmitted through intracellular signal transduction pathways to effect or molecules and organelles, resulting in altered physiological responses or pathological conditions. In this research field, significant progress has recently been achieved, especially from studies of cardiovascular systems [2-12].
Cells adhere to the extracellular matrix (ECM) and to each other through specific classes of Tran's membrane adhesion receptors [13- 15]. These receptors bind to extracellular ligands and provide an anchor to the intracellular cytoskeleton via cytoplasmic scaffolding proteins [16,17]. Linkages between external cellular contacts, adhesion receptors, and cytoskeleton provide a means for bidirectional communication between the inside and outside of a cell. Dynamic changes in adhesions, matrix mechanics and cytoskeletal systems may thus play a critical role in regulating mechanotransduction [18].
The cellular response to mechanical forces is inherently coupled to the internal organization of the cytoskeleton and adhesion to surrounding cells and the ECM [19]. Structural cues such as anisotropy or topography of the ECM or location of cell-to-cell contact can cause a cell to reorient its body, change its shape, or alter its functional state [20-22]. Similarly, changes in the shape and internal organization of cells alter how cells adhere to their surroundings and affect their function [23-25]. Application or removal of a gross external load from a cell causes the cell to actively adapt its adhesions and cytoskeleton and transduce the altered mechanical environment into biochemical signals [26]. Mechanochemical signal transduction originates at the cell membrane, and several candidate sensor molecules have been postulated, including ion channels, tyrosine kinase receptors, G-proteins, enzymes, integrins, and proteins from the cytoskeleton [27]. Besides the common mechanosensing mechanisms shared by various cell types cardiac muscle has intricate intrinsic mechanisms that regulate adaptive remodeling. Z disks and titin filaments generate a complicated mechanical sensor system to receive and transduce stretch signals [28]. Some cardiac specific molecules such as muscle-enriched LIM domain proteins, specialized protein structural domains composed of two contiguous zinc finger domains, separated by a two-amino acid residue hydrophobic linker. PDZ-LIM domain proteins, myozenin gene family members, titin-associated ankyrin repeat family proteins, and muscle-specific ring finger proteins are attributable to this sensing mechanism [28]. The compartmentalization of signaling complexes permits alteration of receptor-dependent transcriptional regulation by direct sensing of mechanical stress. Other muscle-specific membrane systems such costumers [29], intercalated disks [30], and caveolae-like micro domains [31,32] are also recently identified mechanical stress sensors. In the past decade it has become apparent that mechanosensing within the cardiac myocyte is a multifaceted, dynamic and complex process (see Figure 1) that involves a coordinated interaction among plasma membrane mechanoreceptors, stretch-activated channels, downstream signaling factors, cytoskeletal elements, nucleoskeletal proteins that serve to regulate cellular functions such as gene expression, sarcomeric contraction, growth and metabolism.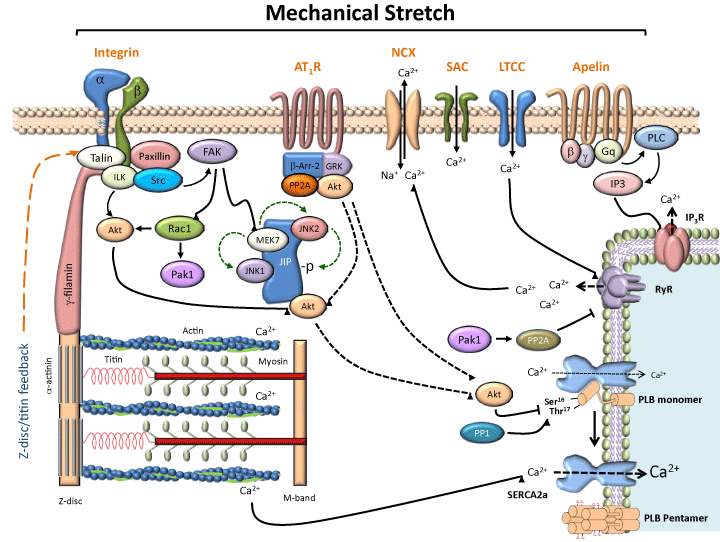 Figure 1:
Regulation of cardiac myocyte contraction through activation of stretch-induced mechanosensing pathways.
This diagram depicts how mechanical activation of mechanosensors may regulate cardiac myocyte contraction. Stretch-induced activation of integrins, AT1R, SACs and the apelin receptor, results in the activation of several different downstream signaling cascades that include focal adhesion kinase proteins, MAPKs, Akt, and Rho GTPases, as well as phosphatases PP1 and PP2A, which could affect cardiac myocyte contraction and relaxation by regulating the phosphorylation levels of proteins involved in calcium regulation. Although calcium regulatory proteins such as phospholamban, the L-type calcium channel, and the ryanodine receptors are documented targets of these signaling cascades, sarcomeric proteins may also be regulated by mechanical stretch mechanisms. In addition, mechanosensing feedback from the Z-disc of the sarcomere may serve to "fine-tune" muscle contraction. Abbreviations: AT1R: Angiotensin II type 1 receptor; APJ: apelin receptor; β-Arr-2: beta-arrestin-2; FAK: focal adhesion kinase; GRK: G-protein coupled receptor kinase; ILK: integrin-linked kinase; JNK: c-jun N-terminal kinase; JIP: JNK-interacting protein; LTCC: L-type calcium channel; NCX: sodium calcium exchanger; Pak1: p21-activated kinase 1; PLC: phospholipase C; PP1: protein phosphatase-1; PP2A: protein phosphatase-2 A; Rac1: Ras-related C3 botulinum toxin substrate-1; RYR: ryanodine receptors; SAC: stretch activated channel; SERCA2a: sarcoplasmic reticulum Ca2+-ATPase type 2a.






Figure 1:  

Regulation of cardiac myocyte contraction through activation of stretch-induced mechanosensing pathways.




This diagram depicts how mechanical activation of mechanosensors may regulate cardiac myocyte contraction. Stretch-induced activation of integrins, AT1R, SACs and the apelin receptor, results in the activation of several different downstream signaling cascades that include focal adhesion kinase proteins, MAPKs, Akt, and Rho GTPases, as well as phosphatases PP1 and PP2A, which could affect cardiac myocyte contraction and relaxation by regulating the phosphorylation levels of proteins involved in calcium regulation. Although calcium regulatory proteins such as phospholamban, the L-type calcium channel, and the ryanodine receptors are documented targets of these signaling cascades, sarcomeric proteins may also be regulated by mechanical stretch mechanisms. In addition, mechanosensing feedback from the Z-disc of the sarcomere may serve to "fine-tune" muscle contraction. Abbreviations: AT1R: Angiotensin II type 1 receptor; APJ: apelin receptor; β-Arr-2: beta-arrestin-2; FAK: focal adhesion kinase; GRK: G-protein coupled receptor kinase; ILK: integrin-linked kinase; JNK: c-jun N-terminal kinase; JIP: JNK-interacting protein; LTCC: L-type calcium channel; NCX: sodium calcium exchanger; Pak1: p21-activated kinase 1; PLC: phospholipase C; PP1: protein phosphatase-1; PP2A: protein phosphatase-2 A; Rac1: Ras-related C3 botulinum toxin substrate-1; RYR: ryanodine receptors; SAC: stretch activated channel; SERCA2a: sarcoplasmic reticulum Ca2+-ATPase type 2a.









However, the mechanisms by which cells transmit mechanical stress throughout the cytoplasm and the cytoskeleton and by which signals are sensed and converted into biochemical signals, are still not understood. The aim of the current review is to provide an update on the progress involved in the mechanisms downstream signal pathways of mechanoreceptor activation linking to contractile function of cardio myocytes in response to mechanical stresses. The new insights would be helpful for exploring new therapeutic targets to prevent and treat the mechanical stress-initiated diseases, such as heart failure (HF).
Mechanical Sensors
Mechanical stretch could lead to changed conformation of membrane proteins to unfold hidden domains of proteins providing a binding site to downstream substrates that initiate the signals (shown in Figure 1), thus these receptors play important roles as mechanical sensors. Below, we discuss the role of major mechanical sensors, including integrins, angiotensin type II (AT1) receptor (AT1R), stretch-activated channels, transient receptor potential channels (TRPCs) and the apelin receptor in the regulation of cardiac function.
Plasma Membrane Mechanical Sensors
Angiotensin II type 1 receptors (AT1R)
The AT1R is a member of the G protein-coupled receptor (GPCR) family, which binds angiotensin II (Ang II) and elicits intracellular effects. Although AT1R signaling has been well studied during the last 20 years, novel aspects remain to be uncovered as suggested by the recent discovery of biased ligands of AT1R, which can be activated by mechanical stress through an Ang II-independent mechanism [33- 37]. It is well recognized that AT1R, the first mechanosensitive GPCR discovered, mediates transformation of mechanical stimuli into biochemical information and gives rise to a variety of mechanosensor-induced cellular responses (such as inflammation, cell growth, and differentiation etc.) [33,38]. Inverse agonists, such as can desartan, which stabilize the AT1Rin an inactive conformation, suppress AT1R activation by both mechanical stress and Ang II [39]. Recent studies suggest that mechanical stretch induces β-arrestin-biased signaling downstream of AT1R in the absence of ligand or G protein activation [40]. Mechanical stretch triggered AT1R receptors mediate conformational changes in β-arrestin, similar to that induced by a β-arrestin-biased ligand, to selectively stimulate receptor signaling in the absence of detectable G protein activation [34,39-41]. Yatabe et al., demonstrated that mechanical stress caused an increase in the phosphorylation levels of extracellular-regulated kinase (ERK) in rat mesangial cells through the Ang II-independent AT1R activation [35]. The angiotensin receptor blocker olmesartan was found to attenuate ERK activation via mechanical stress. Several studies have reported that under mechanical stretch the concentrations of secreted Ang II and the levels of angiotensinogen expression were unchanged [42- 44]. Although AT1R has been shown to couple to signaling pathways that regulate intracellular Ca2++, a potential role of AT1R in mediating stretch-induced changes in cardiac myocyte contractility remains to be explored.
Integrins
Integrins are hetero dimeric Tran's membrane proteins comprised of non covalent interactions between α and β subunits that serve as major molecular links between cells and the ECM. Extracellular domains of the α subunits participate in adhesion and ligand recognition, and upon activation, the short cytoplasmic domains of β subunits, which lack kinase function, physically connect to the cytoskeleton and recruit proteins for signaling [14,15,45,46]. A given α-subunit may interact with more than one β-subunit, resulting in 24 different hetero dimers identified to date. Cardiac myocytes express a limited set of integrin subunits, which include α1, α3, α4, α6, α7, α10 and α11, β1, β3 and β5 [47-51]. The specificity of integrin signaling is made possible by α and β-subunits that form the hetero dimeric pair. The α-subunit generally confers ECM specificity [46,52], whereas the β-subunit interacts with the cytoplasmic environment. Ligand binding to the extracellular integrin domain induces conformational changes and integrin clustering for activation of signaling cascades and recruitment of multi protein complexes to focal adhesions [53,54]. Although the cardiac ECM was long believed to function as an inert scaffold for myocytes, studies in the last decade indicate that it is a dynamic and metabolically active component which plays important roles in both normal and the progression of heart failure. Remodeling of the ECM, as a result of cardiac development [55], cardiac injury or pathological increases mechanical load [56], alters activation of integrin sub types [57] and thus cardiac function. Because of the importance of ECM in force transduction, regulation of integrins and intercellular communication within the myocardial microenvironment, it has become increasingly evident for a need to develop therapies that can restore normal function to the injured and/or deregulated ECM.
Because integrins lack enzymatic activity, activation of signaling factors requires interaction with cellular proteins that have kinase activity. In non-cardiac cells, the cytoplasmic tail of the β-subunit has been shown to directly bind to several cytoskeletal proteins that associate with signaling molecules [58]. In cultured neonatal rat cardiac myocytes, β1 integrin has been shown to be important for coupling mechanical stretch to activation of mitogen activated protein kinases (MAPKs), as well as focal adhesion kinase (FAK) and Rho GTPases [59-61]. Angiotensin II (Ang II) and other growth factors stimulate cardiac myocyte contraction and adhesion via β1 and αvβ3 integrins, which involve inside-to-outside signaling mechanisms [47,49-51]. Ang II also orchestrates adhesion through up regulation of various integrins (αv,β1,β3,β5), as well as expression of cytoskeletal protein, such as α-actinin, which is intimately connected to integrins at the site of focal adhesions [51]. However, the role of integrins in the regulation of cardiac myocyte contraction remains to be systematically studied under both physiologic and pathologic conditions. Inactivation of ILK has been shown to lead to HF in zebra fish [62] by reducing protein kinase B (PKB/Akt), suggesting the importance of integrins mechanosensing in mediating cardiac contractility. In non-cardiac tissues, physiological stretch has been shown to regulate contractility primarily through integrins that couple to FAK activation [63]. It is therefore possible that FAK coupled integrins, such as β1 integrin could also regulate contractile force in cardiac myocytes. These studies imply that integrins could serve as novel therapeutic targets for treating patients with contractile dysfunction.
Stretch-activated channels (SACs)
Stretch-activated channels (SACs), initially identified in the mammalian myocardium by Craelius et al. [64], and are ion channels activated by mechanical stretch, rather than the more common voltage or ligand gating mechanisms. Activation of mechanosensitive ion channels has been proposed as the transduction mechanism between mechanical stress and cardiac hypertrophy [65]. For a comprehensive review of the role of mechanosensitive ion channels in the normal and pathological heart, see Takahashi et al. [66]. The SACs allow passage of ions like Na+, K+ and Ca2+ [67]. Stretch of cultured cardiac myocytes increased intracellular Ca2+levels most probably via activation of SACs, since this increase was blocked by pre-incubation of the SAC blockers streptomycin and gadolinium ions [68-70]. However, literature dealing with the role of SACs in mediating stretch-induced increases in intracellular Ca2+ is conflicting. Direct Ca2+influx through stretch-activated channels have been reported in mechanically stimulated chick cardiac myocytes [71]. In contrast, no stretch-induced change in diastolic intracellular Ca2+ was observed in fura-2 loaded rat ventricular myocytes [72], suggesting that species differences may exist with regard to Ca2+ regulation by SAC. It is also possible that SACs may increase intracellular Ca2++ locally, such as in the restricted sub-sarcolemmal "fuzzy space", where it is difficult to detect changes in Ca2+ using standard monitoring methods. Thus, the role of SACs in regulation of Ca2+homeostasis and contraction in cardiac myocytes remains to be thoroughly investigated using advanced technologies such as "optical patch-clamp" recording, which provides simultaneous imaging of channels with millisecond resolution of gating kinetics together with sub-micron spatial resolution of channel locations [73].
Transient receptor potential channels
Transient receptor potential channels (TRPC) are expressed in the heart [74] and multiple laboratories have shown that activity of TRPCs is up regulated in pathological hypertrophy and HF [75-78]. The TRPC family includes 7 isoforms (TRPC1to 7) that have been divided into 2 general subfamilies based on structural and functional similarities: TRPC1/4/5 and TRPC3/6/7. TRPC2 is not expressed in humans [79]. TRPC channels are preferentially localized to the peripheral plasma membrane in cardiac myocytes [76,80]. In rat ventricular myocytes, TRPC3 also localizes to intercalated disks and to the transverse-axial tubular system, where it interacts with the NCX and the Na+/K+ ATPase [81]. There is evidence to suggest that TRPC channels are able to sense and transduce mechanical stress. In cardiac myocytes, TRPC1 has been suggested to sense mechanical stretch due to the ability of the stretch inhibitor tarantula toxin GsMTx4 to block angiotensin II-induced Ca2+ oscillations in wild-type, but not TRPC1 knockout mice [75]. In addition TRPC6 is activated by stretch in the presence of PLC inhibitors [82]. Consistent with this report is the finding that cardiac-specific TRPC6 TG mice are more sensitive to pressure overload and agonist-induced cardiac hypertrophy accompanied by decreased systolic function [76]. However, it remains to be determined whether these effects are mediated through mechanical stretch or indirectly through receptor activation, such as the AT1, which also couples to TRPC receptors.
Apelin receptor
The apelin receptor (APJ) is a G-protein-coupled receptor for apelin, an endogenous ligand [83] and present in various body organs such as the heart, liver, and brain [84]. APJ is believed to act as a dual receptor in cardiac hypertrophy, specifically for mechanical stretch and for an endogenous peptide apelin. When activated by stretch, the mechanosensor signaling component of APJ induces an increase in cardiac myocyte cell size [85]. Recent studies indicate that APJ functions as a bimodal switch, which can bias disease progression towards adaptation or failure, depending on whether it is stimulated by apelin or mechanical stretch. In pressure-overloaded mice, APJ has been shown to play a key role in maintaining cardiac contractility [86], whereas apelin-knockout mice have impaired cardiac contractility [85]. Regulation of cardiac contractility by APJ involves parallel and independent activation of PKCε and ERK signaling mechanisms by apelin [87]. APJ activation by stretch is G-protein independent and stretch interferes with apelin-mediated G-protein activation by APJ, which can cause cardiac hypertrophy. APJ can be considered as a drug target because APJ triggered by stretch can be pathological. A beneficial effect can be achieved by selectively inhibiting APJ to respond to mechanical stretch or by blocking interaction with molecules that trigger pathological signaling cascades. However, even if the APJ receptor becomes activated by stretch, administering doses of apelin or knocking-down beta-arrestins could also minimize stretch-mediated hypertrophy [85]. The roles of APJ in regulation of cardiac myocytes contraction need to be determined, including determination of APJ phosphorylation sites, downstream signaling pathways and cross-talk with other stretch receptors.
Nuclear mechanosensing
Studies in the past decade suggest that the nucleus itself may act as a cellular mechanosensor to directly modulate expression of mechanosensitive genes [88]. The nucleus is tightly integrated into the structural network of the cell through LINC (linker of the nucleoskeleton and cytoskeleton) complexes which transmit forces between the nucleus and the cytoskeleton [89]. Lamins, a type V nuclear intermediate filament that contribute to the nuclear lamina an extended part of the LINC complex, play a central role in this mechanosensory process. Lamins can be separated into A-type and B-type lamins, with lamins A and C as the major A-type isoforms, and lamins B1 and B2 being the major B-type isoforms in somatic cells [90]. Lamins A and C provide structural support to the nucleus [91] and play a major role in physically connecting the nucleus to the cytoskeleton, thereby enabling forces to be transmitted from the cytoskeleton and extracellular matrix to the nuclear interior. Lamins A and C are important contributors to the mechanical stiffness of nuclei, whereas lamin B1 contributes to nuclear integrity but not stiffness. Cells lacking lamins A and C have reduced nuclear stiffness and increased nuclear fragility, leading to increased cell death under mechanical strain. Mutations in laminas A and C result in a variety of severe diseases, including dilated cardiomyopathy, which further indicates the critical role of these nuclear, envelop proteins in maintaining normal cellular function. Recent studies have provided some insight into how the nuclear lamina responds to force-induced nuclear deformation and couples to biochemical responses [92-96]. Results from these studies suggest that cells adapt the expression and organization of the lamina network according to the mechanical environment, in which cells have high expression levels of laminas A and C and decreased phosphorylation of the lamina-A filamentous coil-coil assembly in a mechanically stressed tissue, such as cardiac tissue. However, it remains to be determined whether these changes reflect the role of laminas as mechanosensors or if transcriptional regulation of laminas is downstream of other mechanosensing pathways. Several other key questions remain to be addressed regarding the role of the nuclear envelop proteins in cellular mechanotransduction in cardiac and other tissue types. Issues that remain to be addressed include the role of nuclear envelop proteins in cellular mechanotransduction; whether these proteins are mechanosensors or merely serve as processing hubs; how the nuclear mechanosensing system is integrated with signaling originating from the plasma membrane and sarcomere in cardiac myocytes and finally, what role does this system play during adaptive and maladaptive stages of pressure-overload induced HF.
Z-Disc mechanosensing
In addition to localized mechanical transduction in which the extracellular signal is generated in close proximity to the plasma membrane, studies have provided evidence for additional types of mechanosensing, which originate at the contractile protein level [97]. Because the primary function of cardiac muscle is to generate force through sarcomeric actin-myosin interactions, there is a necessity for these forces to be fine-tuned and dynamically regulated on a beat-to-beat basis. In addition to perceiving the presence of extracellular stimuli, regulation at the sarcomeric level would provide an extra level of regulation by sensing the magnitude and dynamics of contractility during the cardiac cycle. The primary locations for these regulatory components are unknown, but may involve structures including the z-disc, titan and non-sarcomeric proteins, such as desmin.
The z-discs (z-lines, z-bands) are the lateral boundaries of the basal contractile unit of the myocyte, the sarcomere. Three of the four filament systems of the sarcomere, filamentous F-actin, titin, and nebulin/nebulette, interact with z-disc structures, only the myosin-based thick filaments do not directly interact with the z-disc [98]. The z-discs of individual sarcomeres are aligned in parallel and connected by the intermediate filament desmin, thereby providing a link to the intermediate filaments. In addition, costameres, which consist of peripheral z-disc and sub sarcolemmal proteins, ensure force transmission from the sarcomere to the sarcolemma.
Titin
Titin is an extensive, highly elastic protein that spans Z-discs and M-bands within sarcomeres and is closely associated with both thick and thin filaments [99-101]. Due to its elasticity, titin functions as a molecular spring that supports sarcomere recoiling after systole [102]. Titin's I-band region contains three extensible elements, serially-linked immunoglobulin (Ig)-like domains, the PEVK element, and the N2B element. Changes in titin's I-band region, namely isoform splicing and posttranslational modifications, directly influence titin-based passive tension.
Cyclic AMP (cAMP)-dependent protein kinase A (PKA) is activated by β adrenergic stimulation and has been shown to phosphorylate the unique sequence of the cardiac specific N2B element (N2B-Us). Phosphorylation by PKA reduced passive tension in skinned rat cardiomyocytes [103] and human cardiac fibers [104]. The effect in human fibers was more pronounced when de-phosphorylation by protein phosphatase-1 (PP1) was performed before PKA treatment, which suggests that basal levels of phosphorylation play an important role in determining titin-based passive tension.
Protein kinase G (PKG), which is cGMP-dependent, also phosphorylates the N2B-Us and reduces passive tension, and the site of phosphorylation is the same residue that PKA targets [105]. Passive tension of skinned fiber bundles from human left ventricle (LV) was significantly reduced only after PP1 treatment removed basal phosphorylation levels, which, similar to the PKA results, suggests that basal levels of titin posttranslational modifications play important roles in vivo. A single molecule study on N2B-Us treated with PKG suggested that phosphorylation increases the persistence length of the molecule of the N2B-Us [105], which corresponds to a reduction of passive tension at the tissue level.
Most recently, it has been shown that protein kinase C (PKC) specifically phosphorylates titin at two highly- conserved serine residues in the constitutive PEVK element found in all cardiac titin isoforms [106]. PEVK phosphorylation by PKCα (the predominant isozyme in the heart and an important player in contractile dysfunction and heart failure [107,108]), increases titin-based passive tension, an effect that is also exacerbated by PP1 pre-treatment. Following PKCα phosphorylation, PP1 treatment reversed the passive tension increase [106], which suggests that PKCα phosphorylation directly influences titin stiffness.
In addition to its mechanical role, titin also regulates gene expression by interacting with a wide variety of molecules involved in many different signaling pathways [109,110]. Because titin is mechanically deformable, active in signaling, and directly linked to sarcomeric elements, it is uniquely equipped to serve as a mechanosensor sensitive to sarcomere length and intracellular strains with control over mechanotransduction. Several mechanisms have been proposed to explain how titin functions as a mechanosensor [110,111]. For example, muscle ankyrin repeat proteins (MARPs) are activated for signaling and nuclear regulation of transcription after binding between specific domains of the titin molecule in the elastic I-band region [112]. Titin-MARP binding is enhanced when myocytes are stretched, suggesting that intracellular strain extends titin and allows the MARP binding site to become more accessible [112]. Additionally, four-and-a-half-LIM-domain (FHL) proteins, which activate transcription and signaling [110], also bind to the elastic I-band region of titin and are thought to play a role in mechanosensing [113,114]. Studies have shown that deleting specific I-band domains causes increased strain and loss of elasticity within titin, which is associated with up regulation of FHL protein levels and hypertrophy [115]. These examples demonstrate how the elasticity of titin allows it to function as an intracellular stress sensor by exposing or hiding different binding domains for signaling molecules based on the level of tension applied to the molecule.
Desmin
Desmin is the major intermediate filament in cardiac muscle, accounting for ~2% of cardiac protein content. It mechanically links the z-discs to the costameres [116]. Desmin is characterized by numerous protein-protein interactions ensuring cellular integrity, force transmission, and biomechanical signaling [117]. Given this crucial localization, it is not surprising that desmin knock-out mice develop a multisystem disorder involving cardiac, skeletal, and smooth muscle, with the most prominent pathological processes appearing in the heart, displaying severe cardiomyopathy accompanied by extensive fibrosis and calcification [118]. Consistently, up to now, at least 45 mutations in the desmin gene have been identified that lead to a skeletal and cardiac myopathy termed desminopathy [117]. The role of desmin in regulation of contraction in cardiac myocytes remains to be investigated.
Myosin II
Myosins constitute a super family of motor proteins that play important parts in several cellular processes that require force and translocation. Most myosins belong to class II and, together with action, make up the major contractile proteins of cardiac, skeletal and smooth muscle. Myosin II molecules are present in all non-muscle eukaryotic cells [119]. Recently, non-muscle myosin II was demonstrated as important mechanical sensor in cytokinesis process [120-122]. The stereotypical shape changes of successful cytokinesis occurs through an integrated system of three modules, cell mechanics, myosin II-mediated contractile stress generation and sensing, and a control system of regulatory proteins, which together ensure flexibility and robustness [123]. In early cytokinesis, mechanical load accumulates contractile proteins myosin II and cortexillin I to correct shape asymmetries [120]. Myosin II and cortexillin I interact to form a cellular-scale mechanosensor, which is an exquisitely tuned molecular system that requires fully myosin II and cortexillin I function to monitor and to correct shape defects, ensuring symmetrical cell division [124,125]. Further research elucidates that the regulatory and contractility network composed of myosin II, cortexillin I, IQGAP2, kinesin-6 (KIF12), and inner Centromere protein (INCENP) is a mechanical stress-responsive system. Myosin II and cortexillin I form the core mechanosensor, and mechanotransduction is mediated by IQGAP2 to KIF12 and INCENP [126].
Mechanical forces direct a host of cellular and tissue processes. Although much emphasis about mechanosensing has been placed on cell-adhesion complexes, it should be point out that the forces are transmitted through the cortical cytoskeleton. Myosin II and different actin cross-linkers are accounted for cortical mechanosensing in different types of mechanical stress. Myosin and alpha-actinin respond primarily to dilation, whereas filamin responds to shear stress [125].
Although these myosins are referred to as 'non-muscle' myosin IIs to distinguish them from their muscle counterparts, these are also present in striated muscle, where they have distinct functions during skeletal muscle development and differentiation [127], as well as in the maintenance of tension in smooth muscle [128,129]. Given those exciting findings on non-muscle myosin II as mechanical sensor in various cellular processes, it would be interesting to determine the mechanosensing role of myosin II in cardiac mechanosensing and effects on muscle contraction.
Signaling Factors
Mechanical sensors can be activated by mechanical stretch leading to activation of multiple classic signaling pathways involving in alterations of a large number of signaling molecules, e.g. focal adhesion kinase, Rho family GTPases, Integrin-linked kinases, MAP kinases and Akt. These activated signaling pathways (Figure 1) use their own classic signaling pathways to regulate heart functions.
Focal adhesion kinase (FAK)
FAK is a tyrosine-phosphorylated protein that localizes to integrin-enriched cell adhesion sites [130,131]. FAK directly binds to the cytoplasmic tail of β-integrin and thereby plays a major role in integrin-mediated signaling [29]. Although FAK is an essential kinase, as indicated by the fact that null mice are embryonically lethal, the function of FAK in the heart has been controversial. Several groups advocate the cardio protective nature of FAK [132,133], while others disagree [134,135]. A number of exciting new animal models have now clearly established a role for FAK in the development of the cardiovascular system and possibly in heart disease. At the cellular level, FAK controls cell migration, proliferation and survival [132,136]. FAK is involved in proliferation processes and extracellular mechanical signaling in the heart, and is highly expressed the myocardium. Recent studies indicate that FAK is important for transducing mechanical stimuli in isolated cardiac myocytes, fibroblasts and in mechanically overloaded myocardium [59,132]. In cardiac myocytes, mechanical stretch induces FAK phosphorylation at Tyr397, Tyr861 and Tyr925 [59], which yet remain to be shown to play a role in the regulation of cardiac myocyte contractile function.
Rho family GTPases
Mechanical stretch activates the Rho GTPases, Rac1 and Rho A, which participate in focal adhesion formation and activation of growth pathways. Integrins are involved in the regulation of the activities of several members of the Rho family of small GTPases, which control the growth or contraction of filamentous actin fibers and myosin [137]. Several tyrosine kinase members, such as the Src family, are also involved in the transduction of signals from integrin to Rho GTPases. Previously, it has been reported that Src, either alone or in association with other classes of tyrosine kinases, has the ability to regulate the Rho GTPase activation cycle by modulating guanine-exchange factor and GTPase activating protein [138]. In addition, experiments utilizing cardiac fibroblasts isolated from neonatal rat hearts treated with dominant-negative Rac1 or Rho A adenoviruses and subjected to mechanical stretch revealed an activating role for Rac1 and an inhibitory role for RhoA in FAK activation that resulted in Akt473 phosphorylation [61]. In contrast to Rac1, previous studies suggest that RhoA is a mediator of hypertrophic responses in the myocardium [139,140]. Inhibition of the RhoA affecter ROCK, using the ROCK inhibitor GSK 576371, prevented left ventricular hypertrophy and reduced collagen deposition, which were accompanied by improved diastolic function in pressure overload-induced cardiac hypertrophy in the rat [141]. There is evidence that RhoA can regulate both influx of Ca2+ at the plasma membrane and sarcoplasmic reticulum (SR) uptake in cardiac myocytes. Ventricular myocytes obtained from transgenic mice expressing dominant-negative RhoA demonstrate a substantial decrease in the density of L-type Ca2+ channel current [142]. This effect appeared to be due to a direct effect on the channel, as there were no changes in the expression of L-type Ca2+ channel mRNA or density of channels on the plasma membrane. RhoA-kinase signaling has been shown regulate intracellular Ca2+ stores in neonatal rat cardiac myocytes, in which pharmacologic inhibition of Rho-kinase induced expression of SERCA2a mRNA [143]. Although there is no evidence that Rac1 can regulate the L-type Ca2+ current in cardiac myocytes [142], the Rac1/Pak1 signaling pathway has been shown to be a major regulator of protein phosphatase 2A (PP2A), which can dephosphorylate both the L-type Ca2+ channel and ryanodine receptor [144,145]. However, future studies remain to be performed to unravel the mechanisms by which these Rho GTPases precisely regulate intracellular Ca2+ and contractility in the myocardium.
Integrin-linked kinase (ILK)
ILK is a widely expressed serine/threonine kinase that binds the C terminus of β1-integrin [146]. ILK links ECM matrix interactions to cellular processes such as remodeling of cytoskeletal proteins, growth, proliferation, survival, and differentiation [147]. It binds α-actinin via β-parvin/affixin and forms a complex with PINCH and thymosin β4 [147]. It has been shown to phosphorylate MLC, GSK- 3β (glycogen synthase kinase-3β), and Akt/PKB [148]. Several genetic loss-of-function studies in flies, worms, and mice have revealed embryonic death due to cell adhesion and cytoskeletal defects [147]. The conditional cardiac knock-out in mice leads to dilated cardiomyopathy (DCM) and sudden cardiac death [149]. Bendig et al. applied a forward genetic screen in zebra fish and identified an L308P mutation in the zILK gene causing progressive loss of contractility in zebra fish hearts [150]. This mutation disrupted the interaction with β-parvin/affixin, suggesting that its presence is essential for normal cardiac function and potentially cardiac stress sensing [150]. Likewise, in another zebra fish study, a nonsense mutation (Y319X) led to a dysmorphic ventricle with reduced cardiac function combined with severe endothelial defects, similar to alterations observed in mice lacking the integrin-binding ECM protein laminin α4[151]. Cardiac-restricted over expression of ILK induces cardiac hypertrophy via activation of ERK and p38 MAPK, hence suggesting ILK to be a proximal pro-hypertrophic signaling activator [152]. The role of ILK in regulation on contraction of cardiac myocytes by mechanical stretch under normal and pathological conditions remains to be elucidated.
The mitogen-activated protein kinase pathway
MAPKs are serine / threonine kinases that become activated upon tyrosine/threonine phosphorylation and additional modifications, and then in turn phosphorylate and activate nuclear substrates (such as c-myc, c-jun, ATF-2, and p62) and other kinases (such as p90 and MAPKAP kinase) [59,60,153-156]. The three best characterized MAPK cascades are the ERK, c-Jun N- terminal kinase (JNK) and p38 MAPK cascades, the latter two belonging to the group of stress-activated protein kinases. Studies from our lab and others indicate that ERK, JNK and p38 are activated by mechanical stretch in isolated neonatal rat ventricular myocytes [59,60]. MAPK may be contributing to regulation of contractile function in cardiac myocytes by mechanical stretch.
Protein kinase B/Akt
AKT, also referred to as protein kinase B, is a serine/threonine kinase found as part of the insulin, insulin-like growth factor-1 (IGF-1)/phosphatidylinositol 3-kinase (PI3K)/phosphatidylinositol-dependent kinase-1 (PDK1) pathway [157]. Upon activation, AKT phosphorylates a broad range of substrates involved in metabolism, transcription, translation, cell growth, differentiation, proliferation, and survival [158,159]. In the heart the IGF-1/ AKT axis is implicated in the control of physiological cardiac hypertrophy, contractile function, and Ca2+ handling [160-167].
Associations between Akt activity and Ca2++handling proteins were initially observed in experimental models of cardiomyopathy wherein decreased Akt activation was concurrent with diminished SR or endoplasmic reticulum (ER) Ca2+-ATPase (SERCA), Na+/Ca2+ exchanger (NCX), and Phospholamban (PLB) phosphorylation [168]. Conversely, in transgenic mice with cardiac specific over expression of Akt, it was shown that the amplitude of Ca2+ current was enhanced in Akt myocytes compared with that in wild-type myocytes, which may be at least in part responsible for the enhanced cellular Ca2+ transients [161,169]. Second, an increased protein expression of SERCA could be identified as another molecular mechanism in transgenic mice expressing cardiac specific constitutively active Akt. Adenoviral gene transfer of the transgene into rat myocardium recapitulates this phenotype [170,171]. Recently, another study showed that activated Akt phosphorylates PLB at Thr17, providing a new mechanism whereby the preferential translocation of Akt to the SR is responsible for enhancement of contractility without stimulation of hypertrophy [170]. We have also reported that Akt functionally improves diastolic Ca2+handling through phosphorylation of PLB at Thr17 by anthrax lethal toxin [172].
Similarly, mice created with cardiac-specific expression of nuclear-targeted AKT also showed enhanced contractility and supra physiological ventricular dynamics, but the molecular mechanisms responsible for the increased cardiac performance were related to increase loading of the SR due to increased phosphorylation of Ser16 PLB [173]. In addition, it was shown that phosphatase PP1, which dephosphorylates PLB and thereby inhibits SERCA, provides an additional pathway for increased contractility.
Mechanical Regulation of Calcium Ion
The primary function of the heart is to pump blood throughout the circulatory system to provide oxygen and nutrients to all tissues, as well as to remove unwanted metabolites. This circulatory pumping activity requires beat-to-beat rhythmic cytosolic Ca2+ oscillations in individual cardiac myocytes, which directly facilitates myofilament interactions to cause contraction and cell shortening [174]. At rest the myocyte sarcolemma and organelle membranes create physical barriers to amass Ca2++concentrations in extracellular and intracellular compartments, respectively [175]. This facilitates the buildup of large electrochemical gradients across these barriers to allow rapid flow of Ca2+ when needed. Electrical, chemical and mechanical stimuli directly modulate numerous ion channels, transporters and pumps to govern Ca2+ flux across these physical barriers. For example, during cardiac excitation–contraction coupling, membrane depolarization activates sarcolemmal voltage gated L-type Ca2+ channels leading to net Ca2+ movement from the extracellular compartment into the cytosol [176]. Ca2+ influx via these channels then binds and stimulates the opening of the ryanodine receptors embedded in the SR. This process elevates free cytosolic Ca2+ from ~100 nM at rest to ~1 μM during contraction of cardiac myocytes; with peak Ca2+ levels in the junctional cleft upwards of 400 μM [176]. In a healthy myocyte, these transient elevations in cytosolic Ca2+ are quickly returned to baseline by Ca2+ transporters and pumps located at the sarcolemma and SR. Ca2+ transporters such as the NCX typically move Ca2+ outside the cell across the sarcolemma, while Ca2+ pumps such as the SR and plasma membrane Ca2+ ATPases harness ATP to pump Ca2+ against a gradient back into the SR and across the sarcolemma, respectively [174].
Calcium entry
Cardiac myocytes respond to mechanical stretch with an increase in intracellular Ca2+ concentration and an increase in phospholipase C activity. The stretch induced increase in intracellular Ca2+ is caused by an initial Ca2+influx through L-type Ca2+channels and stretch activated channels and a subsequent Ca2+-induced release of Ca2+ from the SRvia the ryanodine receptor [177].
Ryanodine receptor
Ryanodine receptors (RyRs) are known mostly for their involvement in excitation-contraction coupling, releasing Ca2+ from the SR and thus driving muscle contraction. Three different isoforms (RyR1-3) have been found to date. RyR1 is widely expressed in skeletal muscle and was the first one to be cloned [178,179]. RyR2 is found primarily in the heart [180,181], and RyR3 was originally identified in the brain [182], although each isoform is found in many different cell types [183].
Regulation of SERCA activity
There are 3 isoforms of SERCA. SERCA2 is the predominant variant of all SERCA isoforms and phylogenetically the oldest. Three different splice transcripts have been reported so far, SERCA2a, SERCA2b, and SERCA2c, which only differ at the C-terminus. SERCA2a is expressed in cardiac muscle and slow twitch skeletal muscle; SERCA2b is present in adult smooth muscle and non muscle tissues; and SERCA2c is found in cardiac muscle as well as non muscle tissue including epithelial, mesenchymal, and hematopoietic cells. In heart, SERCA2a activity controls both the rate of cytosolic Ca2+ removal and the degree of SR Ca2+ load, representing a fundamental determinant of both cardiac relaxation and contraction [184]. PLB and sarcolipin have been found to bind to the cytosolic and/or trans membrane domains of SERCA2a, with accumulating evidence suggesting that these interactions lead to inhibition of the pump's affinity for Ca2+[185,186].
The histidine-rich Ca2++-binding protein (HRC) is a low-affinity, high-capacity Ca2+-binding protein located in the cardiac SR lumen [187]. Transgenic over expression of HRC in the heart depressed SR Ca2+ uptake rates, providing the support for the inhibitory role of HRC on SERCA2a and intracellular Ca2+ cycling [188]. Ca2+-CaM-dependent protein kinases have also been shown to phosphorylated PLB and this occurs independently of PKA phosphorylation [189,190]. Phosphorylation by cAMP-dependent protein kinase occurs on Ser16, whereas Ca2+-CaM-dependent protein kinase catalyzes exclusively the phosphorylation of Thr17. Dephosphorylated PLB exerts an inhibitory effect on SERCA2a and phosphorylation by either kinase was shown to result in stimulation of the SR Ca2+-ATPase activity and the initial rates of SR Ca2+ transport by relieving inhibition on the SR Ca2+-uptake pump. Stimulation was associated with an increase in the apparent affinity of the SR Ca2+-ATPase for Ca2+ [189,190].
Studies in genetically-altered mouse models indicated that phosphorylation of I-1 at Ser67 by PKC-α was associated with increased PP1 activity and depressed contractility in vivo [191]. Other studies in isolated cardiomyocytes showed that phosphorylation at Ser67 were associated with enhanced PP1 activity, decreased PLB phosphorylation and depressed contractile function [192,193]. However, the mechanisms of SERCA in response to mechanical stresses have not fully understood.
Phospholamban
PKA-mediated phosphorylation of PLB at Ser16 and the subsequent relief of SERCA inhibition permits rapid reuptake of Ca2+ to the SR, enhancing relaxation kinetics and providing additional SR Ca2++ content for the next release. Secondary to the rise in cytosolic Ca2+ concentration that accompanies PKA-mediated changes, calmodulin kinase II (CaMKII) is activated, which further phosphorylates PLB at Thr17[194], leading to additional relief of SERCA inhibition, thus illustrating the complexity of phosphorylation responsiveness to agonist stimulation and the potential for interaction between the various signaling pathways. Dephosphorylated PLB is an inhibitor of SERCA and phosphorylation of PLB relieves this inhibition and PLB dephosphorylated by PP1 [195,196]. The role of NCX phosphorylation in regulating extrusion of Ca2+ from the cytoplasm into the extracellular space is controversial but does not appear to be a strong influence in mammalian ventricle [197]. There is evidence for phosphorylation of the Na++/H+ exchanger, which may indirectly affect intracellular Ca2+ by its influence on intracellular Na+ levels [198]. However, more work has to be carried out, not only to fully describe the intricate pathways that upstream and downstream converge on PLB to sustain the beat-to-beat cardiac function, but also to understand the role of this protein in physio-pathological adaptation and tolerance.
Regulation of sodium-calcium exchanger
NCX is a bidirectional plasma membrane transport protein for Na++ and Ca2+. In the "forward" mode, Na+ is transported inward and Ca2+ is transported out of the cell, whereas in the opposite is true for "reverse" mode [199]. It is unanimously agreed that the NCX is the main pathway for Ca2+ extrusion from ventricular myocytes [197,200,201]. During each heart beat Ca2+ balance is preserved by Ca2+ entry via L-type Ca2+ channels and Ca2+ exit predominantly via NCX [201]. NCX is located predominantly in the t-tubule membrane [202,203]. Its location at the t-tubules may help ensure rapid and synchronous Ca2+ removal from the cytoplasm throughout the cell and may help limit Ca2+ depletion in the t-tubules as a result of Ca2+ current in the t-tubule membrane. As the major Ca2+ extrusion pathway, NCX plays an important role in determining cellular, and hence SR Ca2+ content. The regulation of NCX by phosphorylation is controversial [204]. However, changes in membrane potential and in trans sarcolemmal Na+ and Ca2+ gradients alter its activity, so that a rise in intracellular Ca2+ will increase Ca2+ efflux, whereas an increase in intracellular Na++ or depolarization of the cell membrane decreases Ca2+ efflux [205]. It is need to be clarified the role of NCX in response to mechanical overload.
The Na+ /H exchanger (NHE) may also play a role in mechanotransduction since its activation increases intracellular pH (cytoplasmic alkalization) which is known to stimulate expression of hypertrophic marker genes and protein synthesis [206]. NHE is located in the sarcolemma and regulates Na+ influx and H efflux with a stoichiometry of one to one [207,208]. HOE 694, a specific inhibitor of NHE, markedly attenuated stretch-induced activation of the ERK pathway and stimulation of protein synthesis in cultured cardiomyocytes [209]. Furthermore, stretch-induced activation of the MAPK pathway was partially blocked by pretreatment with NH4Cl (intracellular acidification), suggesting that cytoplasmic alkalization may be a crucial step to activate the ERK pathway in stretched cardiomyocytes.
Mechanical Regulation of Cross-Bridge Kinetics
The Frank-Starling mechanism reflects basic myocardial contractility represented by the length-tension relationship in isolated cardiac muscle and the ventricular function curve in experimental animals and patients [210]. Binding of cytosolic Ca2+ to a single site on cardiac troponin C (cTnC) strengthens the affinity of TnC for troponin I (TnI) and favors movement of the troponin-tropomyosin complex away from the actin-binding sites for myosin. Myosin cross-bridges then bind actin and, with sufficient ATP, crossbridge cycling proceeds. During relaxation, Ca2+ is released from cTnC as Ca2+ is removed from the cytosol by resequestration to the SR through SERCA and extrusion to the extracellular space through the NCX. Thus the systolic and diastolic phases of contraction are intimately controlled by the functional state of dihydropyridine receptor (DHPR), RyRs, TnC, TnI, SERCA, PLB, and NCX, and likely by other proteins as well.
Thin filament proteins
In diastolic state, force-generating reactions of cross-bridges with actin are inhibited, ATP hydrolysis is relatively low, and the sarcomere is relatively extensible [211]. Properties of the giant protein titin dominate the compliance of the relaxed sarcomere [212]. Interactions of thin filament regulatory proteins, the troponin heterotrimeric complex, and Tm hinder the actin-cross-bridge reaction. Calcium binding to a single regulatory site on cTnC triggers a release from this inhibited state by modifications of interactions among actin, Tm, and Tn [213-215]. Ca2+ -triggered protein-protein interactions engage a complex process releasing thin filaments from inhibition and actively promoting force-generating interactions between myosin cross-bridges and actin. The Ca2+ sensor is cTnC, Ca2+-binding sites with consensus sequences for Ca2+ and Mg2+ binding [216,217]. Calcium binding to the single regulatory site triggers contraction by opening a hydrophobic patch at the N-terminal lobe. In the absence of the rest of the thin filament proteins, there is a relatively minimum exposure of the hydrophobic patch with Ca2+binding [218]. PKA, as well as PKD and PKG, phosphorylates cTnI at Ser23 and Ser24 [219], whereas PKCβ and PKCδ phosphorylate these as well as other cTnI sites [220-223]. These two sites appear to be the only sites that are phosphorylated at basal physiological levels of activity in mouse and pig hearts [224,225]. The major phosphatases controlling thin filament protein phosphorylation are PP1 and PP2A. Both of these phosphatases have been reported to have a Z-disc localization, placing them in close proximity to the A- and I-band regions of the sarcomere and indicating that their localization may be strain-sensitive [226, 227].
Thick filament proteins
In cardiac myocytes, sarcomeric contraction results from the Ca2+-regulated binding of the myosin motor to action. Ca2+ binds to troponin in actin thin filaments, thereby allowing myosin cross-bridges in thick filaments to bind action for the development of force and cell shortening with ATP hydrolysis [228]. Myosin cross-bridges containing the actin-binding surface and ATP pocket in the motor domain, taper to an α-helical neck that connects to the myosin rod region responsible for the self-assembly into thick filaments. Two small myosin protein subunits, the essential light-chain (ELC) and the regulatory light-chain (RLC), wrap around each α-helical neck region, providing mechanical stability [229]. Cardiac myosin RLC is a likely candidate for having a central role in modulating cardiac contractility based upon its position at the fulcrum of the lever arm (S1-S2 junction of myosin heavy-chain (MHC) [230], and its ability to be modulated by charge [231]. Rates of entry of cross-bridges into force generating states have been demonstrated to be enhanced by radial movements of cross bridges induced by RLC phosphorylation, which moves cross-bridges closer to the thin filament [232]. Based upon findings in smooth muscle, it is assumed that cardiac RLC is phosphorylated by myosin light-chain kinase (MLCK) and de-phosphorylated by myosin light-chain phosphatase (MLCP). The relevant MLCK isoform, cMLCK, in the heart had been a subject of debate [233,234]. RLC is de-phosphorylated by the major phosphatase is PP1c-d [235]. PP1c-δs composed of a 38 kDa catalytic unit, which acts in concert with a larger ~100-130 kDa myosin binding unit that is similar to that discovered in smooth muscle, and now known as MYPT. Subsequent studies demonstrated that the major isoform in the heart is MYPT2 [236].
Sarcomeres are the functional unit of contraction in cardiac muscles, which consist of thick and thin filament proteins. Several proteins in the cardiac sarcomere have now been identified, including cardiac myosin binding protein-C (cMyBP-C), cardiac troponin I (cTnI), cardiac troponin T (cTnT), α-tropomyosin (α-TM) and the myosin light-chain (MLC) [237-241]. MyBP-C has defined roles in both the structural assembly and stability of the sarcomere, as well as in the modulation of contraction [242]. A unique feature of cMyBP-C in cardiac muscle is that it has three putative phosphorylation sites at Ser273, Ser282 and Ser302 that are phosphorylated by PKA [243], but only two of which (Ser273 and Ser302) are phosphorylated by PKC [244]. Recent studies have identified a new PKA phosphorylation site at Ser307 in vitro in murine cMyBP-C [245]. Independently, another study using rat neonatal cardiomyocytes described the Ser295, Ser315 and Ser320 phosphorylation sites in rat cMyBP-C [246]. A study using a myocardial stunning model described the regulation of phosphorylation at Ser279, Ser288, Ser290, Ser308, Ser313 and Ser331 sites in canine cMyBP-C [247]. CaMKII can directly phosphorylate cMyBP-C at multiple sites [248]. Hierarchical phosphorylation patterns for cMyBP-C have been defined in vitro [243], and CaMKII site phosphorylation at Ser282 might be needed for phosphorylation of PKC sites (Ser273 and Ser302) [244,248,249]. Hierarchical phosphorylation might be involved in cMyBP-C-mediated regulation of cardiac muscle contraction [243,244,248,249], and inhibition of CaMKII phosphorylation of cMyBP-C decreases contractility [250].Ca2+ ions can influence the contraction of cardiac muscle by activating CaMKII, which may specifically phosphorylate Ser282 [243,248,251] and modulate contractility by changing the thick filament structure [249]. After phosphorylation of cMyBP-C by PKA, the thick filaments exhibited a loose structure that prevents binding to myosin, thereby changing the maximumCa2++-activated force [252]. In other studies of intact myocardium in mouse models, PKA-phosphorylated cMyBP-C accelerated cross-bridge turnover rate under sub-maximum Ca2+ activation, which supports the premise that cMyBP-C functionally interacts with the S2 region to affect contractile function [253]. PKC-e is known to phosphorylate cMyBP-C only at Ser273 and Ser302, and associated with altered Mg2+- ATPase activity [254,255]. PKC mediated phosphorylation of cTnI, cTnT and cMyBP-C showed decreased myofilament Ca2+ sensitivity, which might alter contractility of human myocardium [256]. cMyBP-C's ability to tether the thick and thin sarcomeric filaments orients the actin filament and myosin heads, which facilitates activation of cross-bridge cycling [257]. When cMyBP-C phosphorylated, the interaction with myosin S2 region is lost and cMyBP-C can then associate with thin filament proteins, such as actin and α-tropomyosin [258]. The strength of the evidence for each of the cMyBP-Cinteractions with the thin filaments is variable, and the physiological consequences of thin filament interaction remain the subject of investigation. In addition, the exact cMyBP-C binding sites in actin and α-TM need to be clarified to define the nature of the cMyBP-C interaction with the thin filaments.
Indirect evidence from non-cardiac muscle studies suggests that Ca2++ binding to TnC can be regulated by both force-generating cross-bridges, as well as frequency. Dissociation of force-generating cross bridges during a twitch in mouse skeletal muscle has been shown to decrease in the Ca2+ affinity of TnC [259], thus decreasing the Ca2++ sensitivity and resulting in the deactivation of the muscle. In high frequency contraction muscles such as toadfish swim bladde [260] and rattlesnake rattle muscle [261] TnC has a decreased affinity for Ca2+, which likely requires molecular modification of TnC to a lower affinity type. Although critical protein sequences and kinetics associated for Ca2+ binding affinity to cTnC have been identified in cardiac tissue more than a decade ago[262], post-translational determinants for regulating the affinity of cTnC for Ca2+ remain to identified in the heart under physiological and pathological conditions.
Clinical Perspectives
Mechanosensors have been implicated in a wide array of pathophysiologic conditions in multiple organ systems and diseases including HF. HF are a leading cause of morbidity and mortality throughout the world. Diagnosing cardiac disease costs more than any other disease category and its treatment costs exceed that of cancer [263]. Cardiac hypertrophy is a well-known response to increased hemodynamic load. Understanding the mechanisms of mechanical stretch sensing could lead to new diagnostic and genetic testing methodologies to better predict, treat and possibly even prevent HF in future patients. Several findings covered in the review have significant potential clinical applications.
Atrial fibrillation (AF) is one of the most common arrhythmias, it increases mortality and risk for stroke, and has been shown to share many of the same risk factors as HF. Approximately 40% of individuals with either AF or HF will develop the other conditions [263]. The up regulation of TRPC channels in hypertrophy and location within the electrical conduction system of the heart [76-82] may help explain the link between AF and HF, and may even be a novel therapeutic target in its diagnosis and treatment.
Under mechanical stress angiotensin II and angiotensinogen levels do not increase; however mechanical stretch was found to trigger the angiotensin II type 1 receptor. Through conformational changes in β-arrestin the AT1R stimulated an increase in phosphorylation of ERK in the absence of G protein signaling. The ability of can desartan and olmesartan to stabilize the AT1 receptor in its inactive conformation and attenuate ERK activation in response to mechanical stress [39,40] suggests the potential benefit of using angiotensin receptor blockers over angiotensin converting enzyme inhibitors in patients with high pressure HF.
Non-cardiac cell studies have suggested that β1-integrin's coupling with FAK could be a significant regulatory factor in myocyte contractile force, thus hinting to its potential as a therapeutic target for investigation. Other integrin subtypes may also have similar potential. The discovery of the apelin receptor's bimodal nature in mechanical signaling [85] yields significant potential for clinical impact. Blockade of the mechanically induced signal of the apelin receptor and stimulation of its ligand signal could lead to a powerful novel therapeutic avenue for HF. A better understanding of the downstream signaling pathways in response to mechanical stimulation of the APJ may also provide prognostic indicators of a patient's response to mechanical stress.
Rho family GTPases Rac1 and RhoA are both stimulated by mechanical stretch, but have opposing actions [61]. Both pathways have effects on Ca2+ regulation through L-type Ca2+ channels and SERCA2a [141-145], and mediate the hypertrophic response by interacting with Rho A and FAK. Therapeutic interventions that favor the blockade of RhoA or the induction of Rac1 may hold beneficial clinical effects in the treatment of HF.
Titin is commonly assumed to be a non-dynamic molecular spring; however its I-band region has three extensible elements that play a role in regulating its actions in relation to contractility [102]. Beta adrenergic activated PKA, as well as PKG phosphorylates the N2B element of titin and causes reduced passive tension [103]. PKC-α phosphorylates the PEVK element of titin [106] causing an opposing effect by increasing titin-based passive tension. A basal level of phosphorylation seems to play a role in determining titin-based passive tension. Titin is mechanically deformable, active in multiple signaling pathways including gene expression and directly linked to sarcomeric elements; it is uniquely equipped to serve as a multi-parameter mechanosensor. Due to its function within the sarcomere, titin itself plays a major role in the mechanical pathogenesis of HF by dynamically changing its passive tension in response to cellular signaling. This makes the titin I-band region elements an excellent potential therapeutic and investigative target for diastolic dysfunction. While the PKA mediated phosphorylation of phospholamban (PLB) at Ser16 has been well studied as a mechanism of increasing cardiac contractility, PLB's phosphorylation of Thr17 by Akt has not. Investigation of this new pathway may provide information to better understand the etiology of HF as well as identify future therapeutic pathways.
As the major intermediate filament in the heart, desmin gene mutations have been found to play an important role in at least 45 genetic cardiomyopathy conditions termed desminopathies. Similarly integrin linked kinase (ILK) studies have shown profound effects in cardiac modeling with over expression causing hypertrophic cardiomyopathy and knockout leading to dilated cardiomyopathy. Desmin and ILK obviously play major roles in the regulation of cardiac function but future clinical therapies will require more investigation to better elucidate their exact functions.
Conclusion
The heart is a kinetically dynamic organ which adapts by responding to a variety of external forces which are transduced into biochemical signals involving Tran's membrane receptors, structural proteins, signaling factors and scaffold proteins. It has been well established that mechanical stress leads to activation of a variety of mechanosensors and associated downstream pathways such as MAPKs, FAK, Rho GTPases and PI3K/Akt that regulate gene expression, metabolism and growth in the heart. However, it has only recently become apparent that these mechanosensing mechanisms couple to contractile function by regulating pumps, channels and contractile proteins in the heart. Future studies remain to be performed to elucidate the precise mechanisms by which the various mechanosensing mechanisms control contractile performance in the myocardium. Unraveling the details of these stress-dependent pathways will help to identify therapeutic strategies that can be used in the treatment of heart disease.
Acknowledgment
This manuscript is the result of work supported with resources and the use of facilities at the Central Texas Veterans Health Care System, Temple, Texas. This work was supported by grants from the Department of Veterans Affairs (DED 1I01BX000801, SSG 1I01BX002192-01), Na+tional Institutes of Health (HL-68838) and the Scott and White Health Care System.
References