Research Article
Austin J Clin Ophthalmol. 2014;1(4): 1017.
Corneal Injuries and Wound Healing – Review of Processes and Therapies
Benjamin D Ashby, Qian Garrett and Mark DP Willcox*
Department of Optometry and Vision Science, University of New South Wales, Australia
*Corresponding author: Mark Willcox, School of Optometry and Vision Science, University of New South Wales, Sydney, NSW 2052, Australia
Received: February 14, 2014; Accepted: March 12, 2014; Published: March 21, 2014
Abstract
Wounds in the cornea are usually self–limiting, but are common and a major reason for visits to hospital emergency departments. Although most heal without permanent visual impairment and do not require hospitalisation, in Australia these injuries are conservatively estimated to cost $155 million per year when lost working days and medical expenses are both taken into consideration. There is also some limited evidence that these injuries have a longer term impact on quality of life. This paper describes the impact of corneal injuries, the structure of the cornea, the cellular processes involved in corneal wound healing, and review the current and future therapies to treat this condition.
Introduction and Background
Epidemiology
Eye injuries are the most common reason for attendance at an emergency department, accounting for 14% of eye department presentations and 8% of eye department hospitalisations [1,2]. These figures are reflected in an annual incidence of 0.315% (CI 0.266– 0.363%) based on over 800,000 patients treated in the United States for eye injuries in emergency departments in the year 2000 [3]. This is of a similar magnitude to the findings of most other large studies of urban populations in developed countries over the last 40 years although reported values are approximately three times higher for Australian and Italian populations [4–7]. These numbers increase in rural locations [6] and developing [8] or newly industrialised countries[7]. Approximately three quarters of these emergency ocular trauma assessments are for corneal foreign bodies or an abrasion indicating the primary site of injuries is most commonly the corneal epithelium.[2,3,6].
Less common but with far greater likelihood of sight threatening sequelae are chemical burns which account for 5–22% of eye injuries [3,6,9,10]. Based on hospital admissions the majority, 30–80%, of burns are from alkaline substances. These come into contact with the eye from either accidental exposure or assaults [9,11]. The most common sources of alkali chemicals involved in ocular burns are readily available building products and household cleaners such as ammonia, sodium hydroxide, plaster and cement [9,12,13].
Rarer still and also of a severe nature is corneal compromise associated with microbial keratitis (MK), that is a particular concern in contact lens wearing populations. The incidence in Australia has recently been reported at 4.2 per 10,000 (CI 3.4–5.5) [14] a figure comparable to the 4–5 per 10,000 found in most international studies in developed countries over the last 30 years [15–17]. This problem is however not limited to contact lens wears as the remaining 78% of hospital treated MK have no association with lens use, although this only represents an incidence of 5–11 per 100,000 in the general population [13,18]. The problem is much greater in developing countries where the incidence is higher by a factor of 10 [19].
There is also corneal compromise occurring as part of elective procedures, primarily the incisions and ablations created for refractive and cataract surgeries. Since gaining regulatory approval in the US in 1998 over a million patients a year are undergoing laser assisted in–situ keratomileusis (LASIK) procedures, with smaller numbers undergoing the more invasive photorefractive keratectomy (PRK) and the increasingly rarer radial keratotomy [20, 21]. While cataract extractions require a smaller epithelial wound they are performed much more frequently than refractive surgeries with an increasing majority of incisions positioned over the clear cornea rather than the limbus [21]. According to World Health Organisation data most developed countries have a cataract surgery rate of over 4,000 per year per 100,000 population with Australia approximately 50% higher based on data reported in the Blue Mountains Eye Study [22].
Morbidity
Although ocular traumas account for almost 2% of emergency hospital presentations, most heal without permanent visual impairment and do not require hospitalisation [1]. Those of working age are consistently reported to be at more than double the risk for these eye injuries with an average of three lost days of productivity [2]. This is a considerable economic burden that is only increased by the additional care required for the 5–11% of cases that will need hospitalisation [2,3,6]. In Australia these injuries are conservatively estimated to cost $155 million per year when lost working days and medical expenses are both taken into consideration [6].
There is also some limited evidence that these injuries have a longer term impact on quality of life. A study of 47 patients conducted 2 years after an ocular trauma found twice the level of physiological morbidity expected in the normal population. A fear of blindness was reported by 87% of patients and according to the authors the experience caused "considerable and sustained distress many months after the trauma". This is disproportionate to the outcome as only 17% of participants had a final vision of less than 6⁄60 in the injured eye [23]. The psychological impact may be explained by the considerable pain, photophobia and sudden reduction in vision associated with corneal injuries. A study of 88 consecutive patients presenting to casualty with corneal abrasions rated their pain, photophobia and visual blur as 3.7, 3.5 and 2.8 out of 5, respectively, on a visual analogue scale where 0 is no pain⁄photophobia⁄blur and 5 is the worst pain⁄ photophobia⁄blur imaginable [24]. At the time of presentation half of these patients required both oral analgesia in addition to topical ocular pain control measures such as lubricants and cycloplegia. The pain is then reported to diminish as epithelialisation takes place [24– 27]. Thus initially corneal injury is associated with appreciable pain and reduced vision that then improved as healing takes place. Even after the eye has recovered there may still be a prolonged period of anxiety.
Chemical injuries represent a much more serious threat to the eye with 8–12% requiring hospital admission for a week followed by 3–6 months of treatment [6]. For non–admitted cases the majority still need medical reviews for 1–7 days [9]. Of the corneal traumas the prognosis is poorest for alkali burns with 20% resulting in a final visual acuity of less than 6⁄12 [11,28].
Corneal compromise from microbial invasion is a rare but serious event with an incidence in the world developed countries of 2 million every year [29]. Mild microbial keratitis associated with contact lens use has been estimated to cost AU$1228 (US$1353) per case. This includes both the cost of treatment and lost working days [30]. The economic impact of microbial keratitis in non–contact lens wearers from developed economies has not been reported. In developing countries, using India as an example, microbial keratitis results in an average of one month lost productivity, a cost of treatment that exceeds the average monthly income and a final visual outcome of less than 6⁄60 in almost half of cases [31]. A lower cost may be anticipated for non–contact lens wearers as they would not incur the $150 expense for new spectacles [32]. Also the incidence of the more aggressive Pseudomonas aeruginosa pathogen is much lower [13]. owever a higher cost in the non–contact lens wearing population is more likely as the average disease severity is greater, with longer hospital stays and more medical re–examinations required [13]. More than half of those cases of a severity requiring hospital admission result in a permanent reduction in vision [33].
Cataract surgery in the current era is a safe procedure with severe, sight threatening, adverse events occurring in no more than 0.4% of cases [34]. Of these complications endophthalmitis accounts for 1⁄3rd with a proposed link to the corneal incision that is supported by double the rate of infection for the more popular clear corneal incisions versus scleral incisions [34–36]. For refractive surgery LASIK is currently preferred over PRK due to the faster visual recovery and lower level of postoperative pain [21,37,38]. Both of these disadvantages to PRK can be attributed to the increased healing time required by a largerarea of cornea to reepithelialise after the procedure. PRK is however suitable for a wider range of patients and is reported to provide a better visual outcome with fewer complications [39]. This is however not universally agreed upon with a pre–2005 meta–analysis of the literature by Shortt et al. tentatively suggesting LASIK may be safer but of similar efficacy [40].
Corneal Wound Healing
Corneal Structure: The cornea is the transparent anterior segment of the globe of the eye that refracts light onto the retina. It is the first element in the eye's optical system, contributing 2⁄3rd of the eye's total focusing power and must remain essentially clear for optimal vision to be achieved. To maintain transparency the cornea must remain a vascular, unscarred and preserve its highly regular organised internal structure. The cornea is also the most sensitive tissue in the body.
A normal cornea consists of three well defined layers (Figure 1).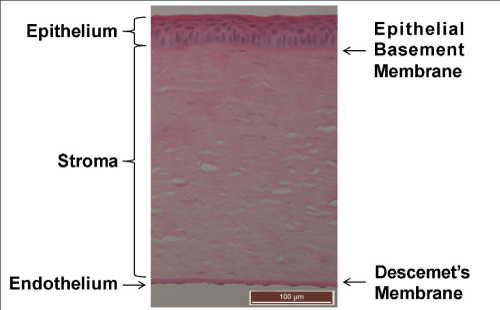 Figure 1 :Light micrograph (20x objective) of the transverse section of a Guinea pig cornea stained with haematoxylin and eosin. Nuclei can be visualised in blue while cytoplasm and collagen appear pink. Epithelial cell nuclei appear blue surrounded by pink cytoplasm within the epithelial layer. Keratocyte nuclei are seen as long thin blue structures within the pink lamella of stromal collagen. Endothelial cell nuclei are seen in a single layer beneaththe deeply pink stained Descemet's membrane.






Figure 1 :Light micrograph (20x objective) of the transverse section of a Guinea pig cornea stained with haematoxylin and eosin. Nuclei can be visualised in blue while cytoplasm and collagen appear pink. Epithelial cell nuclei appear blue surrounded by pink cytoplasm within the epithelial layer. Keratocyte nuclei are seen as long thin blue structures within the pink lamella  of stromal collagen. Endothelial cell nuclei are seen in a single layer beneaththe deeply pink stained Descemet's membrane.







The cellular epithelium is the most external layer of the cornea, underlying this is the collagenous stroma that is bounded internally by the cellular endothelium (Figure 1) [41]. These layers extend laterally to the limbus which marks the transition from corneal epithelium to conjunctival epithelium anteriorly, corneal stroma to sclera centrally and corneal endothelium to trabecular meshwork on the posterior surface [42]. Externally the epithelium is coated by a thin, continuously renewed layer of tears while internally the endothelium is in constant contact with the aqueous humour that fills the anterior chamber of the eye [41].
Tear Film: The tear film is a thin fluid layer of approximately 10 µm coating the surface of the cornea [43]. Tears are formed by secretions from the lacrimal glands with contributions from the meibomian glands and goblet cells [43]. These are mixed and spread over the cornea by the regular action of the blink. The tear film serves the epithelium by preserving its optical quality, delivering nutrients, facilitating the transport of signalling proteins, providing a pathway for access of leukocytes and acting as a reservoir for topically applied medications [44]. Additionally the richness of the tears in antimicrobial factors and the high frequency of tear film renewal help to protect the cornea from infection and harmful substances [45].
Corneal Epithelium: The major roles of the corneal epithelium are to act as a barrier, assist in maintaining a constant level of stromal hydration and to serve as an optical interface. The barrier function of the epithelium is directed against physical trauma, pathogens and chemicals. All of these are a threat to the underlying stroma that may lose its transparency if damaged. By preventing the diffusion of water and solutes from the tear film into the cornea the epithelium also enables stromal deturgescence (relative dehydration of the stroma) to persist. In remaining smooth and clear the epithelium transmits refracted light from the tear film uninterrupted into the eye [46].
The corneal epithelium consists of five to seven layers of non–keratinised squamous stratified type epithelial cells with an approximate thickness of 50 µm. The cells of this layer can be distinguished morphologically into basal columnar cells, wing cells and superficial squamous cells. Basal cells form a monolayer that rests atop the basal laminar. They are the deepest and tallest cells in the epithelium accounting for 40% of the total thickness (Figure 2).

Figure 2: Light micrograph (60x objective) of the transverse section of a Guinea pig corneal epithelium and anterior stroma stained with haematoxylin and eosin. Nuclei can be visualised in blue while cytoplasm and collagen appear pink. The tall basal cell nuclei are seen in a single layer above the dark pink stained basement membrane. Nuclei of wing cells can be visualised as two layers of round to horizontal oval structures. The flattened nuclei of squamous cells can be observed in the three most superficial layers.






Figure 2: Light micrograph (60x objective) of the transverse section of a Guinea pig corneal epithelium and anterior stroma stained with haematoxylin and eosin. Nuclei can be visualised in blue while cytoplasm and collagen appear pink. The tall basal cell nuclei are seen in a single layer above the dark pink stained basement membrane. Nuclei of wing cells can be visualised as two layers of round to horizontal oval structures. The flattened nuclei of squamous cells can be observed in the three most superficial layers.







These give rise to the adjacent anterior two to three layers of wing cells that are less tall than the basal cells but not as elongated as the squamous cells of the layer above. The wing cells will in turn become squamous cells, forming the external–most two to three layers of flattened cells. The squamous cells of the ocular surface desquamate relatively frequently to be washed away into the tear film over the course of the blink. The transition of a cell from basal, to wing, then squamous cell that is shed takes one to two weeks. This regular turn over contributes to the protective role of the epithelium as any infected or damaged cells are quickly replaced (Figure 2) [41,47,48].
Epithelial cells attach to each other and the extracellular matrix though junctional and non–junctional adhesions. Junctional adhesions are structures where cytoskeletal, transmembrane, and in some cases extracellular proteins, aggregate to form a complex with distinct morphology under the electron microscope. In the corneal epithelium there are zonula occludens junctions, gap junctions, adherens junctions, desmosomes and hemidesmosomes. Nonjunctional adhesions are ligand–receptor interactions that are not visible without immunochemical staining.
The surface exposed apical aspect of the squamous cells express glycocalyx that interacts with tear film mucin to maintain the cornea's wettability. This supports an even distribution of tear film across the surface of the cornea. Cells of this layer are terminally differentiated and will desquamate into the tear film within a week. Squamous corneal epithelial cells of the superficial layers form zonula occludens junctions with surrounding cells contributing significantly to the epithelium's barrier function [49]. This junction forms a complete anastomosis of adjoining cell membranes and closes the paracellular pathway, preventing the movement of fluid and hydrophilic substances into the cornea [50].
Wing cells express the protein precursors required for the formation of tight junctions when they transition to superficial squamous cells [51]. These cells are joined to each through abundant desmosomes that connect plaques attached to the cytoskeleton via transmembrane bridging proteins [52]. Adherens junctions are also present between wing cells, as they are for all layers of the epithelium. Like desmosomes these junctions connect the cytoskeleton of adjacent cells but connect to actin rather than keratin filaments [53]. The intercellular junctions of the wing cells contribute significantly to structural integrity of the corneal epithelium.
The basal cells are the only mitotic layer in the corneal epithelium with their stem cells believed to be located in the limbal region [54]. As a basal cell divides it gives rise to a daughter cell that moves upwards and towards the central cornea as it differentiates into a wing cell [55]. Basal cells are interconnected by gap junctions that maintain a fixed distance between adjacent cells and form pores through which the cytoplasm of adjacent cells can communicate [51,56]. These junctions are believed to be important to cell differentiation and development [57]. Hemidesmosomes are cell to substrate adhesion junctions that anchor the basal cells to the stroma and basal lamina [58]. They are located within the basal aspect of the cell and are associated with cytoskeletal and transmembrane proteins complexes. These complexes attach anchoring filaments, that join to anchoring fibrils in the basement membrane which in turn terminate in anchoring plaques located 0.6 µm beyond the epithelial basement membrane within the stroma, firmly fixing the epithelium to the underlying cornea [59].
In addition to the junctional adhesions of the hemidesmosomes there are also non–junctional attachments. Integrin heterodimers are the major receptor for both these types of cell–substrate with a large extra–cellular domain and smaller transmembrane and cytoplasmic domains. Ligands for the integrins are present on collagen, laminin, vitronectin and fibronectin [60].
Epithelial basement membrane is a 0.2 µm thick layer separating the cellular epithelium from the stroma (Figure 2) [61]. It is primarily composed of collagen type IV, the sulphated proteoglycan heparin, laminin and ectactin [62]. Kalinin, a laminin isoform, within the basement membrane forms strong attachments to the cell membrane protein integrin α6β4 subunit of hemidesmosomes and to collagen VII of anchoring fibrils [63,64]. This secures the basal layer of cells to the basal lamina and the underlying stroma.
Stroma: The stoma accounts for approximately 80% of the corneal thickness (Figure 1) increasing slightly towards the limbus. It is composed of approximately 200 parallel laminae of densely packed connective tissue with relatively few cells [41]. The laminae of predominantly type I–type V collagen heterodimer fibrils are of a consistent diameter and regularly spaced by their association with sulphated proteoglycans [65,66]. Most studies report type III collagen in these fibrils [67, 68] although some investigators only detected type III at the limbus and in the sclera [69]. These proteoglycans are relatively hygroscopic, thus making the stroma prone to swelling, however to maintain its transparency the stroma must remain at a constant thickness and in a deturgescent state [70]. This is achieved by the tight junctions of the epithelium anteriorly and the leaky tight junctions combined with the ion pump of the endothelium posteriorly. This structure prevents a net influx of fluid from either surface [70]. The tensile strength required to maintain the shape of the cornea against the intraocular pressure and resist trauma arises from the collagen networks of the stroma [71]. In the human stroma the anterior 18 µm of these collagen fibres are irregularly packed into an acellular layer referred to as Bowman's layer [72].
A fine syncytium of cells known as keratocytes are interspersed sparsely between the collagen sheets of the stoma maintaining and remodelling surrounding collagen [73]. Keratocytes are a quiescent type of fibroblast that form interconnecting networks joined through long dendritic processes [74]. By light microscopy of transverse corneal sections keratocytes have a long thin profile (Figure 1) compressed between laminae. It is only in coronal sections that it becomes apparent that the keratocytes are 10–20 times greater in width than height [74]. Keratocytes express matrix metalloproteases (MMP), glycosaminoglycans (GAG), collagen and crystallins important to their role in stromal homeostasis, transparency and healing [41,75].
Endothelium and Descemet's Membrane: Descemet's is the collagenous basement membrane of the endothelium. It is secreted by the endothelial cells onto the posterior stroma, reaching a thickness of up to 10 µm [76]. The endothelial cells form a monolayer upon Descemet's membrane appearing flat in transverse sections (Figure 1) but hexagonal when viewed from above, forming a honeycomblike network. In humans this layer becomes non–proliferative after birth. Endothelial cells are joined by gap junctions and "leaky" tight junctions [77]. These "leaky" junctions allow the movement offluid between the stroma and anterior chamber, a process vital for nutrient supply to the stroma. The ion pumps of the endothelial cells continuously transport ions from the stroma into the aqueous humour; this precedes the osmotic movement of fluid from the stroma into the hypertonic aqueous humour. This mechanism acts o move fluid in the opposite direction to the imbibition pressure of the stromal proteoglycans and the balance of these two mechanisms is vital for the maintenance of a clear, relatively dehydrated, cornea [78].
Wound Healing
Epithelium: As the external layer of the cornea the exposure of the epithelium makes it the most likely cell population to be damaged. Fortunately it is also the layer that heals most quickly and most effectively returns to it pre–injury structure and function. Occasionally the epithelium will be compromised by a wound that is slow to heal. This can occur in wounds caused by alkali burns [79], infections [80] or wounds associated with diabetic neuropathy [81]. The greatest risk under these circumstances is to the more vulnerable, deeper structures of the cornea. Fortunately the majority of epithelial wounds heal rapidly and without consequence.
Corneal epithelial wound healing can be divided into four phases with specific physiological functions [82]. The first phase is referred to as the latent phase as there is no cell movement or change in cell numbers [83]. During this time there is an increase in metabolic activity and a reorganising of the cell structure in preparation for the next phase [84]. The second phase is migration, this is characterised by the cells surrounding the wound sliding over and covering the denuded surface [85]. This is followed by the proliferation phase where the cells begin to divide and differentiate, restoring the epithelium's original structure and intercellular junctions [51,86]. The final phase is the return of the cell–substrate attachments present in non–motile epithelium [87]. Often a subsequent phase will begin before the completion of the prior phase however the sequence of the phases is maintained. Thus in the corneal epithelium wound healing progresses through four overlapping phases that first enable cell movement then coverage of the wound area before restoring the original cell density and reforming cell attachments.
Phase One: Latency: The lag phase is a delay immediately following corneal epithelial injury while the cells and the ocular surface transform to facilitate cell migration. Those cells that were damaged by the wound stimulus undergo apoptosis and are soon shed into the tear film [83,88]. Fibronectin polymerises onto the wound bed forming a provisional extracellular matrix over which the cells can later more easily move [89]. Adherens junctions and gap junctions are lost and desmogleins of the desmosomes are remodelled [51]. Basal cells in the area surrounding the wound dismantle their hemidesmosome attachments to the substrate [90]. This involves the redistribution of α6β4 integrin, normally localised within the hemidesmosome complexes, across the basal aspect of the cell membrane where it forms a weaker non–junctional cell–substrate attachment to the laminin of the basement membrane [91,92]. At this time integrin α5β1 and αvβ6 receptors are up–regulated and expressed on the basal aspect of the cell membrane [93,94]. Intracellularly, cytoskeletal vinculin and the contractile actin stress fibre terminals localise to the α5β1 receptors to form junctional complexes called focal contacts concentrated along the wound margin [95–97]. This phase may continue without the initiation of migration for up to several hours [83]. Thus during the lag phase several of the intercellular junctions are dismantled, the cell–substrate junctions are replaced with weaker attachments and a provisional extracellular matrix is laid down in preparation for cell migration.
Phase Two: Migration: During the migration phase cells move over the wound area to cover the defect. Following the delay of the latent phase cells at the wound margin flatten and spread into a monolayer [83]. Those cells at the leading edge of the wound are observed to send out filopodia and have the characteristic ruffled appearance of migrating epithelia [83,98]. Focal contacts bind to ligands on the fibronectin provisional matrix and cell movement is enabled by the cytoskeletal contractile mechanisms of the actin stress fibres interacting with the adhesion complexes [95, 96, 99,100]. By electron microscopy it appears that neighbouring cells remain attached by desmosomes as the epithelium sides as a sheet across the wound bed to cover the denuded area, pulled by the cells at the leading edge of the wound where focal contacts are most concentrated [85,95]. Following this single layer of sliding cells a multilayered mass movement of cells has also been observed [46,85]. In an uncomplicated epithelial lesion the cells migrate across the wound bed at the constant rate of 0.05–0.06 mm⁄h with some slowing as closure is approached [83,101,102]. To sustain this migration protein synthesis and in particular glycoprotein synthesis continues from the latency stage and peaks in this phase [84,103]. While these cells are migrating there is no mitotic activity in or around the wound area [86]. Thus in the cell migration phase the leading edge pulls a layer of epithelium across the provisional matrix to rapidly cover the wound in a process that is independent of cell proliferation.
Phase Three Proliferation: Cell proliferation restores the epithelial cell density and occurs in conjunction with cell differentiation. Mitosis is observed to be delayed within the wound area until after the cell migration phase is complete [86]. Cell mitosis is thus initially limited to the basal transient amplifying cells that are distant from the wound and to the limbus where the stem cells are believed to be located [86,104]. During wound healing more than half of the normally slow cycling stem cells of the limbal region are induced to proliferate while the transient amplifying cells of the basal layer proliferate more frequently with an increased number of divisions before terminal differentiation [105]. This causes a 5 fold increase in proliferation in the limbal region and 3 fold increase in the peripheral cornea that peaks at approximately 24 hours after wounding [104,106]. As the area of proliferation progresses centrally, daughter cells are displaced inwards and upwards towards the more superficial layers, differentiating into wing then squamous cells to restratify the epithelium [86,107]. The first junctions to reform are the zonula occludens, appearing behind the leading edge of the wound, restoring the epithelial barrier function even before migration is complete [51,108]. The basement membrane is remodelled by the migrated epithelium, secreting laminin within 24 hours that can attach to integrin αvβ6 of the cell membrane [51,94]. This coincides with the reassembly of gap junctions, adherens junctions and desmosomes directly above [51]. Thus the proliferation phase commences with cells outside the wound area increasing their mitotic activity and the daughter cells beginning to differentiate as they repopulate the epithelium while within the wound area intercellular junctions are re–established as a new basement membrane is secreted.
Phase Four: Attachment: The attachment phase re–establishes a firm adherence of the epithelial layer to the underlying substrate. Hemidesmosomes are the basis of the strong attachment of the basal epithelial cells to the basement membrane and stroma [91,109]. For wounds where the basement membrane remains intact hemidesmosomes reform over pre–existing anchoring fibrils [109]. When the basement membrane and stroma have been damaged or removed the anchoring fibril and the hemidesmosome are resynthesised simultaneously progressing from below the wound margin towards the central cornea [110]. This process begins once the overlying epithelium has stratified but may not be complete until up to a year after the original injury [87]. In the absence of the hemidesmosome the overlying epithelium is prone to sloughing and recurrent erosions [87]. Thus solid re–attachment of the regenerated epithelium to the underling stroma via hemidesmosomes is the final stage in epithelial wound healing and may evolve over a prolonged period if the anterior stroma is compromised.
Stromal wound healing: Stromal wound healing involves transformation of keratocytes, production of fibrous material and tissue remodelling [111]. The stromal injury response begins with epithelial compromise leading to swelling of the stroma, apoptosis of fibroblasts and invasion of inflammatory cells and this may occur even without penetration to the stroma [112,113]. Early in the process leucocytes are recruited from the conjunctival vessel to the site of injury where they serve to protect against infection but can also contribute to tissue damage [113,114]. There is also evidence that suggests they are involved in the promotion of healing [115]. The keratocytes nearestthe wound apoptose and those adjacent to this area are activated to become fibroblasts or myofibroblasts [116,117]. These transformed cells then migrate to the wound and deposit fibrotic material to fill the defect [118,119]. This material may contract and opacify which reduces corneal transparency and can alter the refractive curvature of the cornea. The number of transformed keratocytes start to decline once the wound is filled and a slow remodelling phase takes place over weeks to years in an attempt to reorganise the collagen to restore transparency [117]. Depending on the balance of mediators, MMPs and the extent of the wound, the outcome of stromal healing can be regeneration of normal stromal structure, an opaque scar, stromal melting or neovascularisation [120–123]. Stromal wound healing involves transformed keratinocytes repairing the wound with fibrousmaterial in the presence of inflammatory cells and may result in reduced vision.
Endothelium and Descemet's Membrane: Endothelial wound healing is limited to reorganisation of the remaining cells and secretion of a new basement membrane. The endothelium may be damaged by either penetrating injuries, trans–corneal incisions or excessive corneal distortion [41]. Damage to the endothelial disrupts the process that moves fluid out of the stroma resulting in swelling and a loss of transparency in the area of the wound [124]. Unlike the Guinea pig and rabbit, the cells of the human corneal endothelium do not undergo mitosis in vivo. When endothelial cell loss occurs in the human eye the wound is filled by the migration of adjacent cells and an enlarging of the remaining cells to occupy a greater surface area [125– 127]. This differs from the rabbit where endothelial wound healing is predominantly by mitosis and the Guinea pig where this is in addition to a fibro–cellular response in severe injury [128]. Endothelial cell migration begins within six hours and progresses at approximately 1 mm⁄day [129,130]. Within a week of the endothelium reforming over the posterior stroma, normal function is restored causing any swelling to subside [129]. If Descemet's membrane is breached this is repaired by the endothelium secreting a new basement membrane [131]. Endothelial wound healing is entirely by cell migration in the human eye with normal function returning a number of days after coverage of the area by cells.
Analysis and interpretation
Endogenous Modulation of Wound Healing: Corneal wound healing is a highly complex and tightly co–ordinated physiological response that is modulated by a number of signalling pathways and processes. Cytokines released during injury play a key role in the orchestration of the wound healing response, particularly interleukin (IL) 1 and IL–6. These cytokines are able to influence the expression of the growth factors such as epithelial growth factor (EGF), keratocyte growth factor (KGF), hepatocyte growth factor (HGF), transforming growth factor (TGF) and platelet derived growth factor (PDGF) [132]. These growth factors and cytokines together regulate the healing processes of apoptosis, migration, proliferation and differentiation. Epithelial intracellular signalling pathways that have been implicated in wound healing process include activation of the mitogen-activated protein kinases (MAPK), phosphatidylinositol 3–kinase (PI-3K), Rho family and protein kinase C (PKC) [51,107,133]. Closure of the wound also involves activation of proteases, changes to extracellular matrix proteins and is influenced by neural factors [51]. Thus wound healing in the corneal epithelium is regulated by a range of cytokines, growth factors, matrix proteins and proteases.
Cytokines are released following corneal epithelial injury and appear to initiate the healing response. IL–1, IL–6 and TNF-α are expressed when the epithelium is injured [134]. The levels of IL–1 and IL–6 are found to be proportional to the severity of the injury [134]. IL–6 facilitates epithelial cell migration by upregulation of the integrin receptor for fibronectin and may also influence production of fibrotic material by activated keratocytes [118,135]. IL–1 has been shown to promote wound healing synergistically with EGF in addition to upregulating the levels of HGF and KGF [136,137]. IL–1 also stimulates other stromal changes such as MMP production, keratocyte apoptosis and leukocyte infiltration [138–140]. The angiogenic and neutrophil chemotactic factor IL–8 is also up-regulated by IL–1[141,142]. To a lesser extent than IL–1, injury to the epithelium increases expression of TNF–α that similarly up–regulates IL–8, promotes apoptosis, recruits leukocytes and may influence epithelial healing [134,143– 146]. Thus cytokines released following epithelial injury promote epithelial migration, up-regulate growth factors and mediate stromal healing responses.
Growth factors released in response to epithelial injury or following cytokine stimulation increase the rates of cell mitosis and migration. HGF, KGF and their epithelial receptors are upregulated in response to IL–1, which increases the rates of epithelial cell proliferation [147,148]. In vitro findings that stimulated HGF production is greatest in corneal keratocytes located centrally, compared to KGF that is greatest in limbal keratocytes, suggest their effects are greatest on basal transient amplifying cells and stem cells, respectively, however in situ hybridisation of healing corneas has not supported this hypothesis [149,150]. Nerve growth factor (NGF) is also up-regulated following injury and has been shown to promote epithelial proliferation and differentiation [151,152]. EGF is an established mitogen of corneal epithelia expressed only at low levels in corneal epithelium with lacrimal gland levels up–regulated during the healing process [148,153,154]. As receptor expression remains unchanged after injury, although increased activation is observed, it has been suggested the role of EGF relates more to epithelial homeostasis rather than repair [148,155]. By comparison other members of the EGF family, heparin–binding EGF–like growth factor (HB–EGF) and TGF-α, are up–regulated in wound healing but have been shown in vitro to only promote epithelial cell migration and inhibit differentiation [147,156]. Similarly promoting epithelial migration is PDGF released from the epithelium and this additionally stimulates stromal keratocytes to migrate and proliferate [157–159]. TGF–β production is also localised to the epithelium but enters the stroma when the basement membrane is damaged, influencing keratocyte phenotype change [160,161]. TGF–β also antagonises the mitogenic action of EGF, KGF and HGF in corneal epithelium suggesting that its activation at the leading edge of the wound may be responsible for locally inhibiting proliferation in migrating epithelial cells [162]. Thus growth factors that are up–regulated by injury promote epithelial migration and modulate proliferation in addition to influencing the stromal response [150,158].
Binding of growth factors and cytokines to cell membrane receptors activates intracellular signalling pathways that direct the cell's response during healing. Following injury stimulation of epithelial EGF receptors initiates the MAPK and PI–3K intracellular signalling pathways while blocking this receptor or these pathways has an inhibitory effect on cell migration and proliferation [163–168]. In response to attachment of integrins to extracellular matrix proteins or growth factors, including PDGF, members of the Rho family of guanosine triphosphatases (GTPase) promote cell migration through their regulation of cytoskeletal actin polymerisation required for the formation of lamellipodia filopodia, stress fibres and focal adhesions [167,169–174]. Later in the healing process Rho GTPase is involved in the assembly of adherens junctions and gap junctions and cell proliferation [167,173,175]. Binding of HGF and KGF to their receptors stimulates intracellular signalling through MAPK, PI–3K and PKC [176–178]. Isoenzymes of PKC selectively promote either migration or proliferation and while HGF can stimulate both of these, KGF only activates the migration signal [178]. This may contribute to regional differences in migration and proliferation activation during corneal epithelial healing. Thus the binding of growth factors and extracellular matrix ligands activates intracellular signals viaRho GTPase, MAPK, PI–3K or PKC to promote cell migration and proliferation.
The nervous system also contributes to the process of corneal epithelial wound healing. The importance of neural inputs to the corneal wound healing process is suggested by the delayed wound healing that is characteristic of altered trigeminal nerve function associated with herpetic eye disease, fifth nerve lesions, topical anaesthetic abuse and diabetes mellitus [179]. The co–culture of corneal epithelial cells with trigeminal or sympathetic neurons results in increased mitotic activity [180]. Cultured trigeminal neurons also cause epithelial cells to differentiate and express type VII collagen found in anchoring fibrils [180–182]. Addition of the neuropeptide substance P, in conjunction with insulin–like growth factor (IGF), promotes epithelial migration with increased phosphorylation of signalling proteins that are associated with focal adhesion complexes [183,184]. On the other hand, the neuropeptide calcitonin gene related peptide reduces epithelial mitosis in vitro [185]. Noradrenaline from sympathetic nerves may have a minor role in wound healing however to date reports are conflicting [186,187]. Acetylcholine may also have a role in promotion of wound healing, although it is produced in higher levels by the corneal epithelium than parasympathetic nerves at the ocular surface [188,189]. Thus the slow healing occurring in ocular neural pathology and the promotion of wound closure by neural derived factors suggests a role for the nervous system in wound closure.
Extracellular matrix interactions with the epithelium may regulate phases of corneal healing. The finding that focal contact proteins are up–regulated in the presence of fibronectin suggests that provisional extracellular matrix not only facilities cell migration but contributes to its initiation [46]. As a precursor of the mitogen antagonist, TGF–β, is concentrated in the subepithelial extracellular matrix from where its activation and liberation by migrating cell during healing could account for inhibition of proliferation in these cells [161]. Also the appearance of the integrin ligand laminin under migrating corneal epithelium coincides with the re–establishment of intercellular junctions, suggesting interactions between the basement membrane and epithelial cells may regulate the formation of intercellular junctions, as has been demonstrated in other tissues [51, 190, 191]. Thus there is circumstantial evidence that interactions between the epithelium and extracellular matrix proteins regulate aspects of wound healing.
Wound healing is dependent on the activity of proteases. Migration of corneal epithelial cells requires their attachment to the extracellular matrix be temporarily broken. Expression of the serine protease urokinase-type plasminogen activator (uPA) has been noted at the leading edge of epithelial wounds in vitro [192]. In ex vivo eyes the addition of antibodies against uPA or protease inhibitors resulted in dose dependent inhibition of cell migration [192,193]. uPA is able to activate plasminogen, the zymogen of plasmin, present in the stroma, tear film and at the leading edge of wounds [192,194,195]. The serine protease plasmin in turn degrades the fibronectin [196,197]. provisional matrix and laminin [198] of the basement membrane [46,51]. This likely disrupts the cells attachment to the substrate facilitating migration. Plasmin has also been shown to activate TGF–β and MMP–1 that respectively influence mitosis and extracellular matrix remodelling [199,200]. MMP–9 is localised to the leading edge of the wound where it breaks down collagen and basement membrane proteins, modulates IL–1, and activates TGF–β [201–204]. The presence of MMP-9 has been show to regulate the rate of wound closure by reducing mitotic activity, delaying inflammation and then removing the provisional matrix following wound closure [204,205]. Members of the A-disintegrin-and-MMP (ADAM) family have been shown to promote epithelial healing by releasing HB-EGF from corneal epithelial cell membranes following injury [163]. Thus proteases promote and regulate cell migration and proliferation during corneal epithelial wound healing.
Therapeutics for Promotion of Corneal Wound Healing
Given the frequency of corneal epithelial injury [1], the associated pain [24] and the risk of vision loss when healing is delayed [206] there is considerable need for therapeutic agents that are able to support the healing process. To date a wide range of substances have been investigated. The classes of these agents can be generally divided into growth factors, cytokines, proteases, cationic peptides, antioxidants, proteins, anti–inflammatories and surgeries (Table 1). In order to better understand these potential therapies, and their clinical application, it is useful to look at how they promote wound healing. The basic mode of action by which re-epithelialisation is accelerated by these agents is either an increase in the cell's proliferation rate (PR) and⁄or migration rate (MR). They may also aid wound healing by creating a more favourable environment through secondary mechanisms such as modulating inflammation, countering toxic substances, or facilitating attachment of cells at the completion of wound closure. The level of evidence supporting these agents should also be considered. In order of increasing quality for clinical usefulness the extent of investigation varies from in vitro testing with cultured cells, to in vivo animal model, then once the drug is tested clinically, to individual case reports, case series, randomised controlled trial (RCT) and finally a meta–analysis of multiple RCTs. Also to be factored in are the potential limitations of the therapy beyond its promotion of wound healing. This may include unacceptable side effects, difficulty in making the treatment available, or that investigation of the substance is still at a preliminary stage. Ultimately it is desirable to determine which agent has the greatest promotion of healing for a particular condition. However for agents that have not been compared head–to–head in studies it is very difficult to make judgements of this nature. This is particularly difficult when studies use different species which may have disparate responses to identical therapies [207]. Table 1 summarises the major studies in support of the various agents that have been investigated for their corneal epithelial wound healing properties for different wound types [11, 123, 135, 136, 138, 141, 142, 148, 152, 154, 159, 172, 177, 183, 188, 204, 208–364]. While the relative promotion of healing over the control is reported for studies with a p<0.05, unless otherwise stated, it is acknowledged that comparisons between studies may not be meaningful as in addition to the factors included in the table there is also considerable influence from differences in drug dosage regimes [365], data collection time–points [79] and method of quantifying the healing response [101].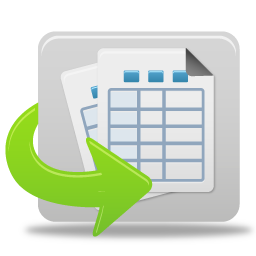 Table 1: Potential therapeutics for promotion of corneal epithelial wound healing.




  
    

Name of    the  ongoing trials on aflibercept 


    

ClinicalTrials.gov    identifiers 


    

Clinical    condition 


  
  
    

ATLAS


    

NCT01773954


    

Age related macular degeneration (AMD)


  
  
    

ROLL


    

NCT01670162


    

Persistent Pigment epithelial Detachments in AMD


  
  
    

EVEN


    

NCT01722656


    

Submacular Vascularized Pigment Epithelial    Detachment


  
  
    

NVAMD*


    

NCT01712035


    

AMD


  
  
    

NEWTON


    

NCT01870427


    

Previously Treated Macular Edema Associated    With Central Retinal Vein Occlusions


  
  
    

ARChiMEDES


    

NCT01857544


    

Recalcitrant Central Retinal Vein Occlusion    Associated Macular Edema Despite Prior Anti-VEGF Therapy.


  
  
    

VIVID EAST


    

NCT01783886


    

Diabetic Macular Edema (DME) With Central Involvement


  
  
    

VIVID DME


    

NCT01331681


    

DME


  
  
    

VISTA DME


    

NCT01363440


    

DME


  
  
    

Protocol T†


    

NCT01627249


    

DME


  
  
    

ACT


    

NCT01813773


    

Proliferative Diabetic Retinopathy


  
  
    

HANDLE


    

NCT01790893


    

Presumed ocular histoplasimosis


  
  
    

    

NCT01724554


    

Capillary Non-Perfusion


  
  
    

EPIC


    

NCT01871376


    

Polypoidal ChoroidalVasculopathy With    Hemorrhage or Exudation


  











Table 1: Potential therapeutics for promotion of corneal epithelial wound healing.







Growth Factors
EGF, as with other growth factors that have been studied for their therapeutic effect in promoting corneal epithelial wound healing, is produced locally in ocular tissues and has a homeostatic role in the maintenance of the ocular surface [155]. Studies on the wound healing properties of these growth factors have demonstrated that several are able to promote either proliferation or migration of corneal epithelial cells (Table 1). Unfortunately a number of these growth factors also have other growth–like effects that may be unwanted in a therapeutic agent used on the cornea. For example, while TGF–β2 accelerated wound closure [214] it also has angiogenic properties [215]. Other wound healing growth factors such as FGF [223] over stimulate the healing process to the point of promoting stromal fibrosis [225]. PDGF–BB promotes cell migration [237] and proliferation [238] but requires the presence of fibronectin [159]. The majority of growth factors have only been tested in animal models (Table 1) although NGF and autologous serum has been the subject of case series' using lesions unresponsive to conventional therapy. These appear promising but without a trial using a control it is difficult to interpret the clinical utility [232]. EGF however has been tested in a multicentre randomised controlled trial (RCT) [208] and while it was found to accelerate wound closure in patients with abrasions there are questions on the quality of the newly formed epithelial attachments when it is used for alkali burns [209].
Cytokines and Signalling Proteins
Cytokines are signalling molecules that trigger changes in cells of the body. The designation as either a cytokine or growth factor is often historical and based on what the predominant function of the protein appeared to be around the time of its naming. It is now recognised that a number of members from each group have both signalling and growth regulating functions. As with the growth factors most of the cytokines that have been investigated for wound healing are naturally occurring in the eye. IL–1, for example, has been proposed as the aster regulator of the corneal response to injury by modulating keratocyte apoptosis, leukocytes infiltration and angiogenesis [385]. In vitro studies of IL–1 have shown it promotes corneal epithelial cell migration independently of its capacity to upregulate EGF [136]. However as with a number of other cytokines it is also proinflammatory increasing the risk of wound vascularisation [123], neutrophil mediated tissue damage [142] and recurrent erosions [241]. IL–6 also has been shown to promote cell migration [214,386] and as with PDGF–BB this appears to be dependent on the presence of fibronectin [135]. None of the signalling molecules have been clinically trialled, presumably due to the anticipated inflammatory adverse events (Table 1).
Lipids
The lipids that have been shown to promote corneal epithelial wound healing [258,259] are part of the arachidonic acid cascade. These metabolites all promote their effect by enhanced cell migration [259]. However as part of an inflammatory pathway they also recruit high levels of PMNs into the corneal, risking secondary tissue damage [258]. These studies have however helped demonstrate that metabolites of inflammatory pathways such as HETE [259], lipoxin A4 and NPD1 [258] contribute to the epithelial healing process (Table 1).
Proteases
Proteases, in particular uPA and MMP–9, are essential for normal corneal epithelial wound healing [387,388]. Investigations have shown that these enzymes become activated in migrating corneal epithelium and their inhibition results in retarded healing in the case of uPA and abnormal basement membrane formation in the case of MMP–9 [192,389]. Conversely delayed wound healing is often characterised by persistence of these proteases and as such the focus on proteases in the promotion of wound healing has been to limit their activity [390,391]. Oral tetracycline has been used to inhibit MMPs [267] that reduces the recurrence of erosions and promotes epithelisation of corneal erosions, presumably aiding the attachment phase [268]. An animal model has also been used to show it is of benefit in epithelialising alkali burns [270]. By contrast uPA release in response to annexin–A5 has been shown to promote corneal wound healing in vivo for chemical and mechanical debridement models by increasing migration rates [263]. However none of the proteases have been used clinically due to concerns of inducing corneal perforation (Table 1) [392].
Cationic Peptides
The only cationic peptide to be trialled clinically for reepithelisation is a tetra–peptide from the C domain of IGF that is used in conjunction with peptides from carboxyl–terminal of substance P and has been shown to promote wound healing [273]. In this case series, 19 of 26 patients with neurotrophic ulcers unresponsive to standard therapy were successfully treated by co-administration of these peptides [273]. The IGF peptide does not interact with any known IGF receptors and does not stimulate cell proliferation or neovascularisation [393] as is observed for the whole IGF molecule [366]. Another wound healing cationic tetra–peptide, derived from IL–1, also seems to not interact with known IL–1 receptors as it has none of the native–IL–1 proinflammatory properties [272]. Given that the terminal amino acid of both peptides is cationic and the other three amino acids are neural [272,393] it may be the wound healing effects are purely charge based interactions. The cationic antimicrobial protein 37, azurocidin, has also been shown to promote corneal epithelial wound healing in vitro [278]. With no mechanism identified this peptide may also derive its healing property from the positively charged amino acids within the N–terminal peptide sequence. It is less certain if the cationic terminals are directly responsible for the healing properties of LL–37 and the carboxyl tri–peptide sequence of α–melanocyte stimulating hormone as they have been shown to (respectively) increase levels of HB–EGF [275] or nitric oxide [280], both of which have been identified as promoters of corneal epithelial wound healing (Table 1).
Antioxidants
In the context of corneal wound healing antioxidants are primarily used in the management of alkali burns. Vitamin C, ascorbate, helps reverse the scorbutic state of the stroma that follows alkali injury thus minimising the loss of GAGs [283]. This supports the production of collagen type I and collagen type III by keratinocytes,[394] creating a favourable environment for the restoration of the stromal matrix over which the epithelium can reform [367]. Topical ascorbate is usually co–administered with topical citrate which chelates divalent cations, inhibiting MMPs and PMN infiltration [284] supporting reepithelialisation[ 285]. A review of hospital records suggests that this dual therapy is of benefit in severe cases but healing is delayed by 2 days when used in moderate cases [11]. There have also been small RCTs on the use of N-acetylcysteine and combined vitamin A and vitamin E for recovery from refractive surgery. While the benefit of N-acetylcysteine appears to be mostly reduced inflammation [286], high dose vitamins A and E were able to accelerate re–epithelialisation (Table 1) [285].
Proteins, Glycoproteins, Glycosaminoglycans and Saccharides
It has been demonstrated that during the epithelial healing process there is a significant increase in the rate of protein, in particular glycoprotein, synthesis [84]. Blocking the synthesis of protein or asparagine–linked glycoproteins inhibits cell migration [103,395]. Furthermore, the use of lectins to block sugar chains on glycoproteins and GAGs has been shown to inhibit cell migration in debrided ex vivo corneas [374]. This suggests an important role for elevated levels of existing, or new, proteins and glycoproteins in cell migration during wound healing. Galectin–3 and galectin–7 have been shown to promote cell migration in ex vivo corneal alkali burns [340] while lectin KM+ promotes wound healing in vivo in a debridement model, possibly through induction of a mild inflammatory response [372,373]. Despite this evidence for an important role of glycoproteins in wound healing none have been clearly proven to have good clinical efficacy. The agent best supported by a number of case series as a treatment for persistent epithelial defects is fibronectin [352,369] with in vitro data suggesting it promotes adhesion and migration of corneal epithelial cells [339]. However two RCTs did not find any benefit over the control [345,349]. Also tested in RCTs but found to be of no additional benefit in wound healing was hyaluronan [341,371] and a cellulose–based polysaccharide [353]. Other agents such as lactoferrin [338], vitronectin [370] and pigment epithelialderived factor [346] show promise in animal models but are yet to be tested clinically (Table 1).
Anti–inflammatories
Wound healing is normally accompanied by inflammation that is triggered by the inciting injury [134,396]. In fact it appears that some level of inflammation is required for wound healing as disruption of key inflammatory pathways can interrupt the wound closure process [397]. Conversely excess levels of inflammation are believed to be a major contributing factor in the delayed healing of corneal wounds caused alkali burns [285]. The use of COX inhibitors to block production of prostaglandins that recruit neutrophils into the cornea [355] have been investigated in several RCTs on treatments for corneal abrasions. These report that while COX inhibitors improve symptoms they do not actually accelerate the healing process [377]. Control of inflammation with glucocorticosteroids across a wide range (Table 1) of corneal lesions has been investigated in RCTs however in terms of wound healing they generally have no significant impact on re–epithelialisation times [359,364,379] although excess use can delay would closure [378,398]. Thymosin β–4 has been used successfully in two case series of neurotrophic ulcers unresponsive to conventional therapy [375,376] but it has yet to be tested in a RCT. Honey has also had limited success in animal models but it has yet to be tested clinically (Table 1) [380].
Medical Devices and Surgery
Pressure patching has a long history as a management strategy for corneal abrasions. This practice is driven by the belief that the combination a closed eye environment and removal of friction from the lids during the blink improves comfort and promotes wound healing [350]. However a meta–analysis of RCTs for patching of abrasions found there is no increase in healing rates [358]. A similar philosophy also underpins the use of bandage contact lenses, the use of which is not supported by the bulk of literature [342,344,361,362,381] although a modified bandage contact lens called PROSE and the medical or surgical forced closure of the lid have shown promise in case series [351,360,382] however neither has been tested in an RCT. The final iteration in this protective barrier theory is the collagen shield that has been shown in an RCT to promote re–epithelialisation [383] but the mechanism may involve it acting as a sacrificial substrate from MMPs [343] rather than as a barrier. Debridement is a technique commonly used in poorly healing wounds however the benefits of its use have not been well studied; the only trial that reports healing times found no significant difference [268] however there is some evidence it can reduce recurrence rates [363] indicating better quality of healing during the attachment phase. For patients with corneal limbal stem cell deficiency it has recently been demonstrated in a small case series that autologous progenitor stem cells can be transplanted onto the cornea after being cultured onto a bandage contact lens to promote reepithelialisation [384]. The authors propose this creates a new stem cell population that is able to proliferate and repopulate the cornea. A more invasive procedure that is supported by RCTs is attachment of amniotic membranes to promote wound healing in ocular burns and neurotrophic ulcers [347,356]. These promote re-epithelialisation, reduce inflammation and limiting scar formation [354] by acting as a source of growth factors [348]. The most invasive procedure is the corneal graft which only achieves a visual acuity of 6⁄18 or better in approximately 60% of cases (Table 1) [357].
Conclusion
Whilst corneal wounding is common, it does not always result in major sequelae or effects on vision. However, under circumstances such as traumatic eye injury involving alkaline agents or infection, healing is compromised and may result in loss of vision. For these reasons several therapeutic agents can be used to facilitate wound healing, and several new types are being actively investigated in laboratory models. Having the current and new armamentarium will hopefully result in improved outcomes for patients and reduced costs associated with treatment.
Acknowledgments
This work was supported by a grant from Dairy Australia.
References