Review Article
Austin J In Vitro Fertili. 2016; 3(1): 1027.
Cigarette Smoking and Structural, Biochemical, Functional Alterations of Spermatozoa and their Consequences for ART?
Mohamed Eid Hammadeh¹*, Houda Amor² and Montenarh M³
¹Department of Obstetrics and Gynecology, University of the Saarland, Germany
²Molecular Genetic and Reproduction Biology, Farhat Hached University Hospital, Tunisia
³Institute for Biochemistry and Molecular Biology, University of the Saarland, Germany
*Corresponding author: Mohamed Eid Hammadeh, Department of Obstetrics and Gynecology, IVF & Andrology Laboratory, University of the Saarland, D-66421, Homburg/Saar, Germany
Received: February 11, 2016; Accepted: April 28, 2016; Published: May 13, 2016
Abstract
Oxidative stress as a result of smoking is a condition that comes from overproduction of Reactive Oxygen Spezies (ROS) that exceeds the antioxidant capacity of the tissue. ROS causes cellular damage including destruction of all cellular components including lipids, proteins, nucleic acids, and sugars.
Reactive oxygen species include free radicals, as well as other oxygenrelated reactive compounds. ROS are formed during reduction of molecular oxygen to water in cellular respiration in the mitochondrial electron transport chain, by the cyclooxygenase pathway, and by cellular enzymes such cytochrome P450 oxidase and xanthine oxidase. The most common species that have potential implication for reproductive biology include superoxide anion (O2•-), Hydrogen peroxide (H2O2), peroxyl (ROO-) and hydroxyl (OH•-) radicals.
ROS may have good or harmful effects on sperm quality depending on the level of ROS, their nature, location and length of exposure. Under physiological conditions, low levels of ROS generated by spermatozoa are necessary for their acrosomal reaction and capacitation. There is a strong evidence for an association between oxidative stress and male sub fertility. The correlation between spermatozoa functions and oxidative stress have been identified by many studies. ROS negatively affect sperm function by contributing to the occurrence of Lipid Per Oxidation (LPO). Furthermore, severity of oxidative stress increased as the levels of antioxidants decreased. The effect of ROS on male fertility is determined by their concentration in seminal plasma but independent of their sources of production. Significant opposite correlation had been established between defective sperm chromatin structure and fertility.
This review will describe and discuss the current literature regarding cigarette smoking and ROS generation, oxidative stress and their physiology and pathology role and their consequences on Assisted Reproduction Technology (ART) outcome.
Keywords: Cigarette Smoking; Sperm; Nuclear sperm protein alteration; ART
Introduction
The impact of smoking on fertility
Infertility is a common reproductive disorder that affects approximately one of six couples worldwide and male factors account for 40-50% of all infertility cases [1]. It has been suggested that not only discrete genetic or environmental causes but also interactions between the two factors contribute to male infertility [2] (Figure 1).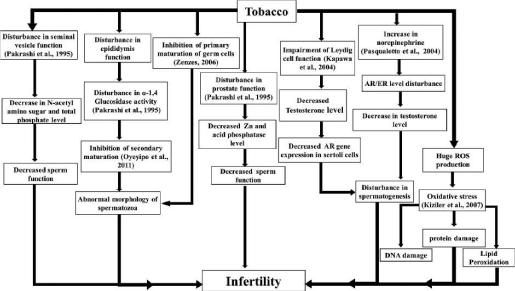 Figure 1: Pictorial depiction of tobacco smoking and chewing affecting male reproductive physiology in causing infertility [251].
    


    
    


    


    Figure 1: Pictorial depiction of tobacco smoking and chewing affecting male reproductive physiology in causing infertility [251].
    


    



Over the last decades, public concern over health effects related to environmental or industrial toxins, genetics, stress, smoking, etc, which are known to cause sperm DNA fragmentation and infertility has grown [3-6].
Recently studies correlating fertility to lifestyle and exposure to toxic environmental substances have received special attention. Moreover, men seem more likely to suffer these effects than women [7]. A specific concern is the possible effects of smoking on fertility and the health of offspring. Our understanding of how the lifestyle choices of adult men themselves might impact on their fertility remains uncertain and often contradictory [8]. Also, there are no definite agreements about the effects of cigarette smoking on these parameters [9]. Cigarette smoking is a common hazardous lifestyle with the highest prevalence of smoking observed in young adult males during their reproductive period (46% smokers between 20 and 39 years) [10]. Soares and Melo [11] demonstrated that cigarette smoking affects reproductive functions in many ways.
Various studies indicated that cigarette smoke is a complex milieu containing about 4000 hazardous materials; out of which 400 are toxic chemicals, about 40 are malignant, and more than 55 are carcinogens [12-14]. In addition, many of these chemicals are poisonous substances [15] such as nicotine and its metabolite cotinine.
A consistent number of studies have claimed the deleterious effects of cigarette smoking on male fertility due to its toxic constituents like nicotine, cotinine, hydroxycotinine, alkaloids, and nitrosamines. The concentration of substances in cigarette smoking such as cadmium, cotinine, lead, malondialdehyde and protein carbonyls are significantly higher in the seminal plasma of smokers [16], in some cases in proportion to the levels seen in serum [17].
Tobacco Specific Nitrosamines (TSNA) is derivatives of tobacco alkaloids which are formed by the action of nitrous acid on nicotine, nor nicotine, anabasine, and anatabine during the processing, fermentation and aging of tobacco. The TSNAs are among the major contributors to the carcinogenic activity of tobacco use [18]. Small amounts of these compounds, also called N'-methyl derivatives, are found in smoke and smokeless tobacco [18,19]. The daily exposure to tobacco-specific nitrosamines is estimated to about 20 μg in smokers and 68 μg in smokeless tobacco users, which may be due to the conversion of tobacco alkaloids into nitrosamines during the manufacturing and storage of smokeless tobacco products [20] (Figure 2).
The mechanisms by which cigarette smoking might affect semen quality could not exclude the direct involvement of toxic substances in cigarette smoke, such as nicotine, carbon monoxide, and recognized carcinogens and mutagens, such as radioactive polonium, cadmium, benzo(a) pyrene, and others. Most of these are known to affect male and female gametes and embryos [13,21]. Smoking is responsible for the generation of toxins that interact directly or indirectly with gametes affecting their function and viability [22].
Cadimum has been proven experimentally to disrupt spermatogenesis and decrease sperm concentration in smokers [23]. In addition, tobacco smoking was also associated with a significantly reduced level of zinc in seminal plasma, which is thought to be one of the important factors that affect sperm motility [24].
Nicotine, the primary alkaloid in tobacco, is a powerful oxidizing agent capable of causing damage to membranes and DNA fragmentation [25,26]. It is also used as an indicator of long term exposure to cigarette smoke since it has a half-life in sperm of about 5–7 days [27]. Cotinine is the major metabolite of nicotine, which is the major psychoactive substance found in cigarette smoke. Cotinine is detected in seminal plasma and is used as a smoking biomarker [28]. Chen and Kuo reported that cotinine decrease male fertility by declining sperm density, reducing motility, sperm counts, and elevating the level of morphologically abnormal spermatozoa [29].
Polycyclic aromatic hydrocarbons cause ultra structure abnormalities in the axoneme resulting in inhibition of ciliary movement [30]. Apart from the alterations in classical sperm parameters, tobacco compounds may affect sperm quality in many ways.
In addition to excessive smoking alcohol consumption and environmental factors such as radiation and toxins can contribute to the production of Reactive Oxygen Species (ROS) [31-33].
High levels of leukocytes [34] and reactive oxygen species [4,28] have also been found in seminal plasma of smokers in comparison to non- smokers. These conditions in seminal plasma cause oxidative stress and induce sperm DNA fragmentation, which reduces the fertilization potential of spermatozoa.
Many studies evaluated the influence of smoking on semen quality of fertile and infertile Men [35]. They showed a significant reduction in sperm density, number of spermatozoa, and motility in association with cigarette smoking [36].
Furthermore, a negative correlation was found between the volume of the ejaculate, spermatozoa count, and motility with the number of smoked cigarettes [37]. Further evidence showed an inverse correlation between cigarette smoking's and Assisted Reproductive Technology (ART) outcomes [38]. The decline of semen parameters were inversely related to the number of smoked cigarettes and duration of cigarette smoking [39].
In contrast, some researcher failed to find a negative effect of cigarette smoking on conventional sperm parameters [10,40,41]. Thus, the impact of cigarette smoking on male fertility and sperm characteristics remains a highly controversial issue [42].
This review will describe the current literature regarding cigarette smoking and its influence on sperm parameters and their consequences on Assisted Reproduction Technology (ART) outcome (Figure 2).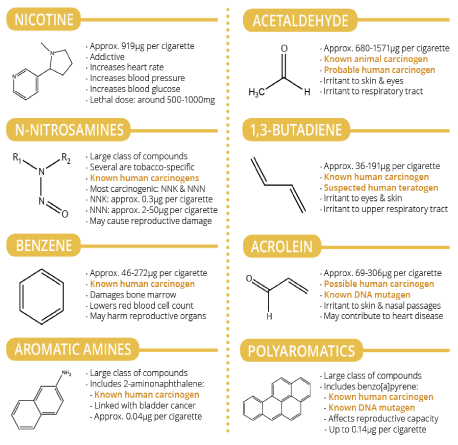 Figure 2: Chemical compound in cigarette smoke and their effects [252].
    


    
    


    


    Figure 2: Chemical compound in cigarette smoke and their effects [252].
    


    



Reactive oxygen species (ROS) and oxidative stress
ROS represent a group of radicals like hydroxyl ion, superoxide ion, nitric oxide, peroxyl, lipid peroxyl and thiyl and non -radical molecules, such as hydrogen peroxide, hypochloric acid, lipid peroxide and ozone [43]. They form highly reactive molecules, due to the unpaired electron in the outer shell [44]. ROS are unstable substances and extremely reactive by-products of normal metabolism with harmful influences on numerous biomolecules [45]. Among other sources ROS are formed during reduction of molecular oxygen to water in the cellular respiration in the mitochondrial electron transport chain, by the cyclooxygenase pathway, and by cellular enzymes such cytochrome P450 oxidase and xanthine oxidase [46].
At the inner mitochondrial membrane electrons leaking from the electron transport chain are transferred to the oxygen molecule, resulting in oxygen with an extra unpaired electron [47,48].
Although, the biochemical mechanisms involved in the production of ROS are poorly understood, ROS production is believed to be a by product of metabolic processes. It seems to be induced by exogenous NADPH oxidase [49].
Studies have shown that cigarette smoking lead to increased seminal ROS by several mechanisms:
Cigarette smoke itself contains high levels of ROS [50].
Smoking metabolites may induce an inflammatory reaction in the male genital tract with a subsequent release of chemical mediation of inflammation that can recruit and active leukocytes.
Activated leukocytes can generate high levels of ROS in semen and toxic metabolites of cigarette smoke may impair spermatogenesis, resulting in the production of abnormal spermatozoa [4].
Cigarette smoking has been associated with an up to a 48% increase in the level of leukocytes in semen, and 107% increase in seminal ROS levels in the body [41], which might be responsible for reduction of sperm production, increased oxidative stress in sperm, lipid peroxidation [51,52] and consequently decrease of the fertilization capacity and implantation rate of embryos [11]. Also, Zhang et al. showed that smoking cause a significant decline in semen quality and higher levels of leukocytes which may affect fertilization efficiency [34].
One of the effects of oxidative stress on the conventional seminal parameters is a reduction in sperm motility or the presence of asthenozoospermia [53]. Besides, high levels of free radicals may alter spermiogenesis resulting in production of abnormal spermatozoa [54].
The main sources of ROS in semen are leukocytes and abnormal/ dead spermatozoa [55,56]. Leukocytes found in male genital tract infections have the potential to produce ROS [57], which exceed the anti-oxidant defence system and could cause DNA damage. Moreover, leukocytes act as a source of oxidative stress by generating extracellular ROS in prostatic and seminal vesicle secretions [58,59].
In addition, leukocytospermia contributes to an increased release of pro-inflammatory mediators (cytokines) which alter the regulatory mechanisms of spermiogenesis and subsequently attribute to DNA aberrations [60]. Furthermore, many of the metabolites in cigarettes smoke trigger release of chemical inflammatory mediators such as interleukin-6 and interleukin-8 [22]. These mediators can recruit additional leukocytes, resulting in increased ROS formation in the semen. Several studies pointed out that short-term exposure to cigarette smoke in vivo is sufficient to increase in level of IL-1β and/ or TNF-a [61,62].
Cigarette smoke-induced oxidative stress leads to a reduction of the concentration of intracellular glutathione, decreased nitric oxide availability, and increased level of peroxynitrite. All of these factors activate NF-κB in leucocytes. Hans's et al. demonstrated that human lymphocytes exposed to a mild intensity of cigarette smoke (−30 mmHg) showed significantly elevated NF-κB activation, suggesting that this cell signalling pathway may be also affected by passive smoke exposure [63] (Figure 3).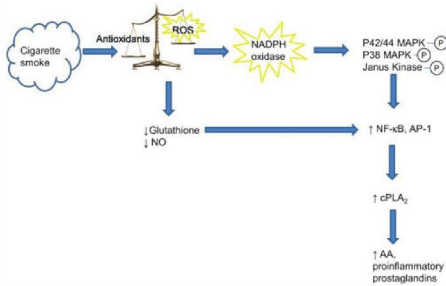 Figure 3: The link between cigarette smoke and oxidative stresses [253]. Over view of cigarette smoking-induced oxidative, inflammatory and genetic mechanisms leading to psoriasis. ROS, reactive oxygen species; VEGF, vascular endothelial growth factor. Cigarette smoke contains 1015 free radicals per puff, tipping the antioxidant/ Reactive Oxygen Species (ROS) balance towards oxidative stress. ROS activate NADPH oxidase, which phosphorylates p42/44 Mitogen-Activated Protein Kinase (MAPK), p38 MAPK and Janus kinase. The resultant increase in Nuclear Factor-κB (NF-κB) and Activator Protein-1 (AP-1) nuclear transcription leads to enhanced gene expression of cytosolic Phospholipase A2 (cPLA2) contributing to the production of Arachidonic Acid (AA) and proinflammatory prostaglandins [253].
    


    
    


    


    Figure 3: The link between cigarette smoke and oxidative stresses [253].
Over view of cigarette smoking-induced oxidative, inflammatory and genetic
mechanisms leading to psoriasis. ROS, reactive oxygen species; VEGF,
vascular endothelial growth factor.
Cigarette smoke contains 1015 free radicals per puff, tipping the antioxidant/
Reactive Oxygen Species (ROS) balance towards oxidative stress. ROS
activate NADPH oxidase, which phosphorylates p42/44 Mitogen-Activated
Protein Kinase (MAPK), p38 MAPK and Janus kinase. The resultant
increase in Nuclear Factor-κB (NF-κB) and Activator Protein-1 (AP-1) nuclear
transcription leads to enhanced gene expression of cytosolic Phospholipase
A2 (cPLA2) contributing to the production of Arachidonic Acid (AA) and
proinflammatory prostaglandins [253].
    


    



Other sources of ROS increased scrotal temperature due to an illness with fever [64,65,47], varicocele [66], and increased age [67- 69].
In contrast to the elevated levels of ROS and pathophysiological conditions ROS are produced in a controlled manner and play important roles as secondary messenger in many intracellular signalling pathways [70,71]. The controlled ROS production is known to play a role in physiological reproductive processes such as hormone signalling, oocyte maturation, folliculogenesis, tubal function, ovarian steroidogenesis, cyclical endometrial changes and germ cell function [72,73]. Therefore, physiological and fine controlled production of ROS is most important for sperm function and reactions, such as capacitation and acrosome reaction. The control of ROS production is also carried out by the synthesis of antioxidant substances, which have the ability to scavenge and neutralize free radicals [45,74]. Catalase and superoxide dismutase are important antioxidant enzymes quenching hydrogen peroxide and the excess of free superoxide, radicals, respectively.
Several studies show that antioxidative vitamins are lower in smokers resulting in systemic oxidative stress [75,76]. However, dietary antioxidant supplements provide only limited protection to smokers [77,78].
ROS in the cigarette gas-phase promote the destruction of endogenous antioxidants (vitamins and enzymatic antioxidants) reducing the vital role of cellular antioxidant defenses [79]. The concentrations of cadmium, lead, Reactive Oxygen Species (ROS) and others are significantly higher in smokers [16], and at the same time, the concentration of ascorbic acid and the activity of other components of the antioxidant defence are significantly reduced [80].
Moreover, increased ROS in the seminal plasma of infertile men may decrease the effective concentration of ascorbic acid, increasing the harmful effects of ROS to sperm cells that are associated with abnormal sperm parameters [81].
The results of Sobczak et al. indicated a statistically significant decrease in plasma tocopherol level (vitamin E) in passive and active smokers in comparison with the results obtained in the group of nonsmokers [82].
It has been shown by various researchers that smoking disrupts the dynamic balance between oxidation and antioxidation reactions and clearly exacerbates oxidative stress [83]. Therefore, abnormalities in oxidant-antioxidant balance may be one of the mechanisms leading to testicular damage following chronic inhalation of cigarette smoke [84]. As low levels of natural antioxidants production or excessive ROS production result in oxidative stress which may cause oxidative damage to tissues [85,86]. The severity of oxidative stress increase when the levels of antioxidants decrease [4,87].
Sperm DNA fragmentation induced by oxidative attacks like the hydroxyl radical and ionizing radiation results in the formation of 8-OH-guanine and 8-OH-20-deoxyguanosine (8-OHdG) at a first stage and single-stranded DNA fragmentation thereafter. Hydroxyl radical formation may lead to the induction of doublestranded sperm DNA damage through the activation of sperm caspases and endonucleases [88]. 8- Hydroxy-2- deoxyguanosine and two ethenonucleosides (1, N6-ethenoadenosine and 1,N6- ethenoguanosine) are the two major DNA adducts found in human sperm DNA, both of which have been considered key biomarkers of DNA damage caused by oxidative stress [89,90]. Recently, 8-Hydroxy-20- deoxyguanosine (8-OHdG), a type of oxidized DNA base adducts resulting from remodelled chromatin after ROS attack, has been recommended as a reliable indicator evaluating oxidative stress on spermatozoa [91].
In addition, protein carbonyl, another biomarker of oxidative stress, is one of the oxidative stress by-products which form during ROS interactions with proteins. This interaction modifies biomolecules which in turn changes their functions eventually leading to irretrievable cellular damage [92].
Other factors capable of causing oxidative stress in the germ line include pesticides, herbicides, alcohol, vinclozolin (an antiandrogenic fungicide), cobalt and the common environmental toxicant bisphenol A [93,94].
Cigarette smoking and sperm abnormalities
One of the effects of oxidative stress on the conventional seminal parameters is a reduction in sperm motility or the presence of asthenozoospermia [53].
Reactive oxygen species induced DNA damage may accelerate the process of germ cell apoptosis, leading to the decline in sperm counts and correlate with the poor fertility outcomes seen in the assisted reproductive technology setting [95].
Cigarette smoking and conventional semen parameters: Cigarette smoking and developed oxidative stress is a reason for many hazardous effects on spermatozoa. All cellular components including lipids, proteins, nucleic acids, and sugars are potential targets of oxidative stress [96]. Multiple studies indicate a reduction in the semen volume, sperm concentration, motility, and normal morphology, especially of the headpiece [16,28,37,97] and a decrease in the fertilizing capacity of the spermatozoa [38]. Mehrannia analysed the semen quality of infertile men in a Pakistani an population and found that the quality of spermatozoa obtained from smokers were much lower than from non-smokers (p<0.01) and the sperm concentration, viability and forward progression were negatively correlated with cigarette smoking (P<0.01) [98]. Similar, Colagar et al. showed a reverse effect of smoking on sperm quality [99].
Pasqualotto et al. evaluated sperm concentration, motility, motion variables and hormonal levels of 889 fertile men (522 non-smokers, 143 mild smokers (<10 cigarettes/day), 154 moderate smokers (11-20/ day), and 70 heavy smokers (>20/day) [41]. They found no significant differences in sperm concentration or motility among these groups. However, semen volume was the only semen variable which tended to decrease with the number of smoked cigarettes. Ramlau-Hansen et al. studied the association between cigarette smoking and classical sperm parameters in a large cross-sectional study with 2, 542 healthy males [37]. They showed that with increasing smoking, a 20%–30% reduction in sperm count, volume and motile spermatozoa was observed. A meta-analysis found that smoking was associated with a 13-17% decrease in sperm concentration [100]. It was also demonstrated a negative correlation of smoking with sperm motility [26,10].
In a retrospective study, Collodel et al. evaluated the effects of cigarette consumption on semen parameters in a group of men with idiopathic infertility [101]. The semen quality of 2 groups of men with idiopathic infertility, smokers (n = 118) and non-smokers (n = 153), were compared. Infertile smokers and non-smoker showed similar sperm parameters, although sperm motility and sperm morphology analysed by Transmission Electron Microscopy (TEM) parameters in both groups were significantly impaired compared with controls. Smokers were classified as mild (>or=1 and <or=10 cigarettes/d), moderate (>10 and <20 cigarettes/day), or heavy smokers (>or=20 cigarettes/d). Sperm concentration was significantly (P < 0.05) different among the 3 considered smoker classes. Sperm concentration in heavy smokers was significantly lower (p < 0.05) than that observed for mild smoker and non-smokers [102].
Smokers' ejaculates contain high levels of morphologically abnormal spermatozoa and sperm and with cytoplasmic droplets and high levels of seminal leukocytes [99,103,104]. Heavy smoking is linked to decrease sperm counts whereas alcohol drinking is linked to high rates of morphologically abnormal sperm [105]. Nadeem et al. demonstrated that cigarette smoking negatively affects male fertility by decreasing the sperm motility and morphologically normal spermatozoa, this deterioration of sperm morphology are also correlated with the number of cigarettes smoked per day [106].
Zhang et al. analysed the effects of cigarette smoking on sperm parameters and detection of presence of leukocytes within the semen of idiopathic infertile men from North-eastern China [34]. They found that in comparison to non-smokers, smokers had a significant decrease in semen volumes (p=0.006), rapid progressive motility (p=0.002) and sperm viability (p=0.019); moreover, smokers had a significant elevated level of immotile sperms (p=0.005) and semen leukocytes (p=0.002); whereas pH and sperm concentration were not statistically significant. Sperm motion parameters were all lower in the smokers except for Beat-Cross Frequency (Hz) (BCF). Further, the percentage of morphologically normal spermatozoa was significantly lower in smokers (p=0.003). Correa-Perez showed that the exposure of nonsmoker spermatozoa to seminal plasma from smokers significantly reduced sperm motility and membrane functional integrity [107]. The negative effects on sperm viability increased during short- and long-term incubation in smoker's seminal plasma, incubation of smoker's spermatozoa with seminal plasma from non-smokers improved viability. According to a study conducted by Belcheva et al. spermatozoa cultured in a medium enriched with cotinene have a significant reduction of hyperactivation and impaired membrane function evaluated by the hypoosmotic swelling test and the capacity of penetrating zona-free hamster oocytes [108]. Davar et al. found that semen parameters (morphology, motility, concentration and leukocyte count) were lower in smokers compared to non-smokers [109,110].
Taha et al. reported that smoking has a negative effect on sperm progressive motility, sperm membrane integrity as evaluated by Hypo Osmotic cell test (HOS-test), DNA integrity and seminal zinc concentration [111]. On the contrary, other studies showed that cigarette smoking and alcohol consumption do not appear to significantly affect sperm parameters, such as volume, sperm count, motility and morphology or pregnancy outcome [112].
Cigarette smoking and DNA integrity: Conventional semen analysis is a predictor of reproductive outcome. In 2010, the World Health Organization established new reference values for human semen characterizations, which are lower than those previously reported [113]. For this reason, it has been suggested that sperm function tests, such as sperm DNA integrity, are better indicators of male fertility and should, therefore, be included in the semen evaluations [114].
Many authors [115-117] proposed DNA integrity as an additional parameter of semen quality and a potential fertility predictor. Normal sperm nuclear composition is essential to maintain sperm DNA integrity [118] and any disruption will likely have profound effects on the integrity of the sperm DNA and its capacity to participate in reproduction. Chromatin remodelling in human spermatogenesis occurs during the replacement of histones by transition proteins followed by protamines in spermatids from step 3 to step 5 [119].
Evidence from the literature indicates that DNA in the sperm of infertile men is less well-protected and could suffer from more damage in vitro than the sperm of fertile men [120]. It has been suggested that abnormal DNA integrity may adversely affect fecundity in couples having natural sexual intercourse and in those treated by IUI, IVF and ICSI [121,122].
It was found that the etiology of sperm DNA damage appeared to be multi-factorial and might be due to either intrinsic or extrinsic factors. Various mechanisms such as abnormal chromatin packing, ROS and apoptosis are the most important etiological factors affecting DNA integrity [123].
Abnormalities in protamine packaging of DNA may cause aberrant gene expression resulting in either hyper transcription or transcriptional arrest, leading to a failure in spermatogenesis [124]. Consequently, disturbances in nuclear condensation or changes in the expression of Protamins (P1) and (P2) could increase DNA damage in spermatozoa and have been related to human male infertility [125].
P1 and P2 are normally expressed in a 1:1 ratio in human sperm, and provide a tight packaging of the sperm DNA, resulting in a compaction of the nucleus and cessation of gene expression [126,127]. Incomplete protamination makes the sperm chromatin more vulnerable to an attack by mutagenic compounds disulphide bond attacking agents [128] or ROS [129].
A significant correlation was found for protamine deficiency, poor fertilizing ability of sperm and consequently a poor quality of embryos [126,130]. In addition, alterations in the P1, P2 family or histone expression identified through proteomic approaches were connected to male infertility [125,131]. Simon et al. and Garcia- Peiro et al demonstrated that abnormal high and low P1/P2 ratios are associated with increased sperm DNA fragmentation, lower fertilization, poor embryo quality and reduced pregnancy rates [132,133].
Also, De Mateo reported that the protamine protein ratio is associated with pregnancy rates and proportion of embryos obtained by IVF, but not ICSI, whereas, Rogenhofer et al. did not observe any significant correlation between the protamine mRNA ratio and pregnancy Rate [134,135].
Recently, Hammadeh et al. and Hamad et al. found a significant negative effect for smoking and sperm parameters, protamines and histone ratios [28,136].
DNA in sperm is not homogeneously packed. The peripheral portion of nuclear DNA (15%) is associated with histones whereas the inner core of DNA is a highly compact crystalline structure bound to protamines [137]. It was estimated that approximately 15% of histones remain in the pericentric region after protamines are incorporated [138]. The remaining core histone fraction is enriched with histone H2B, with a selective distribution of H2B variants in sperm nuclei [139]. These histones may play a crucial role in male pronucleus formation and marking genes for early embryonic gene expression [140,141]. Histone retention and protamine deficiency in sperm are hallmarks of certain forms of idiopathic infertility [142-144], but the genetic and mechanistic causes underlying this defect remain enigmatic. Various studies suggest that DNA fragmentation could be used as a marker of semen quality and a predictor for the outcome of assisted reproduction technology [145]. Sperm DNA damage may be initiated by a wide range of effectors such as drugs, chemotherapy, radiation therapy, cigarette smoking and environmental toxins, genital tract inflammation, testicular hyperthermia, varicoceles and hormonal factors [125]. Sperm DNA fragmentation can be induced by various internal and external factors, which include improper or deficiencies in DNA recombination, packaging and ligation during spermatogenesis and sperm maturation [146]. DNA fragmentation induced by endogenous endonucleases [147], apoptosis and abortive apoptosis [148] which occur mainly during spermatogenesis [120,148]. DNA Double-Strand Breaks (DSBs) in spermatozoa may also occur through an abortive apoptosis pathway [149] or posttesticular oxidative stress [150,151], lifestyle and environmental factors [22,152] among others.
Also, sperm DNA damage may result from various physiological and pathological conditions, environmental factors can also be involved such as smoking and air pollution [28,153].
The exposure to environmental or industrial toxins, oxidative stress and smoking are known to cause sperm DNA fragmentation and infertility [3-6]. Generally, the impact of cigarette smoking on sperm DNA integrity is somewhat conflicting (Table 1).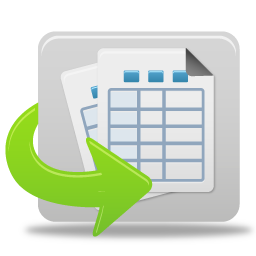 Table 1: The Impact of cigarette smoking on sperm DNA integrity.





  
    

Authors


    

Years


    

Study population


    

Assay used


    

Effect


  
  
    

Shen et al. [254]


    

1999


    

60


    

8-OHdG


    

Positive correlation between 8-OHdG & DNA integrity


  
  
    

Sun  et al. [255]


    

1997


    

113


    

TUNEL


    

Positive correlation between TUNE & DNA integrity


  
  
    

Potts et al. [3]


    

1999


    

52


    

TUNEL


    

Positive correlation between TUNEL& DNA integrity


  
  
    

Sergerie et al. [256]


    

2000


    

97


    

TUNEL


    

No correlation between smoking and DNA strand break


  
  
    

Saleh et al. [4]


    

2002


    

65


    

SCSA


    

Higher ROS but no DNA strand breaks


  
  
    

Storgaard et al.[257]


    

2003


    

265


    

SCSA


    

Prenatal exposure to CS lower sperm counts and no effect on DNA integrity


  
  
    

Horak et al. [258]


    

2003


    

179


    

32-postlabeling method 


    

DNA adducts


  
  
    

Loft et al. [259]


    

2003


    

225


    

8-OHdG


    

No correlation


      

between Smoking and DNA integrity


  
  
    

Trisini et al.[260]


    

2004


    

 


    

COMET neutral


    

No correlation


      

between and DNA integrity


  
  
    

Belcheva et al.[261]


    

2004


    

40 


    

COMET 


    

No correlation


      

between and DNA integrity


  
  
    

Robbins et al.[270]


    

2008


    

63 


    

FISH 


    

Smoking and sperm aneuploidy


  
  
    

Sepaniak et al. [22]


    

2006


    

108


    

TUNEL


    

Positive correlation between TUNEL & DNA integrity


  
  
    

Viloria et al.[268]


    

2009


    

55


    

OxyDNA assay


    

Low level of antioxidative enzyme, but no DNA damage


  
  
    

Hammadeh et al. [28]


    

2010


    

53 CS


      

63 non CS 


    

P1 and P2


      

gel electrophoresis


    

Inverse effect on the protamination process by disrupting P2.


      

 


  
  
    

Hamad et al. [136]


    

2014


    

35 CS


      

19 NCS


    

H2B & P1& P2 using acid-urea polyacrylamide gel    electrophoresis


    

Patients who smoke possess a higher proportion of spermatozoa with an alteration of the histone to protamine ratio than patients who do not smoke


  











Table 1:  The Impact of cigarette smoking on sperm DNA integrity.







The most recent studies on the origin of sperm DNA damage suggested that there might be a cascade of changes that progress from the induction of oxidative stress and oxidized DNA base formation to DNA fragmentation and cell death [129]. Cigarette smoke, for example, increases oxidative DNA damage in human sperm cells [154]. Alkaloids, nitrosamines, and cotinine are harmful substances found in cigarette smoke producing ROS. These compounds attack the integrity of DNA in the sperm nucleus causing base modification, DNA strand breaks, and chromatin packing failure. The result is DNA fragmentation that can increase abnormal forms of sperm in smokers [155]. Increased percentage of spermatozoa with fragmented DNA in male smokers compared with non-smokers has been estimated to be 4.7% vs. 1.1% in one study [156] and 32% vs. 25.9% in another one [157].
Two additional cigarette metabolites, vinyl chloride and benzopyrene, can also lead to an increased attachment of DNA adducts [158]. These adducts contribute to mismatched pairs, improper DNA replication, and incorrect protein synthesis. Consistent evidence shows that sperm DNA damage adversely affects male fertility, contributing to poorer embryo development and lower pregnancy rates among partners of men undergoing assisted reproductive treatments [159-161]. Moreover, such DNA damage does not dramatically disrupt fertility, however; it does have a profound impact upon the health and development of their children, resulting in a significant increase in the incidence of childhood cancer [162]. Moreover, Fuentes et al. found that male smoking is associated with a significant decrease of live birth rates [163].
Cigarette smoking mitochondrial DNA: The maturation and differentiation of male germ cells during spermatogenesis are regulated by hormones [164]. This process is also physiologically regulated by a fine-tuned apoptotic mechanism having the objective to eliminate abnormal cells and minimizing the negative consequences for the fertility of a man and on the health of his progeny [165]. Ramos et al. showed that sperm apoptosis is related to both incomplete remodelling and protamine over oxidation [166]. Apoptosis controls the overproduction of male gametes and restricts normal proliferation levels so that they do not surpass the supportive capacity of sertoli cells [167]. Fischer et al. stated that when the apoptosis process is defect, sperm cells might appear in the ejaculate [168]. These sperm cells usually contain damaged DNA which will contribute to poor sperm quality [97]. Indications for an apoptosis-like process in sperm are numerous, ranging from mitochondrial membrane and caspase determinations to the discovery of endonucleases activity in the sperm nucleus [169,170].
During spermatogenesis apoptosis does not eliminate malfunctioning spermatozoa, but apoptosis seems to be involved in cytoplasmic remodelling during the final stages of sperm maturation [171]. Increased apoptosis has been found to occur during maturation arrest, hypo spermatogenesis, and sertoli cell only syndrome [172,173].
Oxidative stress may induce sperm DNA damage, possibly through an apoptotic mechanism [174]. Moreover, the exposure of mitochondria to ROS leads to the release of Apoptosis -Inducing Factor (AIF), which directly interacts with the DNA and induces DNA fragmentation [175].
The mitochondrial membrane potential, responsible for ATP production, is indispensable for the flagellar beat and sperm motility [176]. High level of ROS can disrupt the mitochondrial membranes, which results in the release of cytochrome c from mitochondria and activating caspases and subsequently apoptosis. Apoptosis in spermatozoa may also include the activation of caspases 1, 3, 8 and 9 and the mitochondrial generation of ROS [175]. Furthermore, the elevated number of damaged mitochondria in spermatozoa may increase the production of ROS which in turn disrupt the function of the spermatozoa [177].
Therefore, not only is nuclear DNA analysis useful, the mitochondrial genome of sperm has been shown to be an even more sensitive marker of sperm health [178].
Calogero et al. evaluated the effects of Cigarettes Smoke Extract (CSE) on motility, Mitochondrial Membrane Potential (MMP), chromatin integrity and apoptosis in spermatozoa obtained from healthy non-smokers with normal sperm parameters, by flow cytometry [179].
They found that CSE suppressed sperm motility in a concentration- and time-dependent manner and increased the number of spermatozoa with low MMP, the main source of energy for sperm motility.
A reduction in the incidence of sperm DNA fragmentation by oral antioxidant treatment with scavengers such as vitamin C and E has been also reported [180]. Dietary antioxidants may have a positive impact on semen quality [181]. A positive association was found for an antioxidant therapy and some semen parameters [182-184].
A recent report from the Practice Committee of the American Society for Reproductive Medicine in 2008 suggested that although the antioxidant supplementation reduces the sperm DNA damage, no definitive effect has been observed on the routine sperm parameters and reproductive outcomes [185]. The report also found a lack of sufficient evidence to support the use of any treatment for abnormal sperm DNA integrity.
Cigarette smoking and genetic alteration: Despite normal semen analysis, a high proportion of couples undergoing ART still fail to achieve a pregnancy. Additional parameters should be used for the evaluation of sperm quality. The quality of DNA within the sperm has been recognized as an additional factor for infertility [186,116].
Recently, Rogenhofer et al. demonstrated that sperm mRNAs coding for protamines are useful biomarkers for predicting male infertility [135].
Among the putative functions ascribed to protamine are those related to imprinting of the paternal genome during spermatogenesis and the control of transcription factors to allow its reprogramming by the oocyte [125]. Consequently, changes in the expression of P1 and P2 could increase DNA damage in spermatozoa and have been related to human male infertility (for review see: Oliva, (2006)) [125].
Sperm haplo insufficiency for the P1 and P2 results in aberrant sperm chromatin condensation and the aberrant P1/P2 ratio play an important role in male infertility [187]. It has been postulated that protamine deficiency is related to DNA damage in human sperm. P1deficiency has also been identified in a population of subfertile males [130].
Simon et al. demonstrated a relationship between alteration of protamine ratio (both low and high) and DNA fragmentation as well as fertilization rate [132]. Male germ cells package their chromatin into a small size in order to ensure that the transmission of paternal DNA to the oocyte is as efficient and safe as possible [188]. The unique and exact sperm chromatin architecture implies a specific gene-expression schedule after fertilization [189].
It is becoming increasingly apparent that environmental factors alter epigenetic profiles, such as DNA methylation, chromatin modifications, and non-coding RNAs, thereby changing chromatin structure and gene expression [190]. Epigenetic modifications to the male germ line during gametogenesis are designed to silence unwanted paternally imprinted genes in preparation for future embryonic development and also to regulate the post- meiotic expression of genes during late spermatogenesis [191]. Genetic and epigenetic sperm abnormalities such as abnormal nuclear packaging, chromosome aneuploidy, sperm DNA damage, genomic imprinting errors and centrosome malformations might contribute to poor embryogenesis [192]. Epigenetic variations of DNA, particularly the attachment of methyl groups to cytosine bases neigh bored by guanine (CpG sites), are an important source for variation and regulation in the genome [193,194]. Aberrant pattern of DNA methylation in the sperm of some men correlates with known pregnancy failures in their partners [195]. Smoking has been associated with altered global methylation [196,197] and differential methylation extent in several cancer-related genes [198,199]. Alterations in DNA methylation are one possible mechanism potentially mediating the harmful effects of tobacco smoking.
A large number of studies have considered gene–environment interactions between tobacco smoking and genetic polymorphisms, including DNA repair genes and genes involved in carcinogen metabolism [200,201]. In addition, oxidative stress is one of the key mediators with the potential to attack both the DNA and the epigenetic role of sperm RNA [202]. DNA damages within promoter of genes caused down regulation of susceptible genes during aging and oxidative stress [203].
Recent work has suggested that some of the constituents of cigarette smoke can induce harmful phenotypes in the descendants of exposed individuals [204-206]. Benzo[a] pyrene and nicotine in cigarette smoke have recently been shown to induce harmful alterations of sperm DNA that can be transmitted through the germ line to future generations [207,204].
Furthermore, smokers have been shown to exhibit altered spermatozoal mRNA profiles compared with non-smokers, and miRNA changes have been observed in the placenta of smokers [208,209].
Marczylo et al. showed that cigarette smoke induces specific differences in the spermatozoal microRNA content and that these altered microRNAs appear to predominantly mediate pathways vital for healthy sperm and normal embryo development, particularly cell death and apoptosis [210]. A meta-analysis addressing this question found a significant correlation between paternal smoking and the incidence of childhood cancer [162]. Specifically, Acrolein (Acr) appears to be a potential carcinogen associated with smoking-related lung cancer [211].
In one study the acetylation status was found to modulate the association of bladder cancer and cigarette smoking through smoking intensity and not smoking duration [212].
Spira et al. analysed global gene expression in bronchial epithelial cells and found that the expression levels of metabolizing and antioxidant genes had reverted to control levels after two years of smoking cessation [213].
In smoking-associated lung cancer, elevated levels of Cyclooxygenase-2 (COX-2) and Prostaglandin (PGE2) indicate apoptosis resistance, proliferation, immunosuppression, angiogenesis, invasion, and epithelial-mesenchymal transition [214].
Cigarette smoking and membrane integrity of spermatozoa: The plasma membrane is responsible for the preservation of cellular homeostasis; in this way the plasma membrane integrity exerts a vital role on sperm survival in the female reproductive tract and on the preservation of its fertility capability [176]. The sperm head is considered normal when the plasma membrane, nuclear envelope, acrosome and chromatin are all of normal appearance; in addition, normal axonemal components, mitochondria and plasma membrane are required for the tail to be considered normal [215]. Although, human sperms are particularly sensitive to ROS-induced damage because of a high concentration of polyunsaturated fatty acids in their plasma and mitochondrial membranes, generating lipid peroxidation, which in turn causes damage to cell membranes and alterations in sperm functional aspects, DNA integrity and mitochondrial activity [216]. ROS-induced damage leads to decreased sperm motility by a rapid loss of intracellular ATP which results in axonemal damage, decreased sperm viability, increased midpiece morphology defects, deleterious effects on sperm capacitation and acrosome reaction [217]. In other studies, it was reported that peroxidation reaction affects membrane structure and fluidity and causes damage to axonemal proteins leading to a permanent impairment in sperm motility [218-220].
Also ROS causes sperm damage by inducing Lipid Peroxidation (LPO) of the high levels of polyunsaturated fatty acids in the sperm membrane [47]. This will affect sperm plasma membrane fluidity following with loss of the ability for oocyte fusion and fertilization [221].
ROS in tobacco smoke also induce lipid peroxidation of the plasma membrane of sperm, which is considered to be the key mechanism for inducing sperm damage that leads to decreased sperm viability, sperm concentration, sperm motility, and increased morphology defects [53,222].
ROS attack the double bonds associated with unsaturated fatty acids, initiating a lipid peroxidation that will lead to a loss of membrane fluidity and integrity, which is important for sperm motility, and a subsequent loss of sperm and fertilization capacity [223].
In addition, overexposure of spermatozoa to ROS was proposed to result in excess lipid peroxidation, which will subsequently not only lead to loss of plasma membrane fluidity and function, but also to mutagenic and cytotoxic effects [224]. In addition, the sperm cell membrane is easily attacked by ROS with further detrimental effects on nuclear membranes as well as on sperm DNA [225].
Moreover, these substances in seminal plasma of smokers can react negatively upon sperm membranes, probably by disrupting the equilibrium between antioxidants and prooxidants. They can also act upon genomic integrity and chromatin structure of the spermatozoon, damaging sperm cell DNA [226].
Severe pathologic changes in the testicular tissue are associated with a high level of lipid peroxidation which suggests that overproduction of ROS may play a role in the mechanism of testicular degeneration associated with infertility [227]. Nabil et al. showed that lipid peroxidation plays a significant role in disrupting sperm functions and especially motility and morphology and may account for some cases of male infertility [228]. Taha et al. reported that smoking has a negative effect on sperm progressive motility, sperm membrane integrity as evaluated by Hypo Osmotic Swell test (HOStest), DNA integrity and seminal zinc concentration [111].
Malondialdehyde (MDA) is a lipid peroxidation product of polyunsaturated fatty acids that is used as diagnostic tool for lipid peroxidation and male infertility [229]. Oxidative stress in sperm and its effect on membrane lipids, was measured by the formation of Malondialdehyde (MDA) [121]. A high MDA levels concentration in seminal plasma correlates negatively with other sperm parameters such as concentration and motility [219,230,231]. Nevertheless, higher MDA levels have been found in patients with varicocele when compared to controls, indicating increased peroxidation activity [232].
Cigarette Smoking and ART Outcome
Sperm quality is a crucial determinant for successful fertilization and pregnancy achieved by ART [233]. Fertilizing capacity is reduced due to failure to extrude residual spermatozoon cytoplasm, diminished membrane maturation and acrosin activity and an increased incidence of structural abnormalities in sperm tail [234].
Further evidence for the damage of spermatozoa by cigarette smoking can be inferred by the low success rate in assisted reproductive programmes when the male partner smokes [38]. A similar effect has been observed in other studies which found that cigarette smoking adversely affects male reproductive health [235].
Studies of natural conception in couples with a smoking male partner demonstrate a significant reduction in fecundity, with an increased time-to-pregnancy, only when tobacco consumption is above 15 cigarettes a day [236].
Seminal ROS levels correlate with success rates of Intrauterine Insemination (IUI), In Vitro Fertilization (IVF), and ICSI [237]. Also, male infertility is connected to increased ROS and reduction of whole antioxidant activity in the seminal plasma.
Moreover, fertilization by sperm with fragmented DNA results in poor embryonic development, decreased implantation, lower pregnancy rates, and recurrent pregnancy losses [238-240].
A study conducted by Hammadeh et al. demonstrated that metaphase oocytes incubated with DNA damaged spermatozoa during IVF were associated with high rate of failed fertilization, defective embryo development, implantation failure and early abortion [241].
Depending on the degree of DNA damage, embryo development can be affected and thus result in embryonic death [240]. Embryo formed with damaged DNA can also develop to full term [242]. These negative effects are seen whenever the extent of sperm DNA damage exceeds the repair capabilities of the oocyte [145].
Early onset paternal effects on zygote development and early cleavage186 have also been described. In human reproduction, a link between a paternal factor and poor embryo quality resulting in reduced pregnancy rates, has been observed [243]. In addition, DNA damage is a contributory factor for apoptosis, poor fertilization rate, high frequency of miscarriage, and morbidity of off springs [244]. In the last decade, various studies have highlighted the importance of the 'paternal factor', including male age or paternal exposure to toxins for spontaneous miscarriages [245,246].
A number of studies have shown that DNA damage in sperm, can be passed to the offspring following ICSI/IVF treatment. In addition, this has been reported to lead to an increase in incidence of childhood cancers [247].
Abnormal sperm nuclear chromatin condensation, apart from fertilization, has been shown to affect embryo quality and pregnancy rates following IVF. Specifically, the increased DNA breaks due to faulty replacement of histones by protamines have been associated with decreased embryo morphology at early cleavage stages, whereas the improper protamine ratios have been proposed to be responsible for poor preimplantation stage embryo morphologies [130]. These defects may be attributed to increased oxidative stress and insufficient scavenging by antioxidant enzymes in the seminal fluid. Therefore, it is advisable for men to quit smoking who will undergo infertility therapy.
Much of the reduced fecundity associated with smoking may be reversed within 1 year of smoking abstinence. Whenever a definite link between paternal smoking and infertility is found, effective interventions helping patients to quit smoking should be addressed for the benefit of general health and fertility [248].
Several in vivo and in vitro studies showed that antioxidants have positive effects on oxiodative –induced sperm DNA damage and so, this agent can manage male infertility and sub fertility [160]. Male infertility which are suggested to be a results of existing sperm DNA damage can be given oral antioxidant during two months before an ICSI attempt. The subsequent ICSI cycle led to a significant increase in implantation rates and clinical pregnancy in comparison to the pre-treatment ICSI outcomes despite of the absence of differences in fertilization and cleavage rates on in embryo quality [180] (Table 2).