Editorial
Austin J Nanomed Nanotechnol. 2014;2(3): 1020.
The "Nano" World in Photodynamic Therapy
Huang-Chiao Huang1 and Tayyaba Hasan1,2*
1Harvard Medical School, Massachusetts General Hospital, USA
2Division of Health Sciences and Technology, Harvard- MIT, USA
*Corresponding author: Tayyaba Hasan, Division of Health Sciences and Technology, Harvard Medical School, Massachusetts, USA
Received: May 22, 2014; Accepted: May 27, 2014; Published: May 29, 2014
Abstract
Photodynamic Therapy (PDT) is an externally activated, photochemistrybased approach that generates cytotoxic reactive molecular species (RMS), which kill or modulate biological targets. PDT provides unique opportunities for applications of nanotechnology where light activation can trigger both direct RMS–mediated cytotoxic activity and the release of contents within the nanoconstructs (Figure 1). This process allows several species, working via different mechanisms and molecular targets to be activated or released in the right place and time, thus providing a distinctive approach to combination therapy. With advances in the development of miniaturized, even–biodegradable light sources and delivery systems, exciting possibilities of anatomical reach with PDT are being made possible. This brief article introduces aspects of interfaces of PDT and nanotechnology but, due to space constraints, makes no attempt to be a comprehensive review.
Introduction
The concept of combining light and chemicals for therapy is thousands of years old [1,2]. PDT, in its present form, can be dated back to Raab's accidental discovery in 1900 that Paramecia combined with acridine orange and exposed to sunlight resulted in cytotoxicityto the organism [3]. Contemporary PDT was developed by contributions from many investigators, notably of Lipson, Schwartz and Dougherty [4–8] and is approved for several cancer and noncancer applications [2]. PDT involves the light activation of certainchemicals called photosensitizers (PS) to elicit photochemistry that is cytotoxic or deleterious to biologic targets. Inherent to PDT is thedual selectivity imparted by preferential accumulation of the typical photosensitizing agents and by the confinement of light to defined volumes. This photochemistry–based approach is distinct from the more frequently reported laser–activated photothermal approaches where high intensity, often using pulse lasers, is required to generatethermal effects. PDT typically requires low irradiances in the mW⁄ cm2 ranges and does not depend on thermally induced "burning" oftissues but rather on the induced photochemistry. It is thus a "kinder,gentler" approach to phototoxicity allowing biological effects tocontinue after the light trigger has been switched off. Combined withnanotechnology, PDT–Nano provides exceptional opportunities for delivery of therapeutic reagents and newer approaches tocombination treatments grounded in cellular mechanisms [9–13] andother advances in photomedicine [14,15]. In addition to enhancedPS delivery, it allows modification of PS physiochemical properties, development of novel, even resorbable light sources, establishment of personalized predictive dosimetry, and the evolution of novel combinatorial therapeutic approaches.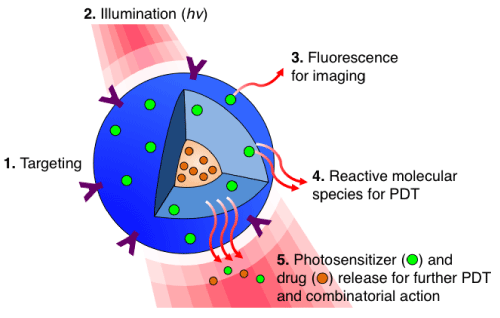 Figure 1: Targeted, multi-compartment nanoconstruct (blue) co-delivers photosensitizer (PS) and drug to the cell. (1) Surface modification with stabilizers and targeting moieties improves stability and selectively of the nanoconstructs. (2) Upon light irradiation (hv), the (3) fluorescence signal generated from the excited PS can be used for imaging. (4) Light activation of PS results in reactive molecular species production for PDT, and (5) facilitates PS and drug release, allowing for an interactive combination therapy.












Figure 1:  Targeted, multi-compartment nanoconstruct (blue) co-delivers photosensitizer (PS) and drug to the cell. (1) Surface modification with stabilizers and targeting moieties improves stability and selectively of the nanoconstructs. (2) Upon light irradiation (hv), the (3) fluorescence signal generated from the excited PS can be used for imaging. (4) Light activation of PS results in reactive molecular species production for PDT, and (5) facilitates PS and drug release, allowing for an interactive combination therapy.







A wide variety of organic and inorganic nanoconstructs (e.g. liposomal, micellar, polymeric, silica and gold nanoparticles) [16] have been introduced to deliver high payloads of PS to the desired sites when combined with targeting moieties. Thus far, the most studied and clinically used nanoconstructs for PS delivery is the liposome [17,18]. Jori demonstrated liposomal delivery of porphyrins and phthalocyanines to the tumors in the 80–90's [19–21]. In 2001, collaborative work from several laboratories including ours led to the first clinical approval of PDT as a frontline treatment, using Visudyne®, a liposomal verteporfin formulation, and red light for the treatment of age–related macular degeneration [22]. Visudyne is now featured in the listing of nanomaterials approved by the US Food and Drug Administration then followed by (FDA). Micelles, with a single layer of polar–nonpolar molecules, are also commonly used to delivery PS [23–25]. TOOKAD delivered in Cremophor micelles (WST09) was in phase II⁄III clinical trials for the PDT of prostate cancer (ClinicalTrials.gov) [26,27]. Francis et al. Modified Bacteriophage MS2 virus capsids with porphyrins and Jurkat–specific aptamers to selectively target and photo–damage Jurkat leukemia T cells in vitro [28]. Packaging of PS into the nanoconstructs can significantly impact the photophysiochemical properties of PS. Pioneered by Zheng, Lovell and colleagues, porphysomes are extraordinarily tightly packed porphyrins within the confined space of the liposomal lipid bilayer [29,30]. These extensively self–quenched porphyrins nanoconstructs (over 1,200–fold greater than the monomerized porphyrins) can be light activated for in vivo photothermal but–not–PDT tumor ablation. Wang demonstrated that reactive oxygen species (ROS) production from protoporphyrin IX can be enhanced up to 4.7 fold when conjugated to gold nanoparticles, thus improving the efficacy of PDT against breast cancer cell in vitro [31]. This enhancement of ROS is likely due to an enhanced electromagnetic field as a result of the localized surface plasmon resonance of gold nanoparticle upon light exposure.
In the context of PDT, nanoconstructs may be built with enough flexibility to be responsive to a broad spectrum of microenvironmental barriers and be more than simple drug carriers. They become photoresponsive entities that act directly, release enclosed materials and yet home in or accumulate at the desired sites preferentially [32]. Polyethylene–glycol (PEG) or monosialoganglioside molecules are widely used to sterically stabilize nanoconstructs and, therefore, can reduce PS uptake by the macrophages in the reticuloendothelial system, prolong circulation half–life, and allow passive accumulation of PS at tumor sites (e.g. via the enhanced permeability and retention effect) [33–36]. Actively targeted nanoconstructs have been developed with the following broad goals:
Inherent targets: where nanoconstructs are driven by moieties (e.g. aptamers, monoclonal antibodies etc.) to direct against specific cancer–associated molecules.
Therapeutically induced targets: where a given treatment triggers or sensitizes the aberrant expression of biomarkers that can serve as molecular targets (e.g. with molecular inhibitors or PDT) [37–40].
Combinations of targets: where cooperatively targeting of both inherent targets and therapeutically induced targets maximizes the treatment benefits by activating several cell death pathways via nanoconstructs.
Photo immunoconjugates are probably the best examples of focusing on inherent targets. Using non–quenching PS associated with tumor–targeting monoclonal antibodies or antibody fragments, Levy first reported this approach [41]. This has been subsequently developed by several groups including ours in the 80s and the 90s [42– 47] and more recently by others [48,49] in different tumor models. We recently reported a "tumor–activatable" photoimmunoconjugate to further improve the safety and selectivity of photo immunotherapy [50]. In this study, verteporfin was covalently linked to the EEGFRtargeting cetuximab at a high payload, which resulted inselfquenching of PS (non–phototoxic). Upon cancer cell internalization, verteporfin phototoxicity and fluorescence was activated via lysosomal proteolysis resulting in de–quenching of verteporfin followed by light irradiation. This enabled the fluorescence imaging of ovarian cancer micrometastases nodules as small as 30 μm and the tumor–specific photo cytotoxicity in a disseminated model of peritoneal cancer micrometastases [50].
The ability to target and control the spatiotemporal release of the PS (e.g. via external activation) has been suggested [51–53]. This approach is extremely useful for applications to tumor where the genetically complex and heterogeneous tumor cells develop multiple mechanisms of survival and resistance to treatments. It enables rational mechanism–based combination of PDT with a secondary mechanistically non–overlapping treatment. Through combinatorial approaches, the molecular responses elicited by PDT (or the other therapy) can sensitize the tumor to the second treatment modality [54,55]. In this context, multicompartmental nanoconstructs provide the opportunity to co–deliver multiple agents, such as PS and conventional or evolving drugs within a single construct (Figure 1),[23, 56]. These constructs are designed with appropriate mechanism–based combinatorial agents and spatiotemporal control release enabled by a combination of appropriate light switch and appropriate chemistries. Such combination treatments customized to deliver the nanoconstruct payloads to the right place at the right time show promise in early studies in pancreatic and ovarian cancer models [47, 50,57–59].
With the advent of sophisticated endoscopes and miniaturized light generating and delivery devices, most anatomical sites are accessible for PDT. For example, lung cancer treatments routinely use bronchoscopes incorporating optical fibers. Intra–operative and trans–cutaneous light delivery is also used as in the PDT of pancreatic cancer [60,61]. New approaches exploring nanoconstructs or cells themselves as sources of light are ongoing and have the potential of alleviating the problem of tissue penetration depth. It has been demonstrated that green fluorescent proteins in cells can be used as viable gain medium for optical amplification, creating a laser based on single live cell [62]. Up converting nanoparticles (i.e. NaYF4 nanocrystals co–doped with Yb3+ and Er3+) use longer wavelength light (i.e. deeper penetrating near–infrared light) to generate shorter (i.e. visible) wavelengths for the activation of PS payloads and the photodynamic destruction of cancers [63–67]. The use of penetrating X–rays to trigger nanoscintillators (i.e. LaF3: Tb3+, quantum dots, Tb2O3 covered by polysiloxane layer) for the excitation of the nanoconstruct coupled PS has been demonstrated [68,69]. This modality where X–rays–activate PS via nanoscintillators can be combined with radiotherapy for combination treatment of diseases that are endoscopically in accessible. Finally, the use of PS fluorescence to detect cancers, guide surgical resection of tumors, and to personalize PDT dose parameters is an ongoing and exciting area of research [2,70]. While several challenges remain, advances in optical technologies combined with actively targeted nanoconstructs containing 'theranostic' PS offer the potential for personalized photodynamic therapy and combinations for treatment of cancer and other diseases.
Acknowledgement
This work was supported by National Institutes of Health Grants P01CA084203, R01CA156177, and R01CA160998 (to T.H.).
References