Review Article
Austin J Obstet Gynecol. 2021; 8(4): 1177.
The Role of Endocannabinoid System in Menopause and Its Related-Diseases
Torella M1#, Tortora C1#, Argenziano M1, Di Paola A2, Riemma G1, Di Leva C1, La Verde M1 and Rossi F1*
1Department of Woman, Child and General and Specialist Surgery, University of Campania "Luigi Vanvitelli", Italy
2Department of Experimental Medicine, University of Campania "Luigi Vanvitelli", Italy
#Contributed Equally to this Work
*Corresponding author: Rossi F, Department of Woman, Child and General and Special Surgery, University of Campania "Luigi Vanvitelli" Via De Crecchio, 4 - 80138 Naples, Italy
Received: March 13, 2021; Accepted: March 25, 2021; Published: April 01, 2021
Abstract
Menopause is a crucial event in women's health, characterized by the cessation of ovarian function. The estrogens deficiency exposes women to several diseases, including obesity, osteoporosis, cardiovascular diseases and cancer. Menopause-related diseases deeply impact on women's quality of life and represent a serious public and economic health burden. The Endocannabinoid System (ECS) includes Cannabinoid Type 1 (CB1) and Cannabinoid Type 2 (CB2) receptors, endocannabinoids and all the enzymes involved in their biosynthesis and degradation. It plays a significant role in energy balance, bone metabolism, muscular contractility, vascular tone and cancer progression. CB1 activation is responsible for increasing food intake and body weight, stimulating osteoclast activity, inhibiting oxidative stress and preventing cancer progression. Conversely, the stimulation of CB2 induces a reduction in food intake and in body weight, inhibits osteoclast activity, prevents vascular risk and reduces cancer cells proliferation. Moreover, several polymorphic variants of cannabinoid receptors genes are involved into obesity and osteoporosis.
In menopause, the alteration of cannabinoid receptors expression and endocannabinoids levels as well as their role in hormone-related pathways could act a leading role in different pathologies (obesity, osteoporosis, cardiovascular diseases and cancer). Therefore, ECS could be considered a possible prognostic marker and a therapeutic target to oppose the harmful effects of these menopause-related diseases. In this review we aimed to summarize the current state-of-knowledge concerning the impact of ECS on major health issues of postmenopausal women.
Keywords: Menopause; Endocannabinoid system; Obesity; Osteoporosis; Cardiovascular disease; Cancer
Introduction
Menopause is a crucial event of women life. The process is sustained by a significant decrease of estrogens and progesterone production by ovarian tissues due to natural depletion and aging of the oocytes [1]. Natural menopause is diagnosed after 12 months amenorrhea not related to pathologies, surgery or any kind of therapy (chemo- or radiotherapy) and in the majority of cases it occurs after the age of 51 [2,3]. Conversely, surgical menopause occurs when the cessation of ovarian function is related to surgical removal or medical conditions. Among the clinical conditions associated to early-onset menopause, premature ovarian failure is the leading cause and happens when the cessation of ovarian function happens before the age of 40. It could be idiopathic or related to several pathologies (i.e. autoimmune disorder, diabetes mellitus, and thyroid diseases [4].
Postmenopausal women could experience several symptoms, sometimes responsible for strong life quality compromise. Although changing in intensity and frequency from a patient to patient, those symptoms include Vasomotor Symptoms (VMS), sleep disturbances, genitourinary syndrome of menopause (i.e., vulvovaginal atrophy), as well as psychologic and emotional disorders [4,5]. Moreover, the earlier is the onset of menopause the most elevated is the risk of cardiovascular diseases. Other complications especially related to reduction in estrogen levels are inflammation, immunological dysfunction, anemia, alteration in bone metabolism, cognitive disorders, alteration in RAS proteins pathway, frequently altered in cancer [6].
The Endocannabinoid System (ECS) is a complex endogenous signaling system constituted by: - two 7-transmembrane-domain and G protein-coupled receptors, the Cannabinoid Receptor Type-1 (CB1) and the Cannabinoid Receptor Type-2 (CB2); their ligands (or endocannabinoids), N-arachidonoylethanolamine or anandamide (AEA) and 2-arachidonoylglycerol (2-AG); the enzymes responsible for endocannabinoid biosynthesis, named N-Acyl Phosphatidylethanolamine-Specific Phospholipase D (NAPE-PLD) and Diacylglycerol Lipase (DAGL), and, for their inactivation, Fatty Acid Amide Hydrolase (FAAH) and Monoacylglycerol Lipase (MAGL) [7]. ECS is involved in several biological functions: appetite regulation, pain management, organism development, modulation of inflammatory processes and immune response [8]. Considering the variety of physiological functions in which it is involved and also the evidences about its dysregulation in the pathogenesis of many diseases, ECS has been often proposed as therapeutic target for several conditions, including metabolic disorders [9], osteoporosis [10], cardiovascular disease [11] and cancer [12]. Moreover, a crosstalk between ECS and sex hormones is well-documented, in particular the alteration of estrogens and progesterone production in postmenopausal women is strongly related to alteration in ECS activity (Figure 1) [13].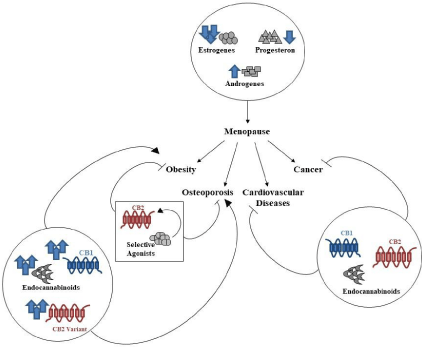 Figure 1: Crosstalk between ECS and sex hormones in menopause. Sex hormones alteration is associated to several disorders in post-menopausal women (obesity, osteoporosis, cardiovascular diseases and cancer). ECS could represent a good therapeutic target to contain the risk to develop these pathologies.

    


    

    


    


    Figure 1: Crosstalk between ECS and sex hormones in menopause. Sex
hormones alteration is associated to several disorders in post-menopausal
women (obesity, osteoporosis, cardiovascular diseases and cancer). ECS
could represent a good therapeutic target to contain the risk to develop these
pathologies.


    



This review provides up-to-date insights on the role of ECS in postmenopausal women and the possibility to target it in order to oppose the harmful effects of menopause-related diseases.
Obesity in Menopause: Role of Endocannabinoids System
During menopause, the reduction of circulating estrogens and the increase of androgens play a role on the onset of metabolic syndrome, dysregulation of lipid metabolism and obesity [14], with a strong elevation of total body fat mass and fat percentage [15-17]. Since androgen and estrogen receptors are expressed in visceral and subcutaneous adipocytes, changes in these hormones levels induce an accumulation of visceral abdominal fat [18]. This accumulation determines alterations in fatty acid metabolism, causing a significant lipolysis which results in an increased Free Fatty Acids (FFAs) translocation in the liver, development of hyperinsulinemia and hepatic insulin resistance responsible of for dyslipidemia, obesity, metabolic syndrome and type 2 diabetes [14,19]. In particular, in postmenopausal women the Adipose Tissue Lipoprotein Lipase (ATLPL) is more active than in premenopausal women, determining an increase of FFAs synthesis in gluteal and abdominal adipose tissue [20]. Furthermore, postmenopausal women also show a reduction of Fat-Free Mass (FFM) which led to a reduction of Basal Metabolic Rate (BMR), the energy necessary for the maintenance of biological functions, decreasing energy expenditure and altering energy metabolism [17,21]. Estrogens reduction and deregulation of lipid metabolism predispose postmenopausal women to Cardiovascular Diseases (CVDs) [22]. Indeed, in menopause it is reported an increase of total cholesterol, triglycerides, Low Density Lipoprotein (LDL) levels and of total cholesterol/High Density Lipoprotein (HDL) ratio, which lead to CVDs [23,24]. Estrogen Receptor alpha (ER-a) regulates adipocytes activity and body fat distribution. It has been demonstrated by Davis et al. that the knockdown of adipocytespecific ER in adult mice led to an increase of the body weight, adipose tissue mass and adipocyte size in female subjects [25]. Alongside, adipokines that modulates fat mass, lipoprotein metabolism, size and number of adipocytes [26,27], are involved in the pathogenesis of hypertension, CVD and osteoporosis [28,29]. High levels of leptin and low levels of adiponectin are associated to insulin resistance in post-menopausal women [29].
The ECS is involved in modulating food intake, energy balance, thermogenesis and fat accumulation [9,30-34]. In particular, CB1 and CB2 receptors directly regulate lipid metabolism in adipose tissues [9,32,33]. CB1 expression levels are very high in obesity and its genetic ablation or its blockade with a selective antagonist determines a decrease in body weight and in food intake in mice [9,35]. In contrast, CB2 stimulation with its selective agonists induces a reduction in food intake and improves both body weight and obesity-associated inflammation in diet-induced obese mice. Its genetic ablation and its non-functional variant, Q63R, cause adiposity accumulation and eating disorders in humans [9,35]. Moreover, it has been demonstrated that CB2 stimulation with its selective agonist JWH-133 is able to reduce the obesity-related inflammatory state and to induce browning through the up regulation of the Uncoupling Protein 1 (UCP1). These findings suggest CB2 as a possible antiobesity pharmacological target [35]. Backhouse et al. demonstrated for the first time that the administration of rimonabant, an antagonist of CB1 receptor, for 12 weeks in obese Caucasian post-menopausal women promoted lipolysis and fatty acids oxidation, determining energy expenditure [36]. Several polymorphic variants of CB1 gene are associated to obesity, alteration in body fat distribution and metabolic disorders in men [37-39]. On this evidence Milewicz et al. demonstrated that CB1 gene variants influenced adiposity, fat distribution and metabolic disorders also in postmenopausal women; in detail, the A3813G polymorphism was associated with higher body mass, BMI, waist circumference, total fat and fat percentage [37].
Obesity has an impact on the relationship between CB2 gene SNPs and Osteoporosis (OP) risk [40,41]. It has been demonstrated that the CB2 variant rs3003336 is associated to abdominal obesity in obese post-menopausal women which showed an increased risk of OP onset [30]. In addition, endocannabinoids are involved in obesity, regulating metabolism, body composition and energy homeostasis [42,43]. Indeed, it has been reported that Anandamide (AEA) and 2-Arachydonoil Glycerol (2-AG) levels were retrieved extremely high in both obese men and women [42,44,45], but with a higher concentration in women [32]. Engeli et al. demonstrated that AEA and 2-Arachydonoil 2-AG were present at very high level in obese post-menopausal women [43]. These increased levels were related to decreased levels and activity of FAAH, responsible for endocannabinoids degradation, in adipose tissue of obese women [43]. Taken together, these data highlight the important role of ECS in menopause-associated obesity; in particular, several variants of both cannabinoids receptors and endocannabinoids are involved in inducing metabolic disorders and obesity.
Osteoporosis in Menopause: Role of Endocannabinoid System
Osteopenia and Osteoporosis (OP) are experienced by postmenopausal women due to the interruption of gonad function [46,47]. Estrogen deficiency induces osteoclasts apoptosis, reducing the bone mass density and increasing bone fragility as well as the risk of fractures [48]. Osteoporotic fractures cause loss of mobility and several complications, deeply harming the quality of life of these women [49]. Hormone Replacement Therapy (HRT) is considered the first-line choice for the prevention and treatment of OP-related fractures in postmenopausal women at risk of fracture and younger than 60 years [50,51]. Conversely, standard HRT in women older than 60 years is not recommended due to the potential risk of long-term complications, including breast cancer, stroke and thromboembolic events [10,52-54]. Therefore, it is still necessary to develop strategies that allow the earlier identification of women at risk of fractures and to identify new therapeutic approaches for long-term OP prevention.
Both environmental and genetic factors contribute to the development and progression of OP [55,56]. Genome-wide association studies have reported the association between the CNR2 gene, which encodes the CB2 receptor, and OP susceptibility in different populations [57-60]. It is widely known that cannabinoids and their receptors, CB1 and CB2, play an important role in bone metabolism regulating bone cell function [10]. CB1 activation stimulates osteoclast activity, whereas CB2 activation inhibits osteoclast activity and promotes osteoblast function [61-64].
Woo et al. demonstrated that several SNPs (rs2501431 and rs3003336 polymorphisms) in CNR genes may be genetic factors affecting Bone Mineral Density (BMD) in a cohort of Korean postmenopausal women [58]. In agreement, Yamada et al indicated that CNR2 loci were associated with reduced bone mass in Japanese women [59]. Alongside, Karsak et al. demonstrated that polymorphisms in CNR2 affect CB2 expression and activity, suggesting that a reduced efficacy of CB2 signaling could result in a lower bone density and even OP [57]. Therefore, these studies suggest CB2 as a possible marker to identify women at risk of fractures. Moreover, several authors suggested also a role for the CB2 receptor in the etiology of OP providing a new therapeutic target for this common disease [65-67].
Rossi et al. demonstrated that in Osteoclasts (OCs) from ovariectomized mice, the estrogen deficiency is associated with a reduction in CB2 receptor expression and signaling [68]. In accordance with this finding, an estrogen receptor antagonist downregulates the expression of CB2 receptors in human OCs [69]. Conversely, confirming the anti-osteoporotic properties of estrogens, the 17-β-estradiol is able to induce an increase of CB2 expression through the recruitment of a putative estrogen-responsive element in the CB2 gene [70]. Rossi et al. also investigated the alteration of endocannabinoid system in OCs from postmenopausal women with or without OP demonstrated an alteration of CB1 and CB2 receptors expression as well as of endogenous mediator levels, responsible for the bone alteration [71]. Moreover, CB2 stimulation reduces the number of active OCs, confirming the protective role of the receptor in bone metabolism [9,10,35]. Interestingly, Raloxifene, a selective estrogen receptor modulator approved for the treatment of postmenopausal OP [72], is an inverse agonist for CB2, suggesting that the anti-osteoporotic activity of the drug it might be partially mediated through the CB2 [73,74].
All these studies suggest the possibility of acting on CB2 receptor instead of adopting HRT to reduce bone resorption in postmenopausal OP.
Cardiopathy and Oxidative Stress in Menopause: Role of Endocannabinoid System
The correlation between endogenous estrogen levels and cardiovascular health is very strong and well documented in literature [75]. Over the last years several authors demonstrated that cardiovascular diseases (i.e. atherosclerosis, cardiac remodeling and hypertension) are less frequent in premenopausal women, in which estrogen levels are high, than in age-matched men and that this advantage decreases with the estrogen loss at the menopause onset [76,77]. Estrogen reduction is indeed related to many biochemical, functional and morphological alterations [78] such vascular inflammation and also increase in sympathetic tone and blood pressure [79,80]. Menopausal-related cardiovascular diseases as well as mortality in postmenopausal women affected by heart diseases are significantly reduced by the commonly administered HRT [81,82], especially because of the increase in Nitric Oxide (NO) production, strongly related to a reduction in coronary resistance and peripheral vascular tone [83]. NO is produced by NO Synthase (NOS) starting from L-arginine and is involved in many physiological and pathological events, for example in inflammation, hyperalgesia and also several neurological disorders [84,85].
The ECS is expressed in cardiovascular system and plays an important modulating role on contractility and vascular tone [86]. In literature it is reported that N-Arachidonoyl Ethanolamine or Anandamide (AEA) causes an increase in NO levels with a consequent endothelium-dependent vasorelaxation [65] probably mediated by the CB1 receptor [87,88]. Among the known NOS isoforms, the Endothelial one (eNOS) is the most expressed in cardiovascular system and it plays an important antioxidant role, besides its function in vasorelaxation [89]. The exact mechanism by which endocannabinoids act as protective agents against cardiopathy in postmenopausal women is still unclear. However, it seems to be principally related to the activation of CB1 and CB2 receptors [90,91]. Szabó et al. after inducing estrogen deficiency in female rats by ovariectomy, observed a drastic reduction in CB1 receptor expression in their cardiac tissue [92]. This condition was restored after two-week treatment with AEA, obtaining the same benefits of canonic estrogen replacement therapy, maybe via NOS pathway. In according with this study, already in 2002 Joyeux et al. demonstrated that NOS inhibition effects were similar to CB2 receptor antagonism, while selective CB1 and CB2 agonists, respectively ACEA and JWH015, reduced the infarct size in the same manner of 2-Arachidonoylglycerol (2-AG), the endogenous agonist of the CB1 [93,94]. Consistently, in CB2 knockout mice or after CB2 antagonism it was observed a larger infarct size [95,96]. In 2014 also Wheal and collaborators described a correlation between cannabinoids, oxidative stress and cardiovascular risk, reporting that in Zucker obese rats the impairment in eNOSdependent relaxation of the femoral artery could be restored with the administration of cannabidiol, a non-specific activator of CB1 and CB2 receptors [97]. Moreover, in this year, Van Hove et al. performed a study on diabetic rats, founding that treatment with CB2 receptor agonist could elevate eNOS-related dilation of cerebral arterioles directly ameliorating tissue blood flow thus diminishing also vascular risk [98]. These evidences support the cardiovascular protective role of ECS components and the main hypothesis about the underlying mechanism is related to their capability to contain the inflammatory processes [8] and inhibit oxidative stress, that are frequently elevated in postmenopausal women [99].
Cancer in Menopause: Role of Endocannabinoids System
One of the most remarkable characteristic of menopause condition is the reduction in estrogen circulating levels [100], with a wide range of side effects that compromise life quality for postmenopausal women, to the point that hormone replacement therapy becomes necessary [101]. From literature it is well-known that high estrogen levels play a protective role [102] and represent a valid prognostic factor for different kind of cancers, including liver [103] and lung cancers [91,93]. Therefore, with menopause onset and the related estrogen decrease, cancer survival rate diminishes for women in comparison with age-matched men. The reasons underlying this disparity include not only sex hormone levels, but also sex distinctions in genetics and epigenetics [92], sex hormone receptors levels [104] and smoking history [105]. Considering this aspect, it is possible to recognize the beneficial effect of the HRT also in containing tumor development and progression [106].
Together with the reduction of estrogens, in postmenopausal women it has been also seen a decrease in AEA concentrations, similar to the luteal phase of premenopausal subjects [107]. Several authors reported the anti-cancer role of AEA, describing its capabilities to affect cell cycle distribution of gastric cancer cells [15,108,109] and also to reduce proliferation of neuroblastoma, prostate carcinoma and melanoma cells [110-112]. Cancer cells are more sensitive to endocannabinoids compared to healthy cells, since a most abundant presence of EC receptors on their surface [113]. When properly stimulated, the ECS induces apoptosis, arrests cell cycle and inhibits metastasis [114,115] in both animal models and cell lines of cancer. For example, the CB agonist WIN-55, 212-2 has been seen to increase in a significative manner the expression of both CB1 and CB2 receptors in human prostate cancer cells (LNCaP) with a strong reduction in their viability [116], as well as Δ9-Tetrahydrocannabinol (THC) [113]. All these evidences put the ECS in an interesting position as pharmacological target against cancer. Moreover, there is a well-documented interaction between this system and the sex steroid hormones [117,118] that let hypothesize a particular impact on hormone-related neoplasms. Estrogens are strongly involved in regulation of cell proliferation and apoptosis [119], in particular the most abundant estrogen is 17β-EstGatti D, Fassio A. Pharmacological stimulate the AEA release from endothelial cells and also to inhibit the synthesis of FAAH, the enzyme responsible for AEA degradation [120]. In colorectal carcinoma as well as in normal colonic epithelium E2 regulates CB1 expression [121]. Consequently, the collapse of estrogens with menopause causes reduction in AEA levels and a minor stimulation of CB receptors, thus reducing the protective effects of EC system and exposing postmenopausal women to a higher risk for cancer development. On the other hand, progesterone has been found upregulating FAAH activity, thus decreasing AEA plasma levels [122]. Theoretically, this could be one of the reasons why HRT is, in long term, considered responsible for the major susceptibility in developing some subtype of cancers, such as endometrial carcinoma [123].
Conclusion
Menopause-related diseases reduce quality of life and could represent an important public and economic health burden in nowadays society. It is well known that CB1 and CB2 receptors play specifically roles in regulating several physiological functions.
In this review we highlighted the possible link between ECS system, estrogens deficiency and the development of several paraphysiologic and pathological changes related to menopausal transition, including obesity, osteoporosis, cardiovascular diseases and increased risk of cancer. The compromised hormone condition in postmenopausal women could induce an alteration of cannabinoid receptors expression and endocannabinoids levels and, consequentially, a reduced efficacy of receptor signaling. This alteration might be related to increased inflammation triggering, lowered bone density, increased oxidative stress, cardiovascular risk, and cancer progression.
Reported studies suggest a protective role of the ECS in counteract the harmful effects of these menopause-related diseases, suggesting it as a good and alternative prognostic marker and therapeutic target to address further researches.
References