Case Report
J Schizophr Res. 2018; 5(1): 1036.
Serendipitous Improvement of Schizophrenia after Stem Cell Transplant for Hodgkin's Lymphoma
González-Llano O¹, Saucedo-Uribe E², Martínez- Garza DM¹, Mancías-Guerra C³, Cantú-Rodríguez OG¹ and Mancías-Guerra MC¹*
¹Hematology Service, Autonomous University of Nuevo León, Mexico
²Department of Psychiatry, Autonomous University of Nuevo León, México
³CIT Neuropsique, México
*Corresponding author: Mancías-Guerra MC, Hematology Service, University Hospital "José E. González". School of Medicine, Autonomous University of Nuevo León, Monterrey, México
Received: September 06, 2018; Accepted: November 01, 2018; Published: November 08, 2018
Abstract
21-year-old male patient with schizophrenia diagnosed at age 15 with a history of poor response to olanzapine and risperidone. He referred auditory hallucinations with a pejorative content about himself. He was very suspicious and socially with drawn, to the extent of dropping out of high school and being unable to leave his home. One year afterward he was diagnosed with Hodgkin's Lymphoma (HL). He underwent different chemotherapeutic schemes and three Stem Cell Transplants (SCT). Between the second and the third SCT, the patient received therapeutic doses of quetiapine (Positive and Negative Syndrome Scale [PANSS]: 147). In a period of 8 months, after the second SCT, patient's PANSS dropped 60 points, his hallucinations decreased 90%, and he improved his negative, cognitive, and social symptoms, which allowed him to gradually reincorporate to his usual social and academic life.
Currently, Hematopoietic Stem Cells (HSC) have been proposed as an alternative therapy for many chronic and incurable non-hematologic diseases. In psychiatry, the theory is that these HSC migrate to areas of inflammation in the brain via chemotaxis, and, through immunomodulation and secretion of bioactive molecules enhance neurogenesis, angiogenesis, and remodeling of axonal circuits. Studies on schizophrenic patients have confirmed both, that it is an inflammatory condition (cytokines and interleukins are elevated when compared to controls) and, that the brain is underdeveloped due to deficient neurogenesis; supporting. why HSC assisted in the marked clinical improvement observed in this patient, which would otherwise could not be explained by the natural history of the disease or therapeutic measures alone.
Keywords: Schizophrenia; Stem cell transplant; Hematopoietic stem cells; Neurogenesis; Neuroimmunomodu
Introduction
Psychiatry has fallen behind other medical specialties regarding treatment innovation [1]. It is so, that most of the first line medications are now over 40 years old, and the last drug with an original mechanism of action was introduced almost a decade ago [2]. Nonetheless, psychiatric disorders have a prevalence that may be as high as 26% [3], urging the need to develop novel and precise therapeutic offers [4]. Schizophrenia, with more than 20 million people affected worldwide, currently the third-most disabling condition [5], a lifetime prevalence of 0.7%, and carrying a great burden of human and economic costs [6], is just one of the many examples of mental health diseases demanding new approaches [7-15].
Since their discovery, stem cells have been used as an alternative treatment for many diseases, especially chronic diseases with not few therapeutic options, such as heart and autoimmune disorders [16]. Mental health is not the exception, as psychiatric conditions may be caused by deficiencies in neurogenesis and neurodevelopment, in which stem cells, hypothetically may be able to restore proper psychological function of areas where cells have died or are dysfunctional, or may enhance some degree of neurogenesis [17,18].
Case Report
The patient is a male that started experiencing outbreaks of psychotic symptoms at the age of 15. The family was skeptic about this, so they did not seek for help until after a year when symptoms became more florid. The diagnosis of schizophrenia was made. Olanzapine 10 mg QD and risperidone 4 mg QD were indicated, without satisfactory results, despite complete adherence. Two years later from the start of symptoms the patient sought for a second opinion, being attended by us.
On examination, he appeared disheveled, suspicious, and very anxious. He was very inexpressive with an indifferent and flat affect, avoided eye contact, and was very uncooperative. He had a disorganized thought process and answered to most questions monosyllabically. Patient referred auditory hallucinations; he heard two voices that made fun of him. He had reference delusions about his neighbors and peers making fun of him and claiming that "he was homosexual". Hence, he became socially withdrawn and eventually dropped out of high school. He did not abandon his home for anything but therapy. Patient slept all day but could not sleep at night because of fear; he sometimes would hide in the walls of his home because he thought people were spying on him. The diagnosis of schizophrenia with predominant negative symptoms was confirmed (positive and negative syndrome scale [PANSS]: 147). He was started on an in crescendo scheme of quetiapine until he reached a maintenance dose of 300mg bid.
Meanwhile, he was concomitantly diagnosed with HL (Figure 1). He received an induction treatment with an ABVD (adriamycin, bleomycin, vinblastine, and dacarbazine) scheme and received an autologous SCT of peripheral blood as consolidation treatment with etoposide and carmustine as conditioning regimen. Six 3 months later, he relapsed and was started on a second-line scheme that included ifosfamide, gemcitabine, and vinorelbine as the induction therapy, this time he was consolidated with a second autologous SCT with peripheral cryopreserved cells with busulfan and melphalan as conditioning regimen. The patient went into a second complete remission, though, he relapsed for the second time. He underwent a rescue scheme using brentuximab and was now submitted to a haploidentical SCT. Cyclophosphamide, fludarabine, and melphalan were used as conditioning. He reached complete remission, is free of HL and without data of graft versus host disease. Over a period of 18 months the patient received a total of 15×106/kg HSC.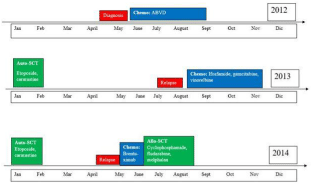 Figure 1: Hodgkin's Lymphoma evolution.

    


    

    


    


    Figure 1:  Hodgkin's Lymphoma evolution.
    


    



During this time, the patient dramatically decreased his symptoms and PANSS results (Figure 2). The patient referred hallucinations had decreased 70-90%, and when they happened, he was conscious about them coming from his head and not being real. His negative, social and cognitive symptoms began gradually improving. Soon after the third SCT he could walk and normally interact on the streets and since then has been stable without any relapse. Currently, still on quetiapine, the patient is majoring in arts with academic excellence and with a stable social life. Even though auditory hallucinations persist, they have diminished in frequency, and he now has the ability to neglect them.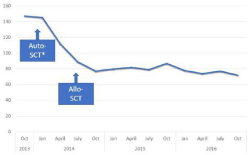 Figure 2: Improvement in PANSS following second and third bone marrow transplant. *We do not know how PANSS changed between the first and second SCT because we first started seeing the patient after the first SCT.

    


    

    


    


    Figure 2:  Improvement in PANSS following second and third bone marrow transplant.
*We do not know how PANSS changed between the first and second SCT because we first started seeing the patient after the first SCT.
    


    



Discussion
The assumption that the brain cannot be modified after adulthood is long gone. There is evidence of neural stem cells (NSC) that supply the rest of the brain for renovation [19], as they migrate to areas of damage and inflammation [20]. After brain insults that cause neuronal death such as stroke[21,22], schizophrenia, and Alzheimer's disease [23,24], NSC migrate, differentiate, and incorporate into lost neural circuits [21-25].
They do as such as a result of two things. First, after cell death, many neurogenesis genes activate, such as the ones in the transforming growth factor-beta superfamily [26]. Second and most importantly, because of inflammation, many chemotactic molecules up-regulate (e.g., interleukin 8, monocyte chemoattractant protein-1) [27], attracting not only NSC [28], but also HSC [29], element that becomes the linchpin of how stem cell therapy works in the brain as we will describe later on.
HSC lie on the stroma of the bone marrow and give rise to all the types of blood cells; their phenotype is CD34+ and CD133+ [30-33]. As mentioned before, these are recruited to areas of inflammation in the brain, where they aid in neurorestoration. These cells have limited cellular differentiation potential when compared to other types of stem cells, so their beneficial properties are instead through immunomodulation [34], as they secrete many bioactive molecules such as brain-derived neurotrophic factor, basic fibroblast growth factor, β-nerve growth factor, vascular endothelial growth factor, and angiopoietins 1 and 2, promoting neurogenesis, angiogenesis, axonal growth, and reducing apoptosis in areas of brain damage [35-38]. This means that without any intervention, the natural response of the body to neuronal damage is to create a microenvironment that stimulates neurorestoration through the proliferation and migration of HSC. Therefore, the hypothesis of how stem cells enhance neuronal recovery lies in the fact that exogenously administrating stem cells would multiply and extend the efforts activated physiologically by the body [39-44].
Studies have shown increased levels of proinflammatory cytokines (e.g., tumor necrosis factor alpha, interleukin-6, and interleukin-2) in schizophrenia [45,46]. This is critical because it confirms that psychiatric disorders constitute a state of active and chronic inflammation, which would justify the migration of peripheral blood stem cells to the brain to execute their paracrine effects of up-regulating and augmenting both neurogenesis and angiogenesis. Ergo, linking the clinical improvements with a SCT.Even though many trials advocate for intra-organ stem cell transplant (in this case the brain), it could be sufficient to allocate them intravenously, given that they are capable of crossing the blood-brain barrier (BBB) [47], and finding their way to reach damaged areas, even within the brain [48].
This is not the first psychiatric disease in which the neurogenesis theory has been tested on. For instance, it has been demonstrated that lower levels of 5-hydroxytryptamine decrease the rate of neurogenesis in the hippocampus [49], and that the chronic administration of serotonin selective reuptake inhibitors, currently the first-line therapy for depression, increase neurogenesis [50] and leads to the upregulation of Brain-Derived Neurotrophic Factor (BDNF) messenger ribonucleic acid [51]. Another example is bipolar disorder, in which it has been proven that neurogenesis is diminished while proper pharmacotherapy augments it [52-54].
Even though clinical improvements were seen in our patient at the same time quetiapine was being used at high doses, this would not justify the marked improvement (58-point drop in PANSS) in just eight months, after a stable course. Even though positive symptoms tend to respond well to medication [55-61], negative symptoms, such as flat affect and asociality are far less responsive to antipsychotics [62]. Therefore, knowing how refractory negative and cognitive symptoms are [62], their notable amelioration cannot be explained by quetiapine alone.
Moreover, this is not the natural history of schizophrenia; positive symptoms do tend to lessen with age. However, negative and cognitive symptoms continue to worsen as the patient gets older [63], contributing to a poor quality of life [64,65]. Some patients achieve do recover and function well, though this is the minority [66]. In fact, three of every four patients end up having some type of disability with multiple relapses [62], and up to 85% end up unemployed [67].
One of the limitations of this report is the fact that we first saw the patient after receiving the first SCT, and we do not know the severity of the disease before the transplant and how it might have been altered by it. Nonetheless, given the history and presentation, it is clear that his schizophrenia was a refractory one.
Conclusion
The organic approach shift that mental health is experiencing nowadays is supported by the volume of research and new discoveries of how the brain is modified during a psychiatric illness. This is not the first time that by serendipity patients submitted to SCT improved in concomitant diseases. For example, renal and cardiac function improvements after SCT have been reported as well [68,69]. Given the disabling character of schizophrenia, paired with the high prevalence of it, we must not ignore any hint of mending the disease. We must encourage further research to clarify this matter, aiming to provide hope of removing, or at least lighten the great burden of this condition.
References