Review Article
Austin Alzheimers J Parkinsons Dis. 2014;1(3): 10.
The Role of MicroRNA in the Pathogenesis and Diagnosis of Neurodegenerative Diseases
Michal Prendecki and Jolanta Dorszewska*
Department of Neurology, Poznan University of Medical Sciences, Poland
*Corresponding author: Jolanta Dorszewska, Laboratory of Neurobiology, Department of Neurology, Poznan University of Medical Sciences, 49 Przybyszewskiego St, PL 60-355 Poznan, Poland.
Received: October 16, 2014; Accepted: November 09, 2014; Published: November 10, 2014
Abstract
Today, Neurodegenerative Diseases (NDs) constitute one of the most significant issues in public healthcare. One of these NDs, Alzheimer's disease (AD), affects more than 24 million people worldwide. Scientists all over the world are searching for biomarkers that are vital for ND pathogenesis and diagnosis. It seems that one of these promising biomarkers might be microRNA (miRNA), whose biosynthesis is understood quite well.
Currently known human miRNAs (~2600) are involved in numerous physiological and pathological processes. Recent studies have sought specific miRNAs that are significant for the pathogenesis and diagnosis of NDs. Most miRNAs are common for many NDs, however, few seem to be specific to individual diseases: AD (e.g. let-7f, miR-125b, -193b), Parkinson's disease (e.g. miR-19b, -34b/c, -133b), and frontotemporal dementia (e.g. miR-132, -212).
It seems that finding specific miRNAs for individual NDs may contribute to early and certain diagnosis and to introducing effective therapy.
Keywords: miRNA; Neurodegeneration; Alzheimer's disease; AD; Parkinson's disease; PD
Abbreviations
3'-UTR: 3'-Untranslated Region of mRNA; AD: Alzheimer's disease; APP: Amyloid Precursor Protein; ASN: α-synuclein; Aβ: Beta-Amyloid; BACE1: Beta-Site APP Cleaving Enzyme 1; CNS: Central Nervous System; DNs: Dopaminergic Neurons; FTD: Frontotemporal Dementia; LRRK2: Leucine-Rich Repeat Kinase 2; MCI: Mild Cognitive Impairment; miRISC: miRNA-Induced Silencing Complex; miRNA: microRNA; MMSE: Mini-Mental State Examination; ncRNA: Noncoding RNA; NDs: Neurodegenerative Diseases; nt: Nucleotides; PD: Parkinson's disease; pre-miRNA: Premature microRNA; pri-miRNA: Primary microRNA; ROS: Reactive Oxygen Species; RT-qPCR: Real Time Quantitative PCR
Introduction
Neurodegenerative Diseases (NDs), including Alzheimer's disease (AD) and Parkinson's disease (PD), are a non-homogeneous group of various disorders affecting the Central Nervous System (CNS), mostly by excessive apoptosis of neurons in diverse locations of the human brain. Both the region and neuron types that are affected determine the nature of the cognitive, behavioral and motor deficits, which are fairly specific to each disease. Moreover, the significant heterogeneity of clinical symptoms of NDs makes a definitive diagnosis feasible only upon a postmortem histopathological examination of brain tissue.
NDs have become one of the most significant public health issues in recent years, since 24 million people are suffering from AD worldwide and the number of patients is expected to double in the next 15 years [1]. Yet current knowledge is still incomplete regarding the genetic basis underlying changes taking place on both a molecular and cellular level. As a consequence, there are no available therapies that would effectively modify the disease, and contemporary diagnostic tools are not able to detect early changes that take place for years prior to the actual symptoms, which manifest themselves when most of the brain damage has already been done [2].
Attempts to explain the pathogenesis of neurodegenerative diseases via genetic mutations were not entirely fruitful and researchers realized that there must be another level of neuronal homeostasis regulation [2]. Another piece of the puzzle was uncovered along with sequencing of the human genome, when it turned out that more than 95% of human cellular RNAs are noncoding RNAs (ncRNAs) [3]. These small molecules seem to be plentiful in the human brain and in other parts of the nervous system; later on it was shown that they control its proper function and development [4]. Although previously underappreciated, ncRNAs have proved to be pivotal in degenerative processes, hence neurodegeneration may be regarded as an "RNA disorder" where one class of ncRNAs, namely microRNAs (miRNAs), seems to play the leading role [2].
miRNAs are a conserved group of short (about 22 nucleotides (nt)), single-stranded RNA molecules [5] that play a significant role in "fine-tuning" gene expression by semi-complementary hybridizing to mRNA and suppressing its effective translation [6]. Since their discovery in 1993 by Lee et al. [7], miRNAs have become one of the mostly researched groups of small noncoding nucleic acids. There were over 35 thousand records on PubMed as of September 2014 (www.pubmed.org), and information on miRNAs is being gathered in specialized databases, e.g. at www.mirbase.org, whose most recent version (21st edition; June 2014) contains information on nearly 2600 sequences of mature human miRNAs.
To select relevant studies for this review, the authors conducted multiple searches through public databases, including PubMed, Scopus and Google Scholar, by using the following search strategy: ("Alzheimer's disease" or "AD", or "Parkinson's disease" or PD, or "Frontotemporal dementia" or "FTD") and ("microRNA" or "miRNA") and ("biomarker" or "SNP", or "genetic polymorphism" or "mutation"). The last search was performed in September of 2014. A subsequent search through review articles and references facilitated finding additional eligible studies.
Role of miRNA in physiological conditions
Biosynthesis of miRNA
The first step of miRNA biosynthesis is RNA polymerase IImediated transcription of primary miRNA (pri-miRNA) either from independent miRNA genes or the introns of protein-coding mRNAs [8]. Similarly to coding mRNAs, pri-miRNAs are polyadenylated and their expression is regulated by transcription factors [9].
pri-miRNAs tend to fold into secondary structures containing imperfectly base-paired stem loops which are subsequently cleaved into about 70-nucleotide hairpins of premature-miRNAs (premiRNAs) by the nuclear complex RNase III type endonuclease Drosha and the DGCR8 protein [8]. Alternative pathways have also been described, e.g. pre-miRNAs may bypass the Drosha/DGCR8 step and be synthesized from very short introns (mirtrons) as a result of debranching or splicing [8,10].
pre-miRNAs, after processing by the Drosha complex, are transferred through the nuclear membrane to the cytoplasm via a Ran-GTP-dependent mechanism by Exportin-5 [8]. Outside the nucleus, pre-miRNAs are cleaved close to the terminal loop by the second RNase III-type enzyme, a complex of Dicer and its cofactor TAR RNA-binding protein 2, thus giving RNA duplexes of roughly 22 nt [8]. The newly created short RNA duplexes bind to a glycinetryptophan repeat-containing protein of 182 kDa and an argonaute protein forming the miRNA-Induced Silencing Complex (miRISC) [11]. Next, one of the two strands, the so-called "passenger miRNA" (also known as "complementary star-form miRNA", "miRNA*" or "miRNA-3p"), is released, while the other strand, designated as the "guide strand", "mature miRNA", or "miRNA-5p", remains within miRISC [12,13]. Current studies have implied that both arms (3' and 5' for -3p and -5p, respectively [14]), of the pre-miRNA hairpin can give rise to mature miRNAs [15].
Full miRISCs recognize target mRNAs by hybridizing the seed region of miRNA (between the 2nd and 8th nt of the miRNA) to the complementary region in the 3' untranslated region of mRNAs (3'- UTR) [16-18]. Bounding miRISCs to mRNAs inflicts translational repression [11].
Current studies have highlighted that the down-regulation effects of miRNAs/miRISCs occur mostly through mRNA degradation rather than translational repression [19]. Moreover, recent data show that efficient repression requires the presence of typically > 100 copies of miRNA per cell [20]. Hence, poorly expressed miRNAs may play little or no part in adjusting gene expression [21]. Additionally, molecular sponges may bind free miRNA and prevent hybridization to mRNA targets [22,23].
Various functions of miRNA
miRNA research on the mammalian brain started in 2003, when Krichevsky et al. conducted microarray studies and showed significant changes in miRNA levels during brain development [24]. Next-generation sequencing as used by Landgraf et al. in 2007 constituted another leap which allowed identifying differences inmiRNA expression in various cell types and parts of the brain [25].
Today, miRNAs are believed to take part in both neuronal and brain development as well as in many physiological processes. The role of miRNA in developing neurons was proven by Yoo et al. in 2011. They discovered that miR-9* and miR-124 induce compositional changes of SWI/SNF-like BAF chromatin-remodeling complexes and control multiple genes regulating neuronal differentiation and function. They showed that expression of miR-9/9* and miR-124 in human fibroblasts induced (further augmented by Neurogenic differentiation factor 2) conversion into neurons. In their experiment the addition of ASCL1 and MYT1L transcription factors enhanced the speed of conversion and differentiation but was not alone-sufficient to trigger the conversion [26].
In physiological conditions, miRNAs act as expression controllers and are responsible for maintaining proper levels of various proteins in cells [27]. miRNA genes are not translated into proteins, instead they usually bind with the 6-nucleotide long semi-complementary seed sequence to the 3'-UTR and sporadically to the 5'-UTR or coding regions of target mRNAs [19], thus inducing gene silencing or, rarely, over-expression [23]. Bioinformatic analyses show that miRNAs may regulate the expression of over 60% of all human proteincoding genes [28,29]. MiRNAs are involved in countless biological processes, such as development, differentiation, and growth [6,15,30]. What has been shown lately is that a single miRNA molecule interacts with numerous mRNAs, and mRNA expression may be regulated by various miRNAs, thus starting a huge net of co-interactions [31-33]. miRNAs are mostly considered to "fine-tune" gene expression and to regulate development and tissue homeostasis [34].
It has been found that miRNAs are also involved in synaptic plasticity, as shown by Gao et al. They investigated SIRT1, sirtuin 1, a gene having systemic roles in cardiac function, DNA repair and genomic stability. Recent studies suggest that SIRT1 plays a role in normal brain physiology as well as in neurological disorders. Gao et al. also found that proper activity of SIRT1 increases, whereas its lossof- function impairs synaptic plasticity via a microRNA-mediated mechanism involving CREB and miR-134. They also showed that SIRT1 limits the expression of miR-134 via a repressor complex containing transcription factor YY1. Overexpression of miR-134 has been shown to lower the levels of CREB and the brain-derived neurotrophic factor, thus impairing synaptic plasticity, which is the key mechanism controlling memory [35].
Other examples of miRNA involved in the function and development of neurons and the CNS are: miR-9 - responsible for neuronal differentiation, formation of the cortex, neurogenesis and brain development; miR-124 - controlling serotonin synaptic facilitation, neuritis development, neuron differentiation; miR-125b - adjusting spine width, dendritic branching and weakening synaptic transmission; miR-132 - inducing neural outgrowth, regulating dendritic complexity, spine width, stimulating synaptic transmission; miR-137 - inhibiting spine development and maturation as well as inducing proliferation of neuronal progenitor cells; miR-138 - regulating the size of the spine; miR-375 - repressing the density of dendrites; and miR-379/410 cluster - inhibiting dendritic outgrowth [36]. Further miRNAs, such as let-7 and miR-9, have been described as stimulating differentiation, while miR-25 has been shown to induce the proliferation of neural stem cells [37].
Various miRNA-mediated mechanisms of neuronal damage in neurodegenerative diseases
miRNAs are probably associated with numerous pathological processes, such as response to oxidative stress, cell cycle disorders, neuroinflammation, clearance of pathological proteins and cholesterol trafficking. All of these contribute to the development of NDs (see Figure 1).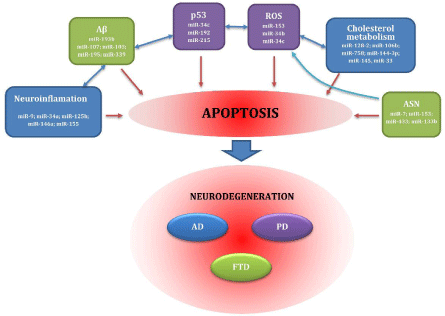 Figure 1: Factors important for pathogenesis of neurodegenerative diseases. Abbreviations: Aβ: β-amyloid; AD: Alzheimer's disease: ASN: α-synuclein; FTD: Frontotemporal Dementia; miR: MicroRNA; p53: Tumor Protein 53; PD: Parkinson's disease; ROS: Reactive Oxygen Species
    


    
    


    


    Figure 1: Factors important for pathogenesis of neurodegenerative diseases. Abbreviations: Aβ: β-amyloid; AD: Alzheimer's disease: ASN: α-synuclein; FTD: Frontotemporal Dementia; miR: MicroRNA; p53: Tumor Protein 53; PD: Parkinson's disease; ROS: Reactive Oxygen Species
    


    



Oxidative stress responses have been observed in postmortem ND brains and in many rodent mouse models of NDs [38]. Oxidative stress in NDs is the center of a complex interaction network affecting DNA repair, proper protein folding, aggregation and clearance of damaged proteins, membrane lipid peroxidation and calcium homeostasis [39]. Reactive Oxygen Species (ROS) are principally generated by mitochondrial respiration and inflammation, thus creating an association between oxidative stress, mitochondrial dysfunction and neuroinflammatory responses [38]. Recent papers indicate that the role of miRNA is particularly visible in response to physiological as well as pathological stresses [40-42].
A study by Narasimhan et al. showed a connection between ROSdependent miR-153 and NDs. They investigated an environmental toxin, paraquat, which may increase the risk of developing PD by damaging Dopaminergic Neurons (DNs). They performed Real Time Quantitative PCR (RT-qPCR) analysis which revealed that paraquat significantly increased the expression of brain-enriched miR-153 with an associated decrease in nuclear factor Nrf2. The transcription initiator ARE involved in redox balance is activated via binding to Nrf2, which suggests a critical role for ROS-mediated miR-153-Nrf2/ ARE pathway interaction in paraquat neurotoxicity on DNs [43].
The pivotal gene controlling apoptosis, TP53, has been found to be mutated in several cases of AD [44]. Moreover, it has recently been shown that the p53 protein, a transcript of the TP53 gene, regulates the expression of several miRNAs, e.g. the miR-34 family. Ectopic expression of miR-34s inhibits proliferation, migration, invasion and metastasis of various cancer cells. On the other hand, miR-34 plays an important role in aging, stem cell differentiation and neuronal development [45]. The work of Zovoilis et al. identified miR-34c as a negative limit of memory consolidation and showed that miR- 34c levels are elevated in the hippocampus of AD patients and corresponding mouse models. Moreover, blocking miR-34 activity restored learning ability in the studied animals [46]. Braun et al. used array hybridization to show that p53 induces other microRNAs, namely miR-192 and miR-215, thus leading to their up-regulation. Alternatively, miR-192 and miR-215 can each contribute to enhanced cyclin-dependent kinase A1 and cyclin-dependent kinase inhibitor p21 levels, thus promoting neuronal cell colony suppression, cell cycle arrest and increased cell movability. These effects seem to depend on the presence of wild-type p53. miR-192 and miR-215 seem to induce p53-dependent apoptosis and cell cycle arrest through p21 buildup [47].
Zhao et al. have shown that TREM2 is down-regulated in AD, and its 3'-UTR may also be targeted by miR-34a, which was shown to be regulated by NF-κB [48]. TREM2 is thought to outline native immune and phagocytic responses that contribute to inflammatory neurodegeneration [49].
Other NF-κB-sensitive miRNAs have been studied by Alexandrov et al. using a highly sensitive LED-Northern dot-blot assay. They showed that several miRNAs, namely miRNA-9, miRNA-125b, miRNA-146a, and miRNA-155, were present in the cerebrospinal fluid and extracellular fluid of AD patients. They suggested involvement of the studied miRNAs in the modulation of neuronal proliferation in the CNS as well as an association with progressive spreading of inflammatory neurodegeneration [50].
These data suggest that in AD, memory impairment may be mediated by the miR-34/TP53 pathway through excessive neuron apoptosis, but also through miRNA/NF-κB-mediated neuroinflammation.
Microglia, the immune cells of the CNS that protect it against pathogens, play an important role in neuroinflammation. Dysregulation of microglial activity may result in a prolonged proinflammatory state and in subsequent neurodegeneration [51]. In 2013, Jayadev et al. found that miR-146, a negative regulator of the monocyte pro-inflammatory response, is constitutively downregulated in mice microglia with dysfunctional presenilin 2 [52], whose mutations were shown to condition autosomal dominant AD [53,54].
Microglia may also be activated by ROS, initiating the above-mentioned transcription factor p53 which stimulates glial proinflammatory functions [55]. Recently, the Jayadev group identified a new miRNA/p53-dependent pathway that modulates functional differentiation of microglia both in cell culture and in vivo. They showed that miR-34a -145 and -155 are regulated by p53and negatively regulate the c-Maf transcription factor and its transcription activator Twist2. They suggested that p53 activated by ROS and oxidative DNA damage may induce microglial-mediated neuroinflammation [56].
The main component of AD associated with senile plaques is amyloid β (Aβ), a 40 (Aβ40) or 42 (Aβ42) amino acid peptide [57]. It is produced by proteolytic cleavage of the Amyloid Precursor Protein (APP) performed by two proteolytic enzymes: β- and γ-secretase.
According to Liu et al., the expression of APP is controlled by miRNA. They used bioinformatic analyses to predict that APP 3'-UTR is a potential target of miR-193b. The results indicated that overexpression of miR-193b could reduce the efficiency of mRNA translation, thus diminishing the expression of APP. By using luciferase assay they identified the miR-193b binding sites in APP 3'-UTR. Furthermore, they measured the concentration of Aβ42 in the cerebrospinal fluid and the expression of exosomal miR-193b, and confirmed a negative correlation between these biomarkers [58].
Another interesting study was performed by Augustin et al., who used in silico analysis of ADAM10, a gene coding an active unit of α-secretase [59], to search for miRNAs involved in its regulation. They found two promising candidates, namely, miR-107 and miR- 103. It seemed that both miRNAs reduced the expression of ADAM10 as shown by reporter assay [60]. These findings were confirmed by Leidinger et al., who used the RT-qPCR approach to show that miR- 107 and miR-103 were down-regulated in the peripheral blood of both AD and PD and schizophrenia patients [61].
Beta-site APP cleaving enzyme 1 (BACE1) is an active unit of β-secretase involved in Aβ formation. Increased BACE1 expression is a significant risk factor for sporadic AD [62]. The study of Wang et al. showed that according to bioinformatic predictions, BACE1 3'-UTR possesses several binding sites of miR-107. Cell culture reporter assays confirmed this suspicion. The study was validated by a correlation of miRNA profiling, in situ hybridization, and Affymetrix microarrays, and showed that BACE1 mRNA levels tended to rise as miR-107 levels decreased with the advancement of AD [63]. This negative correlation was convergent with the results of Nelson et al. [64].
Zhu et al. found that BACE1 3'-UTR is also targeted by miR-195. They validated the study by luciferase assay on HEK293 cells. Their study also demonstrated that miR-195 is capable of decreasing Aβ levels, therefore this may be an opportunity for future AD treatment [65]. Another miRNA associated with BACE1, namely miR-339, was found by Long et al. They identified two distinct miR-339-5p target sites in BACE1 3'-UTR by in silico analyses. Through a series of experiments they demonstrated a negative correlation between miR- 339 and BACE1 mRNA. This association was abolished by mutation in target sites. The synthetic mimic of miR-339 significantly inhibited expression of the BACE1 protein in human primary brain cultures and human glioblastoma cells. They also found that miR-339 levels were significantly lowered in AD patients' brains as compared to controls [66].
Another interesting discovery was made by Shioya et al. They used RT-qPCR to find significant down-regulation of miR-29a in AD brains. Subsequently, they performed a database search and identified the potential gene target, namely NAV3. Further evaluation confirmed elevated levels of NAV3 mRNA in AD brains. NAV3 down-regulation via miR-29a was verified by luciferase reporter assay. By immunohistochemistry they also showed that NAV3 protein expression was visibly higher in the degenerating neurons of AD patients' brains [67]
The other mechanism involved in neuronal loss is dysregulation of cholesterol metabolism in the brain. This sequence of biochemical reactions has been associated with many neurodegenerative disorders, especially AD. Specifically, rare variants of genes involved in cholesterol efflux (ABCA1 and APOE) were suggested to play a role in sporadic AD [68,69].
Adlakha et al. showed that miR-128-2 is a pro-apoptotic regulator of ABCA1 and ABCG1. This complex interaction network is mediated by SREBP and RXR. miR-128-2 increased the expression of SREBP2 and decreased the expression of SREBP1 in various cell lines. Moreover, miR-128-2 lowered the protein and mRNA levels of ABCA1, ABCG1 and RXRa by direct hybridizing to 3'-UTRs of corresponding genes [70]. Other miRNAs, such as miR-144-3p, miR- 145-5p, miR-106b-5p, miR-33-5p, and miR-758-5p, have also been shown to regulate the expression of ABCA1 [71-77].
Frontotemporal Dementia (FTD) is rather seldom and a poorly understood cause of cognitive impairment. On the other hand, standard dementia treatment may worsen the condition, hence the need to develop new therapeutic approaches. A subtype of FTD with TDP-43 inclusions (FTLD-TDP) is associated with mutations in the GRN causing a decrease in progranulin levels. Additionally, variants in TMEM106B were linked to FTLD-TDP. A study by Chen-Plotkin et al. showed that TMEM106B expression levels were increased in the FTLD-TDP brain and were controlled by miR-132 and miR-212 [78]. These findings show new directions for the development of miRbased therapies in FTLD-TDP.
The loss of brain DNs responsible for the development of PD occurs in the presence of, for example, intracellular inclusions, namely Lewy bodies [79], whose main component is α-synuclein (ASN). In a healthy brain, active ASNs form tetramers which constitute the functional tertiary structure [80]. Even a slight misbalance in ASN metabolism may lead to its aggregation and to toxic effects to DNs. This process may be promoted by mutations in parkin and α-synuclein genes [81,82] as well as in leucine-rich repeat kinase 2 (LRRK2) [83]. Moreover, it has recently been shown that the metabolism of ASN may be "fine-tuned" by various miRNAs [84]. By a series of mouse cell culture experiments, Junn et al. demonstrated an inverse correlation of ASN expression and miR-7 levels [85]. These data were convergent with the results of Doxakis, who also found that miR-153 is another ASN repressor. He used luciferase-transfected HEK293 cells to validate the study [86].
Cho et al., in their work from 2013, showed that expression of another gene involved in PD pangenesis, namely LRRK2, may be regulated via the miRNA network [83]. It was demonstrated that over-expression of LRRK2 may accelerate ASN-mediated neurodegeneration, while LRRK2 silencing may lead to ASN-induced neuropathology [87]. Several studies have associated LRRK2 with familial PD [88,89], yet there are others which tie this kinase with sporadic PD. Cho et al. showed that miR-205 was significantly underexpressed in the frontal cortex of sporadic PD patients. They also demonstrated that miR-205 binds to LRRK2-3'UTR, thus leading to its down-regulation [83].
Other evidence of miRNA involvement in ASN regulation was presented by Wang et al., who found that miR-433 may be linked to the accumulation of ASN by increasing expression of FGF20 both in vitro and in vivo. They showed, by luciferase assay, that downregulation of miR-433 and polymorphism in FGF20-3'UTR may raise the FGF20 protein level, followed by increased expression of ASN [90].
Kim et al. discovered that miR-133b is expressed mainly in midbrain DNs and is deficient in PD patients. miR-133b regulates the maturation and function of midbrain DNs within a negative feedback loop that includes the paired-like homeodomain transcription factor Pitx3 [91].
A study by Miñones-Moyano et al. identified two more miRNAs to be down-regulated in the postmortem brains of PD patients, namely miR-34b and miR-34c. Their work also demonstrated the negative correlation between these two miRNAs and parkin as well as DJ1 proteins. This may induce oxidative stress and dysfunction of mitochondrial metabolism in affected brain areas [92].
A recent study by Alvarez-Erviti et al. identified six miRNAs that were over-expressed in the brains of postmortem PD patients, namely, miR-21-3p, -26b, -106a*, -224, -301b, and -373-3p. The authors performed a bioinformatic prediction which showed putative targets in hsc70 and LAMP-2A, previously linked to PD. Luciferase assay confirmed that miR-26b, -106a*, -301b, and miR-21-3p, 224, 373-3p may down-regulate hsc70 and LAMP-2A, respectively [93].
Cardo et al. characterized the expression of miRNA in the substantia nigra of 8 postmortem PD and 4 healthy subjects using TaqMan low-density arrays for 733 human miRNAs. They found 10 down-regulated and one over-expressed miRNA (check Table 1). Subsequently, they performed a bioinformatic analysis predicting that miR-135b could bind to genes implicated in several neurodegenerative pathways [94].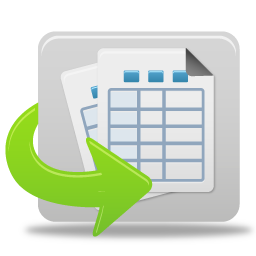 Table 1: The changes in expression of chosen miRNAs in AD and PD.





  
    

miRNA


    

Source


    

Change


    

Size of group


    

References


  
  
    

Alzheimer's disease 


  
  
    

miR-9, -125b, -146a, -155


    

CSF, BD-ECF


    

Over-expression


    

3P, 3C


    

Lukiw, [121]


  
  
    

miR-34a, -181b


    

PBMC


    

Over-expression


    

16P, 16C


    

Schipper et al., [110]


  
  
    

miR-26a, -27b, -30e-5p, -34a, -92, -125, -145,    -200c,

      -381, -422a, -423


    

Hippocampus,


      

cerebellum, medial


      

frontalgyrus


    

Over-expression


    

15P, 12C


    

Cogswell et al., 2008 [109]


  
  
    

miR-9, -132, -146b, -212


    

Down-regulation


  
  
    

let-7f, miR-105, -125a, -135a, -138, -141,    -151,


      

-186, -191, -197, -204, -205, -216, -302b,    -30a-5p,


      

-30a-3p, -30b, -30c, -30d, -32, -345, -362,    -371,


      

-374, -375, -380-3p, -429, -448, -449, -494,    -501,


      

-517, -517b, -518b, -518f, -520a*, -526a


    

CSF


    

Over-expression


    

10P, 10C


  
  
    

miR-10a, -10b, -125, -126*, -127, 142-5p,    -143,


      

-146b, -154, -15b, -181a, -181c, -194, -195,


      

-199a*, -214, -221, -328, -422b, -451, -455,    -497,


      

-99a


    

Down-regulation


  
  
    

miR-29a


    

Frontal cortex


    

Down-regulation


    

7P, 4C


    

Shioya et al., [67]


  
  
    

miR-9, -125b, -146a, -155


    

CSF, BD-ECF


    

Over-expression


    

6P, 6C


    

Alexandrov et al., [50]


  
  
    

miR-26b


    

SN


    

Over-expression


    

10P, 8C


    

Absalon et al., [122]


  
  
    

let-7d-3p, miR-112, -151a-3p, -161, -5010-3p


    

Peripheral blood


    

Over-expression


    

106P, 22C


    

Leidinger et al., [61]


  
  
    

let-7f, miR-26a, -26b, -103a, -107, -532,    -1285


    

Down-regulation


  
  
    

miR-9


    

Serum


    

Over-expression


    

105P, 150C


    

Tan et al., [111]


  
  
    

miR-125b, -181c


    

Down-regulation


  
  
    

Parkinson's disease 


  
  
    

miR-133b


    

SNC


    

Down-regulation


    

3P, 5C


    

Kim et al., [91]


  
  
    

miR-34b, -34c


    

SNC


    

Down-regulation


    

11P, 6C


    

Minones-Moyano et al., [92]


  
  
    

miR-1, -22*, -29a


    

Peripheral blood


    

Down-regulation


    

8P, 8C


    

Margis et al., [123]


  
  
    

miR-181c, -331-5p, -193a-p, -196b, -454,    -125a-3p,

      -137


    

Plasma


    

Over-expression


    

31P, 25C


    

Cardo et al., [124]


  
  
    

miR-21-3p, -224, -373-3p, -26b, -106a, -301b 


    

SN


    

Over-expression


    

?


    

Alvarez-Erviti et al. [93]


  
  
    

miR-205


    

Frontal cortex


    

Down-regulation


    

16P,


      

7C


    

Cho et al., [83]


  
  
    

miR-19b, -29a -29c


    

Serum


    

Down-regulation


    

65P


      

65C


    

Botta-Orfila et al., [120]


  
  
    

Abbreviations:    BD-ECF: Brain Derived Extracellular Fluid; CSF: Cerebrospinal Fluid; PBMC: Peripheral    Blood Mononuclear Cells; SN: Substantia Nigra; SNC: Substantia Nigra Compacta;    P: Patients; C: Controls


      

 


  












Table 1: The changes in expression of chosen miRNAs in AD and PD.







Single nucleotide polymorphisms and miRNA dysregulation in neurodegenerative diseases
The dysregulation of miRNA-mediated pathways may be associated with numerous variants in miRNA-coding genes as well as miRNA targets. Cui et al. studied two polymorphisms in miR146a, namely, rs2910464 and rs57095329, in 292 AD cases and 300 healthy controls. They found that the AA genotype of rs57095329 led to significantly higher neuroinflammation associated with miR-146a expression than the GG and GA genotypes of rs2910164 in peripheral blood mononuclear cells [95]. Delay et al. investigated the relationship between several miRNAs (miR-24, -186, and -455) and nicastrin - a subunit γ-secretase involved in Aβ generation. Using luciferasebased assays, they demonstrated that rs113810300 and rs141849450 SNPs in nicastrin 3'-UTR affected its miRNA-mediated repression. Notably, rs141849450 completely eliminated the miR-455-mediated repression of nicastrin [96].
Genomic changes in miRNA target sites were also observed in FTD. According to Rademakers et al., rs5848SNP associated with FTD-TDP is located in the miR-659 target site of the GRN and affects the miRNA-mediated repression of progranulin [97].
Similarly, variants in 3'-UTRs have been noticed in PD. In 2008 Wang et al. described a rs12720208 polymorphism in 3'UTR of FGF20 which affected the target site of miR-433. This led to higher levels of the FGF20 protein, thus promoting aggregation of ASN [90]. Cardo et al. described the SNP in 3'-UTR in the LRKK2 rs66737902 C allele which was more frequent in PD patients. They also found a significantly lower level of the LRRK2 transcript in the substantia nigra of PD postmortem patients who possessed the rs66737902 C genotype. In silico analyses predicted that the polymorphism affects the miR-138-2-3p target site [98].
In the future, knowledge on the genetic variants of miRNA genes and target sites could lead to the development of individualized therapy targeting and fixing misbalanced pathways responsible for developing ND in a given patient [99].
miRNAs as biomarkers important for the diagnosis of neurodegenerative diseases
As very movable, independent, small genetic entities that are plentiful in brain cell cytoplasm, cerebrospinal fluid and in peripheral circulation, miRNAs may serve as diagnostic biomarkers for AD and other human CNS diseases [50,61,100-105].
As was stated before, AD is becoming a valid public health issue since the number of 24 million AD patients worldwide is expected to double in the next 15 years [1]. Even though various approaches to developing minimally invasive tests for early detection of AD have been tested [106-108], there are no reliable molecular tests for diagnosing AD at the pre-symptomatic stage yet.
Cogswell et al. conducted a vast analysis of AD-associated miRNAs extracted from various parts of the brain and cerebrospinal fluid and described potential AD-specific miRNA biomarkers, which are shown in Table 1 [109].
Schipper et al. used the microRNA microarray (MMChip) for 462 human miRNAs in order to assess miRNA levels in the peripheral blood mononuclear cells of 16 AD patients and 16 controls, and validated the results by RT-qPCR. They demonstrated that miR-34a and 181b were significantly over-expressed (see Table 1). Subsequently, they performed bioinformatic target sequence prediction that yielded genes involved in synaptic activity [110].
Tan et al. conducted a serum study on 105 probable AD patients and 150 age- and gender-matched normal controls. The concentrations of 6 miRNAs were measured using RT-qPCR. They found that both miR-125b and miR-181c were down-regulated, while miR-9 was up-regulated in the serum of AD patients as compared with that of normal controls. The calculated specificity and sensitivity of miR-125b were up to 68.3% and 80.8%, respectively. Moreover, miR-125b correlated with the Mini-Mental State Examination (MMSE) of AD patients [111].
Leidinger et al. investigated the blood samples of 44 AD patients, finding 140 unique mature miRNAs whose expression levels were significantly changed. Subsequently, they verified the results by RTqPCR on 202 patients and developed an assay of 12 blood-based biomarkers able to discriminate AD cases from controls with an accuracy of 93%, a specificity of 95% and a sensitivity of 92% (see Table 1). They also demonstrated the possibility of being able to distinguish between AD and other neurological conditions with accuracies between 74% and 78%. They also showed that miR-107 decreases most significantly in AD, but also in PD and schizophrenia and depression. On the other hand, it was over-expressed in Mild Cognitive Impairment (MCI) [61]. A study by Wang et al. showed that miR-107 levels decrease significantly in the brains of AD patients at a very early stage of the disease [63]. These findings suggest that testing for miR-107 might provide useful information about a patient's condition in the pre-symptomatic stage of dementia.
Many studies have shown that AD dementia is preceded by 10-20 years of disease progress, primarily without any significant clinical signs (pre-symptomatic AD) before it shows the first symptoms of MCI [112,113]. Also, early stages of many neurodegenerative diseases, such as FTD and PD, might be misdiagnosed as MCI [114]. Current methods of psychological evaluation, e.g. MMSE, are not able to predict whether the patient is suffering from stable MCI or will develop fully symptomatic dementia [114,115]. This creates the need to develop a minimally invasive screening test which would help to monitor disease progression and response to currently experimental treatment [112]. It is also worth realizing that some unsuccessful clinical trials may deliver an effective disease modifier for a fraction of patients with early dementia [116]. Despite the obvious advancements of neuroimaging techniques, the high costs associated with them make them impractical as a tool for screening for early changes in the AD brain [117]. Moreover, a desperate need to develop better methods for early AD detection has also been highlighted in recent FDA reports [118].
Sheinerman et al. recently proposed a method for early detection of MCI based on an analysis of cell-free circulating miRNAs in the plasma by using RT-qPCR [119]. They identified two sets of circulating brain-abundant miRNAs, i.e. the miR-132 family (miR- 128, miR-132, miR-874) normalized per miR-491-5p, and the miR-134 family (miR-134, miR-323-3p, miR-382) normalized per miR-370, both of which are able to discriminate MCI from an agematched control with high accuracy. The miR-132 family biomarkers demonstrated 84%-94% sensitivity and 96%-98% specificity, and the miR-134 family biomarkers showed 74%-88% sensitivity and 80-92% specificity. Combining two miRNAs from the same family increases these values even more [119].
In 2014, Botta-Orfila et al. proposed a panel of 3 serum-derived miRNAs as potential biomarkers of PD. They conducted three sets of experiments, each using more patients, in order to validate their findings. Finally, they showed that miR-19b, -29a, and -29c were significantly under-expressed as compared to controls in the serum of idiopathic PD cases. These miRNAs were not found to be significantly changed in other NDs, thus they seem to be promising candidates for diagnostic purposes [120].
Conclusion
The role of miRNA in the pathogenesis of NDs is not fully understood. As of today (i.e. October 2014), the most reliable miRNA database (www.mirbase.org) contains ca. 2600 sequences of mature human miRNAs, and the function of most of them still remains unknown. The significant number of described miRNAs has been associated with AD, PD and other neurodegenerative diseases. However, currently there are no known miRNAs that are specifically responsible for the development of individual neurological diseases and that could be useful for diagnosis of NDs. Also, currently intensive effort is being made to develop miRNA-based assays which could combine data on the expression of several cerebrospinal fluid- or peripheral blood-enriched miRNAs. This could provide a means for introducing sensitive and specific diagnostic tests for early detection of neurodegeneration.
Scientists' efforts are also directed at discovering the genetic origin of miRNA-mediated disorders.
References