Review Article
Ann Carcinog. 2016; 1(1): 1003.
Role of SPARC in Cancer; Friend or Foe
Said N*
Department of Cancer Biology, Wake Forest University School of Medicine, USA
*Corresponding author: Neveen Said, Department of Cancer Biology, Wake Forest University School of Medicine, Medical Center Blvd, Winston Salem, NC, 27157, USA
Received: June 21, 2016; Accepted: July 27, 2016; Published: August 05, 2016
Abstract
Secreted Protein Acidic and Rich in Cysteine (SPARC) is a matricellular glycoproteins that is implicated in myriad physiological and pathological conditions characterized by extensive remodeling and plasticity. The role of SPARC in cancer is being increasingly appreciated as it plays multi-faceted contextual roles depending on the cancer type, cell of origin and the surrounding milieu. Herein, we will review the current knowledge of the role of SPARC in the multistep cascades of carcinogenesis, cancer progression and metastasis. We will shine the light on SPARC expression in human tumors, the preclinical models and its prognostic and therapeutic potential.
Keywords: SPARC; Cancer; Carcinogenesis; Metastasis; Tumor microenvironment; Preclinical; Clinical
Introduction
Secreted Protein Acidic and Rich in Cysteine (SPARC) is a matricellular glycoproteins that is implicated in myriad physiological and pathological conditions characterized by extensive remodeling and plasticity. The human SPARC gene was initially discovered as a bone matrix and an endothelial basement membrane protein (hence the names osteonectin/BM40). SPARC protein is encoded by a single gene in human chromosome 5q31.1 and mouse chromosome 11 [1-3]. The biological functions of SPARC were depicted from the phenotypes of SPARC-deficient mice SP-/- and were related to defects of fibroblast and myeloid differentiation and plasticity [4,5]. More biological functions evolved with specific challenges of SP-/- mice as accelerated wound healing, increased angiogenesis, defective cardiac healing after myocardial infarction, lung fibrosis/inflammation and glomerulosclerosis after injury [6-17]. The accelerated growth of implanted subcutaneous tumors in SP-/- mice further highlighted the anti-tumorigenic functions of SPARC (summarized in [18]). In human cancers, SPARC plays contextual roles depending on the cancer type, whether it is produced by cancer cells or surrounding stromal cells [6,18-20]. Here in, we will review the current knowledge of the role and association of SPARC in different cancers (Figure 1).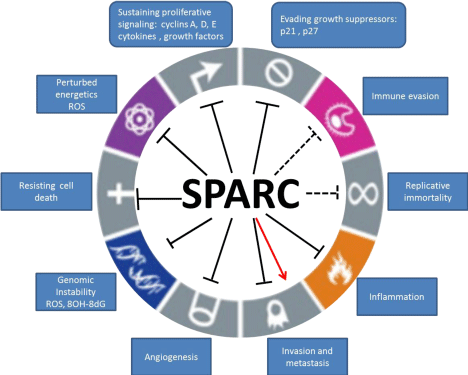 Figure 1: Schematic illustration of the reported roles of SPARC in lieu of the hallmarks of cancer. Dashed lines represent the potential inferred effects and the red arrow represents reported contextual pro-invasive effect.
    


    
    


    


    Figure 1:  Schematic illustration of the reported roles of SPARC in lieu of the hallmarks of cancer. Dashed lines represent the potential inferred effects and the red
arrow represents reported contextual pro-invasive effect.
    


    



Genitourinary cancers
Urothelial cancer: The expression of SPARC protein and transcript were significantly downregulated in tumorigenic bladder cancer cell line T24T compared to its non-tumorigenic isogenic line T24 that decreased SPARC expression is associated with more invasive and metastatic phenotype [18]. High SPARC expression in bladder cancer tissues was associated with increased disease-free survival [18]. Genetic manipulation of SPARC expression in bladder cancer cell lines inversely correlated with their proliferation rate, restrained cell cycle progression and inhibited in vivo growth and metastasis [18]. Consistently, host-SPARC inhibited in vivo growth as well as spontaneous and experimental metastasis of murine MB49 cells injected in SP+/+ mice as compared to the SP-/-counterparts. The tumor suppressor effect of host SPARC was attributed to decreased angiogenesis and inflammation; whereas the metastasis suppressor effect was mainly attributed to counter-adhesive effect of SPARC inhibiting tumor cell adhesion to pulmonary endothelial cells and early metastatic colonization.
The differential roles of SPARC in the early phases of urothelial transformation that are not clinically encountered, were studied in a chemical carcinogenesis model providing a tobacco metabolite fed to SP-/- and SP+/+ mice [18]. This model recapitulated human bladder cancer that develops after prolonged exposure to chemical carcinogens [18]. The ensuing urothelial pathology after BBN-exposure was associated with progressive generation of Reactive Oxygen Species (ROS) and markers of DNA, protein and lipid oxidative damage; a scenario that was progressively accelerated in SP-/- bladder lesions. Consistently, cell cycle de-regulation, urothelial atypia and dysplasia progressed and in tandem with increased production of ROS, by both cancerous and stromal cells, driving oxidative damage and inflammation [18]. The expression of markers of oxidative damage was augmented in SP-/- bladders along with increased activation of the downstream signaling cascades that converge in the activation of AP-1 and NF?B, the major orchestrators of inflammation, carcinogenesis, invasiveness and metastasis [18,21-23].
The kinetics of SPARC protein expression during differentiation of primary stromal fibroblasts and macrophages revealed that it increased during early differentiation, then decreased to basal levels in macrophages but remained steady in differentiated fibroblasts. Heterotypic co-cultures of normal and cancerous urothelial cells with normal and tumor associated stromal cells indicated that SPARC inhibited the acquisition inflammatory secretory phenotype of Tumor Associated Macrophages (TAMs) and Cancer Associated Fibroblasts (CAFs) through inhibition of the activation of NF?B and AP-1 with subsequent decrease in their secreted cytokines and cancer cell invasiveness. These findings suggested that SPARC markedly inhibited the inflammatory feed-forward loop that is reciprocated and maintained among cancer cells, TAMs, and CAFs through secreted inflammasomes that sustain cancer cell proliferation, invasiveness, and metastasis, and play a critical role in stromal cell recruitment and differentiation. The kinetics of SPARC expression in cancerous and stromal cells implicated SPARC in the intricate tightly-regulated programs of cellular recruitment, proliferation, and plasticity. Therefore, the differential compartmentalization of SPARC may represent a state of aberrant homeostasis that might be directly involved in urothelial cell transformation through the persistent release of inflammatory mediators and ROS, ancillary to tumor growth and metastasis.
Prostate cancer: Immunostaining of human and murine tumors demonstrated that both normal prostate epithelial cells and primary prostate carcinomas express low to moderate levels of SPARC, however, its expression is increased in metastatic foci [20,24-26]. Two studies were reported on the role of SPARC on autochthonous oncogene-driven prostate cancer in SP-/- mice crossed with oncogenedriven prostate cancer mouse model "Transgenic Adenocarcinoma of the Mouse Prostate (TRAMP)" [20,27]. Crossing TRAMP mice with SPARC-null mice and generation of T+/SP+/+ and T+/SP-/- allowed studying the effect of SPARC on early phases of transformation and carcinogenesis [20]. When T+/SP-/- mice with a C57Bl/6 genetic background were compared to their T+/SP+/+ controls, loss of SPARC was associated with accelerated cancer development, progression, and soft tissue metastasis [20]. On the other hand, when T+/SP-/-mice in a mixed C57Bl/6/129 genetic background were compared to T+/ SP+/- (haploid insufficient) mice, no significant difference in tumor incidence, take and metastasis albeit a greater proportion of T+/SP- /- mice developed a more severe grade of prostate cancer [27]. In this model, SPARC exerted multiple effects on cancer cells and the surrounding stroma [20]. On cancer cells, SPARC inhibited cell proliferation and induced cell cycle arrest at G1-S phase. The antiproliferative effect of SPARC on human and murine prostate cancer cells in vitro mirrored in vivo effects [20]. In syngeneic murine TRAMP cell lines subcutaneously implanted in SP+/+ and SP-/- mice [20], host SPARC restrained tumor growth and were associated with enhanced maturity of peri-tumoralfibrillar collagen, decreased angiogenesis and proteolytic activity. The suppressive effect of SPARC on prostate cancer was attributed, in part, to its negative effect on the constituents of the tumor microenvironment. Moreover, the enhanced proteolytic activity in the T+/SP-/- prostate tumors suggested a role in angiogenesis by increasing the bioavailability of angiogenic growth factors and proangiogenic inflammatory cytokines such as VEGF (and bFGF), IL-6, and MCP-1/CCL2, as well as making the ECM more permissive for neovascular growth and inflammatory cell influx [20]. Exogenous and/or overexpression of SPARC inhibited prostate cancer cell invasiveness. Paradoxically, when used as a chemo-attractant, SPARC enhanced the invasive properties of many prostate carcinoma cell lines, and induced matrix metalloproteinase activity in vitro [20,28,29]. While somewhat conflicting, these studies support the idea that tumor and/or stromal SPARC may limit primary prostate tumor development and progression; with the final outcome influenced by both the genetic background and the overall SPARC gene dosage. Because the TRAMP model rarely metastasizes to bones, it was not useful for testing the impact of SPARC on prostate cancer skeletal metastases. In vitro models has been developed using SPARC protein, bones and/or bone extracts from SP-/- and SP+/+ mice with human cell lines in vitro to mechanistically decipher the role of SPARC in the propensity of prostate cancer to metastasize to bones. The increased migration of prostate cancer cells was attributed to bone- SPARC activating tumor avβ3 and avβ5-VEGF axis [30]. In addition, metastatic prostate cancer cells expressed a secreted isoform of ErbB3 (p45-sErbB3), and induced SPARC expression and secretion by bone marrow osteoblastic lineage with subsequent increase in cancer cell invasiveness [29]. These data suggest that SPARC production is reciprocated by prostate cancer cells and specialized niche cells in new sites, which influence their ability to metastasize.
A growing body of evidence suggests that SPARC exerts differential roles on prostate cancer cells in the bone microenvironment [20,24,25,29,30]. The effect of bone matrix-SPARC was further investigated using SP-/- and SP+/+ murine osteoblasts in vitro to represent the complex, crosslinked, and mineralized bone matrix [31] and was found to attenuate the growth of bone metastatic prostate cancer PC-3 cells, and increased their sensitivity to ionizing radiation [31]. The dynamic changes in the morphology and growth of PC-3 cells on SP+/+ and SP-/- bone matrices suggests a complex series of changes in collagen topography [31]. In support of this is the enhanced osteolysis and enhanced growth of murine prostate cancer cells injected intra-osseously [32] suggesting that the proteolysis of SPARC could result in a more favorable microenvironment for metastatic cells. Consistently, cleavage of SPARC by metalloproteinases and cathepsin K [33,34] has been shown to release proteolytic fragments exerting distinct biological properties from those of the intact protein [35]. Metastatic prostate cancer cells have been shown to compete with hematopoietic stem cells within the skeletal niche, suggesting that an effect of bone matrix-SPARC on remodeling of the niche, influencing differentiation, fate commitment, and survival of niche cells [31,32,36-39]. Recently, gene expression profiling of indolent vs. aggressive prostate cancer cells revealed that significant upregulation of SPARC in indolent cells [40]. SPARC secreted by indolent cells stimulated BMP7 and DKK1 in bone microenvironment cells (bone stromal cells and bone mesenchymal stem cells, respectively) that in turn kept cancer cells in dormant state. In aggressive cells, SPARC expression was suppressed by DNA Methyl Transferase 3b (DNMT3b) as evidenced by reversal of the aggressive phenotype and restoration of SPARC expression by 5'-Azacytidine treatment. These studies suggested that the SPARC is epigenetically controlled in the bone microenvironment to play a key role in maintaining dormancy of prostate cancer cells [40].
Gynecologic cancers
Ovarian cancer: Although SPARC was found abundantly expressed by stroma cells in advanced phases of human ovarian cancer, a lot of evidence pointed to SPARC as a protein that, in different ways, normalizes the tumor microenvironment and to counter tumor growth [6]. Particularly, SPARC normalizes ovarian cancer cell microenvironment by reducing inflammation [7,41] as evidenced by molecular analysis of the ascitic fluid from SP-/-and SP+/+ mice orthotopically implanted with the ID8 ovarian cancer cell line. SP-/- ascites contained less IL-6, MCP-1/CCL2, VEGF and MMPs than SP+/+, suggesting that SPARC behaves as a homeostatic factor to solve inflammation. In vitro and in vivo studies identified SPARC as a novel ovarian cancer suppressor that functions primarily by virtue of its de-adhesive [19], anti-proliferative and pro-apoptotic effects [6,7,19,42]. These effects were attributed to the effects of SPARC inhibiting integrin-mediated and growth factor-mediated survival signaling pathways [6,7,42]. The anti-proliferative effect of SPARC in human and murine ovarian cancer cell lines is mediated through deregulation of cell cycle regulatory proteins and their inhibitors, causing cell cycle arrest at G1-S phase (Said, unpublished data). Mechanistic studies implicated SPARC-mediated inhibition of adhesion and invasion through an axis involving β1 and β3 integrins- MMPs-VEGF-VEGFR2 [6,19,42]. SPARC inhibited ovarian cancer cell matrix and trans-mesothelial invasiveness through inhibition of LPA-induced and cytokine-mediated inflammation and survival signaling [6,7,41,42]. Earlier reports demonstrated that SPARC expression in ovarian cancer cells is inversely correlated with the degree of malignancy [43-46]. In agreement with these findings, the decreased expression of SPARC in ovarian tumors is attributed to the aberrant hyper-methylation of the SPARC promoter [47]. The effect of tumor-SPARC in normalizing the ovarian cancer microenvironment was studied using in vitro systems to dissect the molecular mechanisms of the interactions between human ovarian cancer cells, mesothelial cells, and macrophages [7,41]. In the immunocompetent SP-/- mice, the enhanced peritoneal ovarian carcinomatosis was concomitant with massive recruitment of macrophages and was positively correlated with the augmented levels and biological activity of ascitic fluid and its constituents, namely, VEGF, MMPs, MCP-1/ CCL2, IL-6, prostanoids, and bioactive lipids [6,7,41,42]. Restoration of SPARC expression in ovarian cancer cells disrupted their interplay macrophages and mesothelial cells, resulting in significantly decrease in inflammatory mediators [6,7,41,42]. Forced expression of SPARC decreased growth of platinum-resistant ovarian cancer cell lines in vitro and increased their sensitivity to chemotherapy in vitro and in vivo [48].
Cervical cancer: A genome-wide screening study for identification of hypermethylated genes in invasive cervical cancer revealed that SPARC exhibited highest frequency of aberrant methylation [49]. Consistently, in 2 independent studies, the methylation frequency of SPARC CpG islands increased with severity of the underlying cervical lesion [50,51] and highly correlated with the incidence of invasive cervical cancer [52]. In contrast, another study [53] showed SPARC overexpression and high serum levels significantly associated with the progression of cervical cancer and adverse prognosis of cervical cancer patients.
Breast cancer: The role of SPARC in breast cancer initiation, progression and metastasis is another example of its contextual expression and function that was further confounded by the multiple subtypes of breast cancer. The role of SPARC in oncogene-driven breast cancer was investigated by Wong and colleague [27] using Murine Mammary Tumor Virus-Polyoma Middle T (MMTV-PyMT) crossed with SP-/- and heterozygous mice and revealed that loss of SPARC had no significant effects on tumor initiation, progression, angiogenesis, or metastasis. Similar to the observation by the same group in oncogene-driven prostate cancer model [27], the apparent insignificant difference may be attributed to SPARC gene dosage. In contrast, increased expression of SPARC is found in malignant breast tumors and is considered as a marker of poor prognosis and recurrence [54-59]. Studies utilizing model systems using human breast cancer cell lines in vitro or injected in nude mice appear to be conflicting due to variations in the experimental models used. For example, forced expression of SPARC by adenoviral vector [60] or inducible Tet-On system [61] did not affect MDA-231 cell proliferation, apoptosis, migration, cell aggregation, or protease cleavage of collagen IV but inhibited in vitro matrix invasion and in vivo metastasis that was attributed to reduced tumor cell-platelet aggregation and suggesting that the acquired resistance to the SPARC inhibitory effects in SPARC-expressing MDA-231, has been acquired as a selective pressure, as it occurs for TGF-β [61]. Models utilizing murine 4T1 breast cancer cell line in SP-/- mice backcrossed onto a BALB/c genetic background, reported smaller mammary tumors in SP-/- mice, accompanied by an enhanced infiltration of inflammatory leukocytes further highlighting the role of host-derived SPARC influencing the growth of these tumors. The differential effects are likely due to the immediate tumor environment, and not to the tumor cells themselves [62-64]. Forced SPARC expression in 4T1 cells using a retroviral vector reduced tumor growth and reduced metastasis, a phenotype that was related to the SPARC anti-proliferative effect rather than to migration induced by SPARC from the stroma as demonstrated by bone marrow transplantation performed to dissect the role of tumor- and stroma-derived SPARC [9].
In patients with breast carcinoma metastasizing to bone [65], SPARC and Endothelin 1/ETAR axis were highly expressed from dysplasia until bone metastasis, however, SPARC plasma level was as low as that of normal women, in contrast to patients that never develop bone metastasis, suggesting that circulating SPARC was counter adhesive. The authors concluded that early identification of SPARC/Endothelin-1/ETAR in dysplastic lesions would provide prognostic and therapeutic advantage. In a model utilizing parental breast cancer cell line MDA-MB231, the derived 1833-bone metastatic clone [66], transcriptional, post-transcriptional and post-translational (stabilization, glycosylation) mechanisms were responsible for regulating SPARC and Endothelin expression in bone metastasis and in surrounding bone-marrow cells. In vitro and in vivo xenografts using 1833 cells exposed to dAza, long-term blockade of DNA methyltransferases slowed-down metastasis outgrowth through downregulation of SPARC and upregulation of Endothelin-1. The transcription factor Twist and miR29a seemed to be involved in the methylation-controlled signaling pathway for SPARC expression and Endothelin 1 transactivation.
Gastrointestinal cancers
Esophageal cancer: Alteration in SPARC expression has been observed in esophageal squamous cell carcinoma and adenocarcinoma [67-70]. In patients with Barrett's esophagus, progressive increase in SPARC expression from normal and premalignant to malignant lesions in esophageal cancer was demonstrated [67,69,70] suggesting the utility of SPARC screening for diagnosis of occult malignancies. Several investigators have shown that SPARC levels may have prognostic significance in esophageal cancer [67,68] using genomewide gene expression profiling of resected esophageal cancers indicated that patients with low SPARC had a significant improvement in outcome. Another study revealed that SPARC was not detected in normal esophageal mucosa, but was expressed in stromal fibroblasts in 84.6% and in cancer cells in 7.8% of esophageal squamous cell carcinoma cases [71]. While the expression of SPARC alone was not significantly correlated with patients' survival, patients with elevated levels of laminin-5?2 chain and SPARC had a poorer prognosis [71].
Gastric cancer: Human gastric cancer cell lines expressed variable levels of SPARC. Down-regulation of SPARC in high expressing cell lines inhibited their invasion and growth [72]. In tumor tissues, expression of SPARC protein was mainly in peri-tumoral stroma and was negatively correlated with the expression of VEGF, vascular density and tumor cell proliferation [73,74]. Conversely, SPARC transcript and protein levels were up-regulated in tissues of diffusetype gastric cancer and intestinal-type gastric cancer patients and were correlated with invasiveness and poor prognosis [75,76]. SPARC transcript was up-regulated in primary gastric carcinoma tissue and the corresponding lymph node metastasis compared with the nonneoplastic mucosa. However, immunostaining of SPARC protein in these tumors revealed increased SPARC expression in stromal fibroblasts rather than in tumor cells. Recently, the associations between SNPs in the SPARC 3'-Untranslated Region (UTR) and time to gastric cancer recurrence revealed that patients carrying at least one G allele of the SPARC rs1059829 polymorphism (GG, AG) showed a longer median Time to Tumor Recurrence (TTR) compared to patients with AA; whereas, patients harboring the G-A-A haplotype had the highest risk of tumor recurrence [77].
Intestinal adenomas: The involvement of SPARC in oncogenedriven intestinal adenomas was studied by crossing SP-/- with ApcMin/+ mice generating cohorts of ApcMin/+SP+/+ and ApcMin/+SP-/- mice equally segregating mixed genetic background [78] and comparing the ensuing adenomas of the second progeny crosses. This study reported that SPARC exhibited a 2-3 fold upregulation in adenomas at both the transcript and protein levels compared to the normal epithelium. SPARC deficiency resulted in decreased number of the developing intestinal adenomas with no difference in their size, distribution, malignant transformation or extra-intestinal malignancies. The phenotype observed was attributed to the effect of SPARC on enterocyte migration along the crypt–villus axis.
Colorectal Cancer (CRC): SPARC has been consistently considered to be a tumor suppressor in CRC according to the evidence from experimental cell models, SP-/- mice and clinical cohort studies [79]. In addition, exogenous SPARC, in combination with chemotherapy, was highly efficacious in achieving tumor regression in animal xenografts [79]. Genome-wide analysis revealed SPARC promoter hypermethylation in advanced resistant CRC cells and tumors, and identified specific methylated CpG islands in SPARC promoter. SPARC expression was restored by demethylating agent 5-Aza-2'deoxycytidine, leading to improved sensitivity to chemotherapy [80-82]. In a chemical carcinogenesis model of colorectal cancer using SP-/-and SP+/+ mice [83], Aoi, et al. reported a protective function of exercise-induced SPARC released from muscle tissue into the circulation significantly reducing the number of aberrant foci and crypts in the colons of SP+/+ mice, but not in SP-/- mice. The injection of low- or high-dose recombinant SPARC prevented the formation of chemically induced aberrant crypts in the colons of SP+/+ mice; however, whether exogenous SPARC rescues the reported phenotype in SP+/+ mice is unclear. Mechanistic studies indicated that both transcriptional and translational mechanisms potentiate the production and secretion of SPARC protein. This study suggested that SPARC can directly induce the apoptosis of colon cancer cells and inhibit their proliferation, and may indirectly prevent tumorigenesis by regulating the microenvironment in the colonic tissue; however such possibilities were not investigated [83,84].
Pancreatic cancer: Another example of the contextual expression and function of SPARC is represented by pancreatic cancer where aberrant methylation of SPARC promoter was reported in tumor tissues from small scale study comprising 40 patients with pancreatic cancer and the adjacent normal tissues, 6 chronic and 6 acute pancreatic tissues. Altered methylation patterns of SPARC gene was suggested as an early diagnostic biomarker of pancreatic cancer [23]. Gene expression profiling and confirmatory RT-PCR demonstrated that SPARC mRNA was expressed in non-neoplastic pancreatic ductal epithelial cells, but was not expressed in a majority of pancreatic cancer cell lines. SPARC protein was overexpressed in the juxtratumoral stromal fibroblasts, not the cancerous compartment. Primary fibroblasts from pancreatic cancer strongly expressed SPARC mRNA and protein, and treatment of pancreatic cancer cells with exogenous SPARC resulted in growth suppression [23]. SPARC expression in fibroblasts from noncancerous pancreatic tissue was augmented by coculture with pancreatic cancer cells [23,85-87]. However, high SPARC in peri-tumoral stromal fibroblasts correlated with poor prognosis and poor patients' survival. SPARC expressed by human Pancreatic Stellate Cells (hPSCs) exerted a paracrine effect increasing invasion of pancreatic cancer cells [88]. In contrast, another study [89] reported that knockdown of SPARC expression in pancreatic cancer cells inhibited in vitro and in vivo growth and metastases. Experimental mouse models indicate host SPARC as inhibitor of tumor growth and metastasis. Murine pancreatic adenocarcinoma cells injected subcutaneously grew significantly faster and attained larger sizes in SP-/- mice [90]. Lack of host SPARC resulted in decreased collagen deposition and fibrillogenesis, alterations in the distribution of tumor-infiltrating macrophages, and decreased tumor cell apoptosis. Although there was no difference in micro-vessel density of tumors from SP-/- or SP+/+ mice, tumors grown in SP-/- had a lower percentage of mature blood vessels. Consistently, orthotopic pancreatic tumors produced more metastasis in SP-/- mice [91] that were mediated in part through MMP-9 impacting ECM deposition and angiogenesis. Another explanation is that in absence of stromal- SPARC, aberrant TGFβ signaling accelerates tumor growth and metastasis in SP-/- mice with increased vascular permeability, inflammation and fibrosis [92- 94].
In human tumors, two independent studies implicated stromal SPARC as strong marker of poor prognosis and patients' survival [88,95]. A recent prospective randomized phase III study including 160 patients treated with curatively intended resection and receiving adjuvant treatment with gemcitabine, reported inverse correlation between disease-free and overall survival and strong SPARC expression in cancer cells and surrounding stroma [96]. However, no significant correlation was found between stromal SPARC expression and depth of tumor invasion, lymph node metastasis, stage, histopathological tumor grade, lymphatic invasion, vascular invasion or surgical margin [96]. SPARC expression was also shown to be a predictive marker independent of CA19-9 levels [97]. In contrast, stromal-SPARC has been reported as a biomarker of therapeutic efficacy of albumin-encapsulated nanoparticles nab-paclitaxel evidenced by high stromal SPARC concomitant with high intratumoral paclitaxel [97,98]. The combination of gemcitabine plus nab-paclitaxel was evaluated in 36 patients with previously untreated advanced pancreatic cancer. Patients with high stromal-SPARC expression exhibited increased overall survival compared to the low- SPARC group [97,99]. Improved survival was correlated with SPARC overexpression in the stroma but not in the tumor. Nab-paclitaxel alone and in combination with gemcitabine caused depletion of desmoplastic stroma with resultant vasodilation, which together helped to achieve an increased intra-tumoral gemcitabine penetration and better response. Hence, the effect SPARC was attributed to normalization of the desmoplastic stroma, in addition to its effect enhancing drug delivery [97,99] In a more recent study [100], Nabpaclitaxel treatment of mice-bearing Patients'-Derived Xenografts (PDX) neither decreased tumor stroma nor increased tumor vascular perfusion. These data suggested that the specific tumor delivery of nab-paclitaxel is not directly related to SPARC expression, and nabpaclitaxel does not deplete tumor stroma in general.
Another prognostic/therapeutic implication of stromal-SPARC in pancreatic cancer is that SPARC-positive tumor-associated stromal cells were proposed as potential targets to improve the oncolytic efficacy of Conditionally Replicative Adenoviruses (CRAd) [101]. SPARC-positive transformed human micro-endothelial (HMEC-1) cells enhanced the oncolytic activity of CRAd, Ad (I)-F512-TK, on the SPARC-negative pancreatic cancer cell line MIA PaCa-2 in vivo. Similarly, the in vitro oncolytic activity of CRAd increased when MIA PaCa-2 cells were incubated in HMEC-1 and fibroblast conditioned media [101].
Hepatocellular Carcinoma (HCC): Primary HCC tissues showed a lower SPARC expression compared with their corresponding non-tumorous livers (65.00%, 39/60) [73,102] and was significantly correlated with methylation level of SPARC promoter. In the SMMC- 7721 cell line, the loss of SPARC expression was correlated with the aberrant methylation that was reactivated by the demethylating agent 5-aza-2'-deoxycytidine. Methylation frequency of SPARC in HCC was significantly higher than that in the corresponding nontumorous tissues (45/60 vs. 7/60, P< 0.001), and it was correlated with the pathological classification (P = 0.019). Patients with methylated SPARC had poorer overall survival. Therefore, SPARC methylation status may be a promising biomarker for the diagnosis and prognosis of HCC [102].
Neurologic malignancies
Meningiomas: SPARC was not expressed in benign, noninvasive tumors, but was highly expressed in invasive tumors, regardless of the grade, suggesting that SPARC is a potential diagnostic and predictive marker of invasive meningiomas [103]. The relationship of basement membrane intactness and SPARC protein expression at the meningioma-brain border was examined in non-invasive and brain-invasive meningiomas [104]. SPARC was expressed at the tumor-brain interface of invasive meningiomas, in spindle-shaped tumor cells; with no significant difference across tumor grades. SPARC-positive spindle cells inversely correlated with basement membrane proteins as Epithelial Membrane Antigen (EMA), collagen IV and Glial Fibrillary Acidic Protein (GFAP). However, the destruction of the basement membrane and appearance of SPARC-positive spindle cells were not coincident during the course of brain invasion. Consistently, SPARC expression was more frequent in atypical and in anaplastic than in benign meningiomas and was significantly associated with tumor recurrence [105]. High SPARC expression was predominantly identified in meningothelial, fibrous and chordoidmeningiomas; whereas low SPARC expression was spotted in secretory and psammomatousmeningiomas. High SPARC expression was significantly associated with poor patient survival [105]. In agreement of the pro-invasive effect of SPARC on meningiomas, SPARC was found to be negatively regulated by meningioma tumor suppressor CD13/Aminopeptidase N (APN) whose expression and enzymatic function are reduced in aggressive meningiomas [106].
Glioma: SPARC expression is increased in infiltrating gliomas at the brain-tumor interface, suggesting that SPARC may be involved in tumor infiltration and aggressive behavior [107-109]. Gene expression profiling data analysis of patient samples with advanced glioma, Glioblastoma Multiforme (GBM) [110] identified the prognostic and predictive utility of SPARC along with Doublecortex (DCX), and Semaphorin 3B. The concordance of higher values of these three genes together associated with poorer survival; however none of them serves as a useful predictive marker alone. The expression levels of individual genes were not highly correlated with one another [110]. In contrast, co-expression of DCX and SPARC in glioma cell lines by adenovirus transduction counteracted the invasion-promoting effects of SPARC, and collaboratively increased sensitivity of glioma cells to radiation therapy through cell cycle arrest and increase irradiation-induced apoptosis [111]. Higher SPARC expression in glioma cell lines delayed their growth in vitro and inversely correlated with tumor volume and invasiveness in vivo [112-115] through modulation of cell proliferation, matrix adhesion and upregulation of MMPs and urokinase-type Plasminogen Activator (uPA) [113,114]. Ectopic expression as well as exogenous SPARC increased survival and invasiveness of glioma cells through activation of PI3K-Akt, Focal Adhesion Kinase (FAK) and Integrin-Linked Kinase (ILK) [116,117]. In addition, upregulation of uPA may also be involved in SPARC-mediated Akt activation [118,119]. The tumor suppressor PTEN inhibited SPARC-induced migration through suppression and differential regulation of pAkt and p38 MAPK-MAPKAPK2-HSP27 signaling pathway [118].
Astrocytomas: A study by Capper and colleagues [120] reported inverse correlation between SPARC expression and tumor progression and grade. Increased SPARC expression was associated with decreased proliferation. While there is no association between the level of SPARC in the tumor cells and patient survival, increased tumor vascular SPARC expression is associated with decreased patient survival [120].
Medulloblastoma: SPARC exerts a tumor suppressor effect on medulloblastoma and induces neuronal differentiation through multiple pathways [121-125]. SPARC was identified as an effector of Src-induced cytoskeleton disruption in medulloblastoma cells leading to decreased migration and invasion [123]. Overexpression of SPARC inhibited in vivo angiogenesis through inhibition of MMP- 9-VEGF axis [122]. In addition, the anti-proliferative and cell cycle inhibitory effects of SPARC on medulloblastoma were dependent on IL6-STAT3-Notch axis which induced neuronal differentiation rendering tumors more susceptible to chemo- and radio-therapy [121,124]. SPARC treatment exerted a synergistic effect with irradiation increasing medulloblastoma cell death in vitro and in vivo. SPARC expression prior to irradiation suppressed Checkpoints (CHK)-1,-2, p53 phosphorylation and DNA repair gene XRCC1 as well as irradiation induced SOX4-mediated DNA repair [125].
Neuroblastoma: SPARC has been reported as a tumor suppressor in neuroblastoma through inhibition of cell proliferation, invasiveness, and angiogenesis in vitro and in vivo [126-129]. The anti-proliferative effect of SPARC was attributed to suppression of Akt activity accompanied by an increase in the tumor suppressor protein PTEN in vitro and in vivo [130]. The anti-angiogenic effect of SPARC was mediated by its Follistatin-like (FS) domain [126]. In addition, consistent with the effect on SPARC on medulloblastoma, overexpression of SPARC in neuroblastoma cells sensitized cells to radiation therapy in vitro and in vivo [130].
Skin cancer and melanoma
Squamous cell carcinoma: The effect of SPARC on spontaneous development of skin cancer was investigated in SP-/- mice crossed with SKH-1 hairless mice to generate hairless SP-/- mice and exposed them UV-irradiation [131]. Exposure to UVB, wild-type mice developed severe extensive squamous cell carcinomas whereas SP-/- mice were strikingly tumor-resistant, developing less than one small non-cancerous papilloma per mouse. SPARC was undetectable immunohistochemically in skin from the non-irradiated control group yet was present in relatively high quantities in the basal and superficial areas of the tumor mass. The SP-/- mice exhibited a limited contact hypersensitivity response and were refractory to UV induced immune suppression without morphometric and connective tissue changes that normally occur following UV exposure [131].
Melanoma: SPARC expression has been reported to increase with tumor progression, and its expression was shown to be a marker for poor prognosis [132]. SPARC knockdown in melanoma cells led to the complete loss of their in vivo tumorigenicity in nude mice [101,133] through a mechanism involving the activation of polymorphonuclear cell–anti-tumor activity. Importantly, SPARC expression in melanoma cells has been associated with the acquisition of mesenchymal characteristics with reduced E-cadherin expression. Suppression of SPARC expression in human melanoma cells compromised cell migration, adhesion, cytoskeleton structure, and cell size. These changes involved the Akt/mTOR pathway. Re-expression of SPARC or protein addition restored all the cell features. Suppression of SPARC expression was associated with increased Rac1-GTP levels and its membrane localization. Overall, these data suggest that most of the SPARC-mediated effects occurred mainly through the blockade of Rac1 activity [134]. However, the in vivo tumorigenicity and invasiveness of melanoma cells were dependent on tumor- SPARC and metalloproteinase activity not stromal SPARC [132,135-141]. Comparative proteomic analysis of melanoma secretomes identified SPARC as a novel tumor-derived vascular permeability factor functioning through the endothelial VCAM1 receptor and p38MAPK signaling [142]. SPARC deficiency abrogated tumor-initiated permeability of lung capillaries and prevented extravasation, whereas SPARC overexpression enhanced vascular leakiness, extravasation and lung metastasis. Blocking VCAM1 impeded melanoma-induced endothelial permeability and extravasation. Consistently, high levels of SPARC were detected in tumors from human pulmonary melanoma lesions [142].
Lung cancer: SPARC expression in human Non-Small Cell Lung Cancer (NSCLC) tissues was significantly lost in the cancerous compartment, whereas substantial expression SPARC in stromal fibroblasts [143]. Stromal SPARC correlated with tumor necrosis, nodal metastasis, and poor prognosis [143]. Interestingly, SPARC promoter has been found to be methylated in lung cancer cell lines and tissues by a mechanism involving activation of DNMT1 by Cox2 [144]. Recently, a study by Grant and colleagues [145] reported the upregulation of SPARC by ectopic overexpression of Snail in NSCLC cell lines. Snail overexpression led to increased SPARC-dependent invasion in vitro. Both the TGF-β1 and TGF-β receptor 2 (TGF-βR2) were upregulated following Snail overexpression concomitant with MiR-29b downregulation, suggesting a Snail-dependent activation of TGF-β resulting in downregulation of miR-29b and subsequent upregulation of SPARC.
Conclusion
The role of SPARC in different cancers is still controversial due to: 1) the lack of preclinical models that faithfully recapitulate pre-neoplastic and neoplastic evolution of a given cancer and the dynamic interactions of tumor and stromal compartments, and 2) Technical variations in cell-based preclinical models. Reports of SPARC expression in human cancers rely on retrospective analysis of patients samples and are often confounded by the lack of normal controls or chemo-and/or radiation therapy prior to surgical resection of tumors. In addition, SPARC expression exhibits distinctive compartmentalization with differential effects on tumor cells and stromal cell differentiation and plasticity. Therefore, careful interpretation of the gene expression profiling is warranted. The mechanisms of regulation of SPARC expression and functions in the different cell types in a given tumor microenvironment are still elusive. A point that requires further investigation in a given cancer is whether stromal SPARC is a reaction to restrain or foster tumor growth. The translational significance of the inhibitory effect of tumor cell and host SPARC on carcinogenesis, progression, and metastasis makes SPARC a viable candidate in the adjuvant and/or neoadjuvant settings as a single agent or in combination with standard of care radiation or chemotherapies. Restoration of SPARC expression can be achieved by demethylating agents, administration of synthetic full length protein or tumor suppressor domains, or other yet to unravel agents. In addition, in cancers with high stromal SPARC, SPARC can be exploited as prognostic and/or biomarker for targeted stromal therapy and delivery of chemo- or immune-therapeutics.
Acknowledgement
This work is supported by National Institute of Health 1R01CA193437 to N.S.
References