Review Article
Austin J Nutri Food Sci. 2014;2(7): 1037.
The Use of Natural and Derived Sources of Flavonoids and Antioxidants in Saudi Arabia
Khan N*
Department of Biochemistry, King Saud University, KSA
*Corresponding author: :Khan N, Department of Biochemistry, College of Science, King Saud University, PO Box: 2455, Riyadh, 11451, Kingdom of Saudi Arabia
Received: June 19, 2014; Accepted: July 31, 2014; Published: Aug 04, 2014
Abstract
Several epidemiological evidences suggest that dietary factors, including increased intake of flavonoid-rich foods and beverages, may play a meaningful role in reducing cardiovascular disease (CVD) risk by improving vascular function and modulating inflammation. In recent decades, Saudi Arabia has rapidly developed economically and socially. This pace of change has affected the dietary intake pattern of the general population, pushing them towards increased consumption of energy dense and processed foods. Accumulated evidences on the different sources of flavonoids and antioxidants generally consumed by the Saudi population and their health effects are summarized in the present review.
Keywords: Flavonoids; Antioxidant; Chocolate; Tea, Saudi Arabia
Abbreviations
CHD: Coronary Heart Disease; TC: Total Cholesterol; TG: Triglycerides; LDL: Low Density Lipoprotein Cholesterol; VLDL: Very Low Density Lipoprotein; DPHH: 2,2,-Diphenyl-1-Picrylhydrazyl; FC: Folin-ciocalteu; eNOS: Nitric Oxide Synthase; ORAC: Oxygen Radical Absorbance Capacity; GAE: Gallic Acid Equivalents; MIC: Minimum Inhibitory Concentration; FRAP: Ferric Reducing Ability of Plasma
Introduction
The dietary pattern in Saudi Arabia is changing rapidly from its traditional form to a more Western-influenced diet as a result of fast economic growth. These unhealthy dietary changes may pose as a public health threat in the general Saudi population in increasing onset of various chronic, non-communicable diseases. It is essential therefore for the Saudi people to eat a balanced diet which will provide the dietary requirements of all nutrients.
The potential health benefits of dietary flavonoids are gaining interest due to its several beneficial effects. For instance, epidemiological studies revealed that fruits, vegetables tea, and cocoa are rich natural sources of flavonoids and their consumption could probably reduce the risk of cardiovascular diseases [1-6]. Apart from these, there are several sources of flavonoids and antioxidants that could prove beneficial for human health.
In this review, the recent studies done in Saudi Arabia regarding the different sources of flavonoids and antioxidants and their health effects are identified. In addition, this review will report on plant extracts and other natural sources common in the Saudi region that contains flavonoids and/or exhibit antioxidant activity.
Flavonoid Basics
Plants contain a large and heterogeneous group of biologically active compounds, including a subgroup of phytochemicals known as phenolic compounds. Flavonoids are a family of phenolic compounds with strong antioxidant activity present in fruits, vegetables, and other plant foods. More than 5000 structurally unique flavonoids have been identified in plants, and several hundred occur commonly in consumed foods. Flavonoids may be divided into six different major classes (flavonols, flavanones, flavones, isoflavones, flavonols and anthocyanidins) based on differences in molecular backbone structure (Figure 1) [7].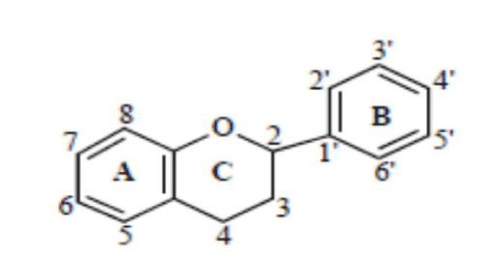 Figure 1: General structure of flavonoids.






Figure 1:  General structure of flavonoids.







There are numerous beneficial effects of flavonoid intake against several diseases. Many studies suggest a protective role of dietary flavonoids against coronary heart disease and demonstrated that flavonoid intake is inversely correlated with mortality due to coronary heart disease [8,9].
Mechanism of Flavonoid Action
Animal and in vitro studies support the concept that food and beverages rich in flavonoids and other phenolic compounds are associated with decreased risk of age-related disease [10-16]. The mechanisms through which flavonoids exhibit their beneficial effects include the ability to scavenge a wide range of reactive oxygen, nitrogen and chlorine species such as superoxide, hydroxyl radical, peroxyl radicals, hypochlorous acid and peroxynitrous acid. They also chelate ions, often decreasing the metal ion pro-oxidant activity [17-20]. The positive effects of flavonoids could be attributed to its antioxidant property. Studies suggest that increased oxidative damage may contribute to the development of all major age-related diseases [21,22]. Flavonoids exhibit better activity than natural (ascorbic acid and α-tocopherol) and synthetic (trolox, butylated hydroxyanisole and butylated hydroxytoluene) antioxidants, used in the food industry [23, 24]. Modern in vitro spectro photometric methodologies revealed that many plant extracts and isolated compounds possess antioxidant activity [25-30].
Sources of Flavonoids
Drinks and beverages
Tea is one of the most popular beverages worldwide. Tea polyphenols are well-known for their antioxidant properties. Tea consumption as a source of flavonoids and antioxidant are beneficial in preventing several diseases. Black tea accounts for about 75 percent of the world's tea consumption [31] as it is widely used in the United States, United Kingdom (UK), and Europe; while green tea is popular in Japan and China and Oolong and white tea are consumed in much lesser amounts around the world and may have cancer preventive effects in vivo [32,33]. Polyphenols in green tea are thought to be responsible for the preventive effects against chronic diseases including heart disease. Moreover, green tea has been shown to possess greater antioxidant potential than oolong and black teas [34- 37]. The protective role of tea (green or black) in the risk of coronary heart disease (CHD) is still contradictory with positive [38-41] as well as null association [42-44].
As a major source of flavonoids, black tea is a common beverage in Saudi Arabia. According to a press release (Jeddah, KSA, 16 June 2012), a recent study reported that tea consumption in the Kingdom of Saudi Arabia is the second highest in the Arab world after Egypt, with over 19 million cups consumed daily [45]. An important study regarding tea consumption has been conducted from the largest regions in Saudi Aarabia (Riyadh, Makkah). A total of 1764 Saudi women (30-70yr) were included in this study and majority of the subjects (87.2%) reported daily tea (black tea) consumption. It has been demonstrated that women with an intake of tea (6cups per day or 480ml) had a significantly lower prevalence of serum high total cholesterol (TC), high triglycerides (TG), high low density lipoprotein (LDL) cholesterol and high very low density lipoprotein (VLDL) than the non-tea drinkers. It also revealed that increased black tea consumption was associated with decreased serum concentrations of TC (P=0.026) and TG (P=0.008) and with a decreased proportion of LDL and VLDL (P=0.015 and 0.011 respectively). This study also includes the effect of fruits and vegetables that were rich in flavonoids but those results were not included due to their neutral effect [46]. Another study involving 3,430 subjects showed that those who did drink > six cups of tea (>480 mL) per day had a significantly lower prevalence of CHD than the non-tea drinkers (P < 0.001). The result showed a positive dose-response effect between tea consumption and CHD (P < 0.001) even after adjustment for various risk factors (P =0.022). So, the black tea consumption showed protective effect in Saudi population as far as CHD is concerned [47]. A study in Riyadh, Saudi Arabia, determined 58 samples of foods and beverages containing caffeine analyzed by using high-performance liquid chromatography. The study was conducted on 160 healthy women (age 23 ± 4yr.) through a 7 day recall method including both the type and amount of all beverages consumed mainly coffee and soft drink. The source of caffeine was found to be highest (93.5%) in coffee followed by soft drinks (90.63%) and tea (45.63%). This study demonstrated that there was a significant relation between increase in amount of caffeine consumption per day and decrease in body weight while other anthropometric measurements were not significant [48]. In adolescents Saudi boys and girls (aged 11-14 years), Al-Othman and colleagues demonstrated favorable effects of consuming 9-12 cups of coffee/week on HDL-cholesterol and vitamin D levels, independent of age, gender, BMI, physical activity and sun exposure [49].
In the light of above results, it could be speculated that tea or coffee taken in sufficient amounts could improve the health status of the general Saudi population. Moreover, the consumption of tea/ coffee in all age groups irrespective of gender could prove beneficial in terms of cardiovascular diseases and bone health.
As described previously, polyphenols have gained much more attention, owing to their antioxidant capacity (free radical scavenging and metal chelating) and beneficial implications in human health. Polyphenols are abundant in human diet. One class of polyphenols, the flavanols, showed protective effect on cardiovascular system [50]. Cocoa is rich in polyphenols particularly in catechins (flavan-3-ols) and procyanidins. Polyphenol contents of cocoa products such as dark chocolate, milk chocolate and cocoa powder have been reported in many studies [41]. Flavanols are able to increase antioxidant plasma, decrease oxidation products and activate endothelial Nitric Oxide Synthase (eNOS) which will increase synthesis and bio availability of NO that in turn will restore endothelial function [51].
Dark chocolate is a major source of flavanols which have the highest antioxidant level than other food sources based on Oxygen Radical Absorbance Capacity (ORAC) measurement [52].Several studies have shown that dark chocolate intake reduces blood pressure significantly [53,54]. An intervention study including 89 healthy female volunteers from Riyadh University and secondary school for girls (21.45 ± 1.98 years) showed lower blood pressure (systolic and diastolic p=0.05) in dark chocolate consuming group (100gm/day for 15 days) than the white chocolate (90gm/day for 15 days) group. However there was no difference in serum lipid levels in both groups. The effect was mainly attributed to its flavanol rich polyphenol content [55].
As discussed above, the use of cocoa or chocolate in a controlled manner could prove valuable if included in the daily diet. Despite having positive health effects, there are only few reports of chocolate and cocoa consumption in the Saudi population. This compels the need to initiate more studies about daily intake of chocolate, cocoa and their effects in the Saudi community.
Fruits and vegetables
Bio active components as a part of functional foods, play a vital role that provides health benefits and in combating chronic diseases. Regular consumption of fruits and vegetables are related to lower risks of cardiovascular diseases, Alzheimer diseases and aging. Several studies demonstrated that the potential health benefits of fruits and vegetables could be partially attributed to their polyphenol contents, in particular, flavonoids [8,41]. Fruits and vegetables are considered an important source of dietary flavonoids in addition to a number of potentially bioactive components such as fiber, folate, antioxidant vitamins, and potassium [56,57].
Date palm tree, Phoenix dactylifera L, common in many states of the Arabian Gulf and Middle East, is considered as an important plantation crop [58]. The palm date fruit (Phoenix dactylifera L.) has been reported to be a good source of polyphenols, particularly flavonoids being as active components. It was also revealed that in spite of having low total phenol content, a palm date has a potent capacity to suppress free radicals [59,60]. A recent review summarized the medicinal values of different date fruits and their role in various disease controls through anti-oxidant, anti-inflammatory, anti-tumour and ant-diabetic effects [61]. A study performed by Juhaimi et al. demonstrated the antioxidant activity of date fruits from 80.07 IC50 (Soukari) to 81.21 IC50 (Soulag), while the highest phenolic content was found in Khulas with a mean value of 198 mg GAE/100 g [62]. Ebtesam Abdullah Saleh and colleagues studied three different varieties of date (Khalas, Sukkari and Ajwa) from Saudi Arabia to demonstrate their antioxidant capacity using different antioxidant assays. Phenolic composition shows that Sukkari contained the highest rutin concentration (8.10 mg/kg), whereas, catechin was approximately the same in Sukkari and Ajwa (7.50 and 7.30 mg/ kg respectively). Khalas was the highest variety content of caffeic acid (7.40 mg/kg). A positive linear correlation was found among total phenol in water and alcohol extract with inhibition of lipid oxidation activity (r = 0.96, r = 0.85 respectively). Most importantly, the responsible component for this activity was found to be catechin and rutin that increased this inhibition in water extract as compared to alcoholic extract [63]. Supporting the above findings, Juhaimi et al. demonstrated that the total phenol content of seeds obtained from different varieties of date fruits (Barhi, Khulas, Monaif, Rozaiz, Soukari, Soulage and Soughi)were between 1.98mg gallic acid equivalents (GAE)/100g (Barhi cv) and 4.65mg GAE/100g (Soughi cv). Moreover, the antioxidant activity of seeds varied between 78.03 (mg/ml) (Monaif cv) and 79.94 (mg/ml) (Barhi cv) [64]. The results shed light on the property of date fruit that could be considered as a rich source of hydrophilic antioxidant, and this reducing property is generally associated with the presence of polyphenols specifically flavanols. In another study, 16 different food items (8 fruits, 6 vegetables and 2 types of grains) described in the Holy Quran and are mainly used in Saudi Arabian diet were investigated. The antioxidant activity was determined by 2,2,-diphenyl-1-picrylhydrazyl radical cation assay (DPHH) assay and total phenol content was determined by Folin-Ciocalteu (FC) reagent. The rank of the amount phenolics found in fresh fruits and plant samples were as follows: red grapes > black olives > green olives > pomegranate > ginger > garlic > date fruits > red onion > white grapes > figs > gourd > snake cucumber > banana > lentils > wheat > cucumber. Among the fruits and vegetables, a positive relationship was found between antioxidant activity and phenolic content for only a few plants (dates, figs, ginger, red grapes, white grapes, black olives, green olives and pomegranate as for wet extracts and banana, snake cucumber, figs, ginger, red grapes, white grapes, black olives, green olives and pomegranate for dry extracts (R2=0.605 and R2=0.662, respectively). Dry samples of banana and white grapes showed higher antioxidant activity (IC50 = 0.54 mg/ml and 0.73 mg/ml respectively) in spite of having low phenolic content, while dried sample of garlic and gourd possess moderate level of phenol with slow rate of radical scavenging activity(IC50=6.4mg/ ml 6.7mg/ml respectively) [65]. Juhaimi and colleagues showed properties of citrus fruits cultivated in the Riyadh region of Saudi Arabia. Three main citrus fruits were evaluated for the total phenolics, and antiradical activities. Lemon juice (Eureka), mandarin (Kinnow) and orange (Orlando) had 79.21, 91.18 and 107.37mg GAE/100mL total phenolics; and 48.3, 59.19 and 61.35% DPPH radical scavenging activities, respectively [66]. These studies support that fruits and vegetables could possess potent antioxidant activity at physiological concentrations and hence could be added as a daily diet habit pattern.
Another natural source which could prove a noble candidate in food and pharmaceutical application is Propolis. Due to its beneficial biological properties propolis has attracted researcher's interest in the last decades [67]. Besides, propolis-containing products have been intensely marketed by the pharmaceutical industry and health-food stores [68]. Propolis is a resinous hive product collected by honeybees from various plant sources and has been reported to possess various biological activities, namely anticancer, antioxidant, anti-inflammatory, antibiotic, antifungal, and anti-hepatotoxic properties [69]. The unique plant flora of Saudi Arabia makes propolis an alternative for various food and pharmaceutical uses. A recent study demonstrated the phenolic composition of Saudi Arabian Propolis that contains mainly 13.5mg/ml for galang in (highest concentration), 5.58 for quercetin, 1.59 for caffeic acid, 0.0255 for chrysin, and trace amount of narangenin with an important 80% scavenging activity of DPPH responsible for its various beneficial effects including antioxidant property [70].
A study done by Fahad Al-Juhaimi et al. showed the significance of different herbs grown in Saudi Arabia based on their phenolic contents and antioxidant potential. The phenolic extraction from leaves and stems of three different herbs (mint, coriander, parsley) and their antioxidant activity evaluation had showed that extracts from leaves have higher total phenols and antioxidant activities than extracts from stems. In general, both leaves and stems of these three herbs grown in Saudi Arabia contained good quantities of total phenols (>1.02 mg, gallic acid equivalents (GAE)/100 ml) and showed more than 18.3% free radical scavenging activity. These herbs grown in Saudi Arabia are possible good sources of phenolic compounds and could help fight against free radicals load which are harmful to human health [71].
Flavonoids obtained from plants
In Saudi Arabia, medicinal plants are the major sources of natural compounds with various beneficial properties such as anti-oxidative and antimicrobial activity. These valuable properties largely depend on their polyphenolic compounds, mainly flavonoids. These plants are now grown commercially and being used in curing diseases, food flavorings and formulation of fragrances.
The assessments of their properties are the foremost and obligatory phase to screen them as valuable materials for their further implementation in human health and diet. In Saudi Arabia, several studies were done in plants for polyphenol or flavonoids content that could contribute towards human welfare. A study done by Adnan J. Al-Rehaily et al. reported three new flavonoids (helichrysone A (1), helichrysone B (2) and helichrysone C (3)) and 10 known flavonoids along with three triterpenes, and one sesquiterpene from stem of Helichrysum forskahlii (J.F. Gmel.) Hilliard and Burtt, a plant common in the Southern region of Saudi Arabia. The antimicrobial activity found for a few of them with minimum inhibitory concentration (MIC) values in the range of most active (3 and 6 μg/ ml), less active ((MIC 50 μg/ml)) to weakly active (MIC values of 100 μg/ml.) against Bacillus subtilis and Staphylococcus aureus while most of the compounds were found to be inactive [72]. In various studies, Helichrysum species have been shown to possess flavonoids, phloroglucinols, a-pyrones, coumarins and terpenoid compounds [73,74]. Few other studies showed that they also possess antimicrobial active compounds [75,76].
Another detailed phytochemical investigation of Commiphora opobalsamum L. (Burseraceae) growing in Saudi Arabia was identified for its major chemical components. The result showed moderate activity for syringic acid as antimalarial, anticandidal, and antimycobacterial agent. On the other hand mearnstein and quercetin exhibited antioxidant activity comparable to ascorbic acid and trolox [77].
Earlier, preliminary phytochemical screening of aerial parts of C. opobalsamum demonstrated the presence of flavonoids, sterols, triterpenes, saponins, volatile bases, and volatile oil [78]. Generally used as a folk medicine for various diseases and known as Rose of Jericho, Anastatica hirerochuntica is a small, grey winter annual herb, found in the Sahara-Arabian deserts. In Saudi Arabia, Anastatica is commonly consumed as a tea. Noura Al-Gamdi et al. identified and quantified polyphenolic compound in a tea prepared from dry seeds of A. hirerochuntica using HPLC-PDA-MS. The major constituents were identified as luteolin conjugates along with chlorogenic acids and hydroxybenzoic acids. The level of flavones ranged from 0.5 ± 0.0 to 542 ± 35μM while phenolic acids and hydroxycinnamates were also present in substantial amounts accounting for 36.5% of the overall level of flavonoids and phenolic compounds with the concentrations of individual compounds ranging from 17 ± 0 to210 ± μM.
Antioxidant assays, like Folin-Ciocalteu total phenolics assay, ferric reducing ability of plasma (FRAP), and HPLC revealed that 14 of the 20 compounds in the A. hirerochuntica tea exhibited antioxidant activity, and the seeds are a rich source of natural antioxidants and could therefore exert beneficial effects due to their major polyphenolic constituents [79]. Another plant, Tamarix nilotica from Al-Rass province located in south west of Qassim area in the central area of Saudi Arabia, was studied for its aerial parts and a new pentacyclic triterpenoid, 3-O-trans-caffeoylisomyricadiol, in addition to nine known compounds were analyzed. The evaluation of 3-O-trans-caffeoylisomyricadiol and quercetin (standard antioxidant) for antioxidant or radical scavenging activity by (DPPH) assay showed a strong potential with an IC50 value of 3.56 μM, as compared to standard antioxidant with IC50 value of 5.72μM [80]. Fardos M. Bokhari studied the antifungal activity of five medicinal plants, i.e. basil leaves (Ocinum bacilicum), lantana leaves and flowers (Lantana camara), lemon grass stalk and leaves (Cymbopogon citratus), nerium leaves (Nerium oleander) and olive leaves (Olea europaea) from different districts of Jeddah city, Saudi Arabia. MICs of the six plant extracts were calculated by using flurocin diacetate and the MIC for the different plant extracts ranged from 25-75μg/ml for lemon grass, lantana and basil and from 100-175μg/ml for nerium and olive extract. The strong anti-dermatophytic activities of lemon and lantana extracts were attributed to the free and bound flavonoid fractions which again emphasizes the potential of the polyphenolic components present in different plants [81].
As is clear from the mentioned studies, the beneficial properties of most phytochemical antimicrobial agents are due to polyphenols that also include flavonoid compounds [82]. An important study was done using a rat model, in which the role of Acacia tortilis, a genus of shrubs and trees belonging to the subfamily Mimosoideae of the family Fabaceae was analyzed. The plant used in this study was collected from Alawali Makkah, Saudi Arabia and the leaves were separated from shoots and wood.
The oral administration of Acacia aqueous extract (800mg/kg) for seven consecutive days caused significant (P<0.05) hypoglycemic activity which suppressed the elevation of blood sugar level. The results also reported that the plant could induce hypocholesterolemia in normal rats. It also prevented the elevation of lipid profile significantly (P<0.05) by decreasing the level of LDL and increasing the level of HDL [83]. These beneficial effects could be attributed to phenolic compounds (flavones, flavonols, flavonones, anthocyanins, leucoanthocyanins, coumarins and tannins) and alkaloids (tertiary and quaternary alkaloids) that are present in the leaves of Acacia tortilis [84].In addition, it has been studied that these properties of Acacia tortilis may also help reduce the risk of arteriosclerosis, stroke and heart attacks [85].
Another plant Tamarix aphylla (fresh leaves) collected from Al-Kharj region of Saudi Arabia was screened for its potential antioxidant, anti-inflammatory and wound healing effect in rats. In this study Hasan Soliman et al. demonstrated that herbal gel formulations containing 15 and 25% T. aphylla extract possess strong scavenging activity 80.81±0.29 and 67.76±0.09 at 400μg ml-1. In paw edema and wound model, 25% gel formulation exhibited moderate inhibition of 53.07 and 89.6% as compared to standard (Diclomax and Betadine). The results suggest the probable use of this plant in inflammatory and injury condition [86].
Pulicaria guestii Rech.f. & Rawi is a fragrant, perennial herb with yellow flowers, which grows wildwest to Al-Madinah, Saudi Arabia. The sesquiterpene compounds (present in Pulicaria genus) have raised considerable interest because of their anti-inflammatory and complex pharmacological action. A new study in rats done by AA Alghaithy et al. using this plant related to its chemical composition and biological activity added valuable information about this particular plant. The amount of total phenolics in alcohol and CHCl3 extracts as determined by folin- ciocalteu method were 114 ± 2.72mg/g and 188 ± 0.21mg/g respectively and yellow fluorescence (UV 366 nm) was observed due to presence of flavonoid compounds. Both methanol extract and CHCl3 fraction were shown to possess DPPH radical-scavenging activity with IC50 18 mg/ml and 21mg/ml respectively, relative to reference substance. The crude methanolic extract significantly reduced carrageenin-induced rat paw edema and the chloroform fraction caused significant reduction in carrageenin-induced rat paw edema, diminished prostaglandin E2 (PGE2) in the inflammatory exudates, significantly reduced rat ear edema and reduced neutrophil infiltration by the significant decrease in myeloperoxidase activity, and ameliorated histopathological changes. In other rat models, chloroform fraction significantly reduced the nitric oxide level and tumor necrosis factor-α release. Overall, chloro formic fraction of P. guestii extract possesses anti-inflammatory activity in several animal models as evidenced by above results [87].
Apart from above mentioned plant sources, Table 1 provides information about other plants that demonstrate antibacterial [88-91], anti-inflammatory [91-96], antimicrobial [88,90,97], and cholesterol related properties [88, 90].